Alabama Crimson Tide Delivers Knockout to Florida Gators
October 3, 2011
Al Messerschmidt/Getty Images
The Gator nation was in full celebration mode only moments into Saturday's heavy weight bout between the Florida Gators and the Alabama Crimson Tide. 
Little used Florida receiver Andre Debose had just stung the Alabama defense for a 65 yard scoring strike on the first play of the game.  The crowd went ballistic and the Gator nation was feeling good.
That's when Alabama wiped the blood from it's nose, grinned and went to work. 
Alabama's offensive line hammered blows time after time at the heart of the Gator defense.  Trent Richardson started ripping off six and eight yard gains time after time.  The first drive stalled and Alabama had to settle for a field goal, but the strategy for the evening was revealed.
The second and third drives were the same thing with varying results.  The offensive line, which was universally bashed early in the season, was ripping holes in a very good Florida defensive front.  Trent Richardson carried the load mostly himself because Eddie Lacy was banged up.
Alabama's defense and special teams all got into the act.  Florida's Jeff Demps was injured by Alabama's kicker on a return.
Before the half, Alabama had pulled even with Florida at 10.
Alabama has continued to get amazing mileage out of journeyman senior nose man Nick Gentry, such as when he slipped past the Florida lineman to rush John Brantley, forcing the quick throw that landed right in the gut of Courtney Upshaw, who took it back for the pick-six.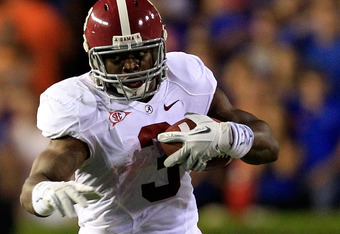 Sam Greenwood/Getty Images
Alabama was now up 17-10 when things got a little crazy. 
Alabama's pass rush stripped Florida quarterback John Brantley of the football.  One ref didn't see it, but another did, and threw the bean bag. 
Brantley fell backwards, and while lifting himself off the turf, had his hand near the ball but did not possess it.  Another Alabama player punched the ball out.   Still another picked it up and returned it for what should have been an Alabama touchdown and a 24-10 lead before the half.
Instead, the referee mistakenly called Brantley as having possession of the ball when he clearly did not, nullifying the touchdown and the possession.
The play was a blown call that at that moment seemed like huge break for the Gators. But it only seemed that way for a moment.
On the very next play, John Brantley was tackled hard by Courtney Upshaw, which resulted in a knee injury that would end his evening and possibly the Gators season if he isn't able to return.
With only an inexperienced freshman as a backup, any chance the Gators had just vaporized. 
Still, there was a half of football to be played, and the 14 point lead would last into the fourth quarter.
Alabama started the second half cold.  After several three-and-outs they had their backs to their own goal line and were facing 3rd-and-long.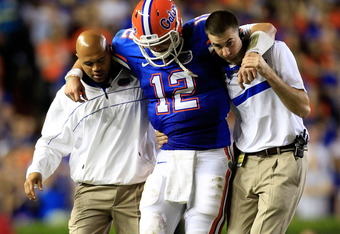 Sam Greenwood/Getty Images
Alabama quarterback AJ McCarron, who had statistically a very forgettable night, threw a perfect 18 yard out pattern to Marques Maze, who performed a circus catch on the right sideline.  The results were a first down and a Tide offense about to step back on the gas.
Alabama's physical running game had taken an invisible toll on the Gator defense, but it was about to be clear.
Richardson ran off the right guard and found some daylight.  The Florida safety had position and closed in, but Richardson cut sharply to the right.  The safeties legs just wouldn't cooperate.  Richardson raced 36 yards for the back-breaker. 
Richardson, who took the majority of the snaps in this game, ended with a career best 181 yards on 29 carries.  That's a 6.2 yard per carry average against one of the best defenses in the SEC. 
This game highlighted the cold blooded efficiency of a Nick Saban team when it's stocked, healthy and playing the way Saban wants.
Alabama was far from perfect on the night.
The secondary got toasted a few times.  
Quarterback AJ McCarron was less than 50 percent passing.
The kickoffs were short and coverage suspect.  
Both lines of scrimmage however were dominated physically by Alabama.  More critically, Alabama's offensive line scored most of its damage right up the gut.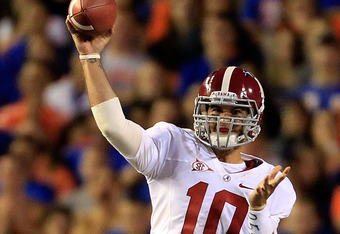 Sam Greenwood/Getty Images
Alabama center William Vlachos, who had a less than stellar season in 2010, just flat out brutalized Florida defenders all night.  He was seen numerous times owning Florida defenders and then throwing them down hard to the ground.
Alabama's defensive front as usual didn't score many statistical points, but they dominated Florida's line, leaving linebackers Courtney Upshaw, Dont'a Hightower and Nico Johnson free to run down anything in or out of the Florida backfield.
Alabama completely destroyed Florida's running game.  They rushed 29 times for 15 yards.  Richardson was getting that every 2.5 carries.  
One has to wonder if this game was won in 2009 when Nick Saban convinced Florida high school runner Trent Richardson to take a shot with Alabama's power running game as apposed to the three trick pony offense run by Florida coach Urban Meyer.
Florida is going to be back.  They have a coach who will take them there, but Saturday night belonged to the Crimson Tide.