Thoughts on 2012 Toronto Blue Jays Lineup: Welcome a Prince
September 9, 2011
Mike Stobe/Getty Images
As the Blue Jays season winds down, it is time to look forward to the offseason, where I believe Alex Anthopoulos will have some tough decisions to make. In the next few weeks, I will be writing a few blogs addressing the lineup, starting rotation, bullpen, bench and lastly, minor leaguers and coaches. I believe the Blue Jays have two main priorities that they have to address within the next two years: a middle of the lineup bat and a bonafide No. 2 starter. Now some of you are asking, Shakeel, have you been sleeping through the latter parts of the games and missing the exquisite work done by the bullpen this year blowing saves? Answer, no I have not, and I will eventually address the bullpen, but today, I shall analyze the lineup and address what element is missing.
First, let us tackle the top third of the lineup: Escobar, Thames and Bautista. I have been impressed with the job Escobar has done this year in the leadoff spot. He works the count, draws walks and hits for average. Ideally, Escobar would be a second hitter in the lineup, with a 'speedier' version of him hitting leadoff, but the Blue Jays are fine with him leading off. In my opinion, either Rasmus or Johnson should be hitting second next year. Rasmus possesses adequate speed, ability to work the count and draw walks and hit for average. On the other hand, when Johnson is having a good year (judging by the trend, next year should be good), he can also hit second, as he can hit for average, draw walks and has adequate speed. I'd rather Johnson hit lower in the lineup due to his power he does posses. Eric Thames is suited for a role lower in the lineup due to his inability to work the count and draw walks. Rounding out the top third, the Blue Jays have this hitter named Jose Bautista hitting third…and you must be living on Uranus if you have not heard of this MVP candidate. I guess this qualifies him to hit third, right?
Now, I am going to jump to the bottom third of the lineup and this is how the Blue Jays should line it up. I think it will feature either Travis Snider or Eric Thames in left field, J.P Arencibia catching and possibly Johnson hitting ninth and playing second base. At the moment, Thames is ahead of Snider on the depth charts, though Snider does possess more tools than Thames. I think Snider will use the offseason to re-tool his swing and come back to spring training and start there. J.P. Arencibia has impressed many of us with his power and for a catcher, he is having an okay season. He is ranked sixth in terms of slugging percentage among catchers; though it would be great if he can work the count and be more selective. In terms of Johnson, many people keep on saying the Blue Jays should let Johnson walk and sign/trade for another second baseman. The market for a second baseman is really weak and I believe Johnson hitting ninth next year will not hurt the team at all.
This leaves the middle third of the lineup. I think Brett Lawrie will hit sixth and play third base and Adam Lind should hit fifth and play first base. I am a big fan of Adam Lind and he has had some bad luck this year. He had a phenomenal first two months of the season and then he became one of the coldest hitters during the past two months. I do understand his on-base percentage is now below .300, but I do believe that is partly to do with the coaching philosophy he is following (Dwayne Murphy will be addressed another day). I also believe that Lind should have never hit fourth this year as he is a typical fifth hitter. Lind has had an interesting year to say the least. So who should be hitting fourth you ask? Prince Fielder and here comes the explanation.
One of the most frustrating stats this season is the amount of time Jose Bautista was intentionally walked so opposing pitchers could face the struggling Lind. What Fielder would bring to the lineup as a fourth hitter is power and his ability to drive in runs. With hitters like Escobar, Rasmus and Bautista hitting in front of him, (all have the ability to get on base), Fielder could be crucial in driving in runs with runners in scoring position, a stat which the Blue Jays have struggled with. How often does a bat like Fielder become available? The last big bat that was available was Mark Teixiera in 2008. If the Blue Jays pass on this opportunity, they might not be able to acquire the 'big bat' they are looking for when they are ready to compete. After all, Fielder will take them a huge step forward towards competing in the AL East. Now there are many reasonable arguments that are brought up when I debate the Fielder issue with others. I am going to list a few of them and then address these issues:
Fielder will command a large amount of money
Fielder will cost a draft pick
Fielder is not a great fielder at first
The money issue always creeps up when I discuss Fielder. Yes, he will cost a large amount of money but let us clear up a few things. Firstly, the Yankees and Red Sox already have locked up Mark Teixeira and Adrian Gonzalez as their first basemen, respectively. In terms of DH, the Yankees will most likely feature Jesus Montero and the Red Sox do have David Ortiz (though Red Sox could let Ortiz go in favour of Fielder and Yankees could trade Montero and sign Fielder). Both teams have bigger issues to address in the off-season, namely pitching. In addition, Fielder is not going to be the only big name bat on the market, as there is also Albert Pujols. Many say Fielder will ask for the same amount of money as Teixiera did, but one must remember that Teixeira is a gold-glove, athletic first baseman whereas Fielder is all bat. Thus Fielder would be playing as a designated hitter and play sparingly at first base. Fielder himself was quoted as saying that he wouldn't mind playing as a designated hitter next year (as per John Harper of the New York Daily News). Further to the point, I can only name the Orioles, Rangers, Brewers, Giants, potentially the Angels and possibly the Cardinals as being interested in the services of Fielder. Would signing Fielder cost the Blue Jays their first round pick? Not necessarily, as if the Blue Jays finish in the bottom half of the standings, their pick will be protected (as they will keep their pick while signing a Type A free agent as in Fielder; they will lose their second round pick). At the moment, the Jays are on the cusp of having a protected pick.
Now there are others who say the Blue Jays can acquire their first baseman/designated hitter via a trade and a name that constantly gets bounced around is Joey Votto, a native of Toronto. This is a possibility but you can kiss good-bye to two (or three) of the Blue Jays current top prospects, a move nearly impossible with Anthopoulos at the helm. I believe Anthopoulos values these prospects more than the money Fielder will command. Am I worried about the money he will command, not really. I am more worried about the length of the contract. I know many Blue Jays fans are caught up with the rebuilding process that Anthopoulos has initiated. Don't quote me wrong, he has done a great job but the goal is not to build the best minor league system, but I'd rather win a championship. Prince Fielder will be a great addition to the lineup and will help this team get over the hump and compete for years to come. So what would my 2012 Toronto Blue Jays lineup look like you ask?
SS – Yunel Escobar
CF – Colby Rasmus
RF – Jose Bautista
DH – Prince Fielder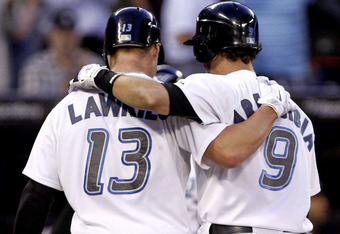 Abelimages/Getty Images
1B – Adam Lind
3B – Brett Lawrie
LF – Travis Snider/Eric Thames/(Edwin Encarnacion)
C – J.P. Arencibia
2B – Kelly Johnson
In my next blog, I will focus in on the starting pitching and look at the candidates that might fill the No. 2 to No. 5 spots. Also, I will share my view on the Blue Jays and the potential of acquiring a No. 2 starter. Many are probably asking why Encarnacion was not mentioned at all in this post, though news is coming out that Encarnacion might see playing time in left field near the end of the season. Encarnacion has been one of the hottest hitters this season post All-Star break. The options on him are relatively cheap and if he does play left field next year, his versatility will come in handy during injuries with his abilities to play first and third base. If they do decide to let him start in left field next year, They can move Johnson to eighth and Arencibia to ninth to balance out a righty-lefty lineup, or place a right-handed bat in between Lind and Fielder (preferably Encarnacion).
Hit me up on twitter with your thoughts: @ShakeelSalamath