Colorado Rockies 2011: Carlos Gonzalez, Troy Tulowitzki and What Went Wrong
September 23, 2011
Doug Pensinger/Getty Images
The 2011 Colorado Rockies are and have been out of playoff contention.
Think back to February and March. Expectations in Colorado and within the Rockies organization were extremely high. This year was the year that Broncotown, USA would receive a World Series trophy. Even a few ESPN experts chose the Rockies to win it all this year.
Through the first month of the season, things looked as though those expectations would be met. With a 17-8 record, they had the third-best record, behind Philadelphia and Cleveland, both at 18-8. Colorado looked poised to begin their reign as a perennial playoff contender.
What in the world happened to cause such a collapse?
The simple answer is that everything fell apart, from pitching to hitting to injuries.
The collapse began with pitching issues. Ubaldo Jimenez's problems during the first week of the season should have been an omen to Rockies fans that this season wouldn't meet their expectations.
As soon as his lack of velocity and control made itself evident, the Rockies' downhill direction started to turn into a free fall.
The offense couldn't come through in the clutch, the starting pitchers weren't consistent and because of Jimenez's lack of effectiveness, they couldn't put together a winning streak longer than four games.
More specifically, Troy Tulowitzki and Carlos Gonzalez couldn't hit at all during the first half. When a mid-market team like the Rockies has two superstars in the middle of its lineup, both of them must consistently produce runs in order to succeed.
The two players Rockies fans had the most confidence in during clutch situations couldn't come through.
Too often, Tulowitzki would come up to the plate with less than two outs and runners in scoring position and fail to produce even one run. In many situations, he would roll over an off-speed pitch and ground out to third preventing any runners from scoring.
Similarly, Gonzalez simply couldn't get the ball to drop—when he hit it. After a torrid start to the season, he began swinging at pitches up and in and out of the strike zone. Strikeouts began piling up. Most of these them came with runners on base
In 2007 and 2009, one of the major reasons why the Rockies had so much success is the fact that all spots in the lineup were manufacturing runs. Even in 2010, during their run that fell short, all eight position players were producing.
During April 2011, no one in the lineup was consistently providing a spark on offense.
The reason they had success that month was, surprisingly, effective pitching and hitters were coming through in some key clutch situations.
Then, all of a sudden, May 1, 2011 arrived.
The Rockies went 8-21 in the month of May.
Let that sink in—8-21.
No one could hit in clutch situations. In fact, no one could hit, period. They were among the bottom feeders in batting average in May.
While it is easy to pinpoint their lack of hitting as their main problem, pitching possibly played an even bigger role in their collapse.
Jhoulys Chacin was too inconsistent, Jimenez couldn't win—and his velocity was clearly down; Jorge De La Rosa tore his ulnar collateral ligament and required Tommy John surgery (he won't be back until May of 2012); Esmil Rogers made himself a regular on the disabled list; and, like Chacin, Jason Hammel couldn't pitch effectively consistently.
Chacin seemed poised for stardom and presented a very formidable one-two punch along with Jimenez at the top of the Rockies rotation.
That possibility never materialized not only because Jimenez couldn't win, but also because Chacin couldn't pitch effectively when he needed to. At the All-Star break, Chacin was 8-7 with a 3.16 ERA and throughout that stretch, he was a mainstay in the top five in the majors in batting average against.
In the second half, though, while his win-loss statistic stayed roughly consistent (he is now 11-13), he couldn't pitch well enough to give the Rockies a chance to win his starts—usually that had to be shutout baseball.
Murphy's Law applied to Jimenez's season. Everything that could go wrong, did go wrong. He might as well have started the season on the disabled list. And when he did pitch, he couldn't win.
His first win came in June.
Remember 2010? Jimenez had a 15-1 record and an ERA under 2.00 going into the All-Star break.
His 2011 first half sure made that seem like a fluke.
While some of the blame can be put on the offense for failing to provide him with sufficient run support, more often than not, Jimenez simply couldn't give his club a chance to win.
That is the biggest reason the Rockies gave him to the Indians.
The one bright spot of the rotation, De La Rosa, was easily the best pitcher for the 2011 Rockies until late May when he required Tommy John surgery.
At the time of his injury, De La Rosa had a 5-2 record with a 3.51 ERA and .222 batting average against. He was the only consistently good pitcher in the rotation.
But that is just how this season went for the Rockies. Nothing went right. The one player who could have sparked some kind of success was taken from the team after one pitch in late May.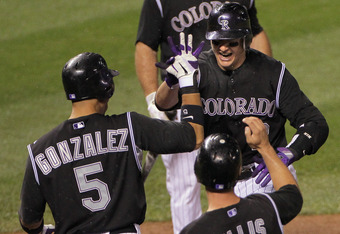 Doug Pensinger/Getty Images
If there was one moment when many Rockies fans realized that the season was likely over before it really got going, it was May 24th, in the third inning against the D-Backs when, after a clear grimace on De La Rosa's face, he was taken out for the season.
It became clear that day that the pieces were simply not going to fall into place.
At the end of April, the Rockies had a significant lead in the NL West. Had everything kept going well, in all likelihood, the Rockies would have a very substantial gap between themselves and the D-Backs in second place.
They may have even clinched their first-ever division title by now.
But that didn't happen because they couldn't execute. Each and every Rockie had a specific job to do and not one player succeeded, either because of injury or simple ineffectiveness.
The same reason for their lack of success is the reason why next year looks like a year that the Rockies may have success. Every baseball analyst knows that the potential is there for the Rockies.
This year was not an issue of potential. They aren't the Astros. This year was an issue of execution.
These Rockies have shown that they are able to find ways to win in the past. It is now an issue of recreating what worked before.
Can they do it? Many Rockies fans have every confidence that they can.
Will they do it? Well, many people thought they would this year.
Is it likely that they will have a repeat performance of 2011 next season? No. That kind of thing rarely happens to a team with the crop of talent the Rockies have.
There is one thing Rockies fans can be guaranteed for the 2012 version: Every player will be prepared.
There is not a single player in this group that is satisfied with how this season played out. They know that in order to have success after a season like this, they need to work their asses off during the coming months of the offseason.
There are no days off. Time is running short on the Rockies. The honeymoon phase after the 2007 World Series is coming to an end.
It is time for the Rockies to prove that 2007 wasn't a fluke.
Rockies fans are frustrated.
It is time for the Rockies to meet expectations.