Dallas Cowboys' Lunch Pail Team
March 26, 2010
With the draft about a month away and the Cowboys quiet in free agency, it's time to give some credit to certain Cowboys. These guys don't start and don't make the big dollars but still played hard and contributed to the Cowboys overall success last season.
So I bring you the Dallas Cowboys lunch pail team. 
Alan Ball, Safety/Cornerback 
Ball might look lazy here, but when anyone got hurt in the Cowboys secondary, it was Ball who came off the sidelines and into the game. Whether it was for one play or for the four weeks that Ken Hamlin missed, Ball was a crucial part of the Cowboys. 
While he didn't do anything spectacular (he had just 31 tackles last season and no interceptions), he rarely got beat and was able to earn the trust of Wade Phillips, who moved Ball all around the secondary during the season. 
Ball was trusted more with the safety duties than backup Pat Watkins and will be given the same responsibility again this upcoming season.
Stephen Bowen & Jason Hatcher, Defensive Line 
These two are the reason that Marcus Spears isn't getting the contract he wanted from the Cowboys, as he hasn't risen to his first round draft position; but these two have exceeded expectations.
Bowen played limited snaps along the Cowboys defensive line, but still produced 18 tackles, three sacks and one forced fumble. Bowen also played in every game this season.
Hatcher had 13 tackles and one sack, but did a great job in the run game, helping the Cowboys to allow just 82.5 rushing yards per game, fourth lowest in the league. 
At 25 and 27, these two could become contributors to the Cowboys for a long time, especially if Spears isn't with the Cowboys after this upcoming season. 
Tashard Choice, Running Back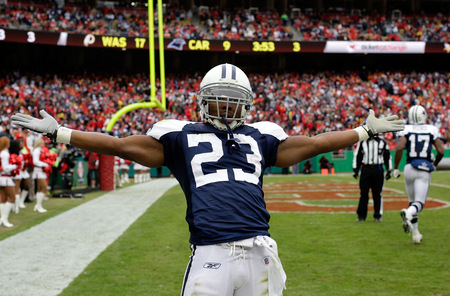 Choice was the third running back on the third ranked rushing offense last season, so he didn't get a lot of opportunities; but he made the most of them, proving invaluable to the Cowboys' running game.
Choice rushed for 82 yards and a TD on 18 carries against the Panthers in Week Three when Marion Barber was out with an injury. Two weeks later against the Chiefs, Choice had 92 yards on eight carries, including a 32-yard TD run. He also had 14 carries for 42 yards and a TD against the Eagles in the NFC Wild Card playoff game. 
Choice finished the season with 54 carries, for 349 yards and three TDs. 
Choice produced when both Barber and Felix Jones got hurt last season and missed time, and although Choice wants more time, he's stayed quiet and patient—something that's been known to pay dividends down the road.
John Phillips, Tight End 
John Phillips didn't have a TD this season (the one catch he had was called back), but still managed to perform enough during the season to make everyone wonder why the Cowboys are still hoping Martellus Bennett comes around. 
Phillips played in every game, mostly as a fullback and blocking tight end. He ended the season with eight less catches than Bennett and 92 less yards, although he only caught a pass for positive yardage in just four games last season. Meanwhile Bennett caught a pass in nine games. 
If Bennett can't get his game together this season, you can bet that Phillips will overtake him for the second tight end job.
If you guys can think of anyone else, I'd be more than happy to hear about it.