A NASCAR Chase Drivers Request: Look into My Eyes and Tell Me Who I Am
November 5, 2009
It's easy to pick your favorite driver from a crowd. The flashy driver's suit is usually the first clue in identifying the hero.
Special occasions happen throughout the racing season and your favorite driver might not be in his familiar colors.
No problem, you can still identify him by his car or his walk or swagger, or even the sound of his voice.
You know the wife or girlfriend by name, the color of his hair, or the breed of his dog.  
Year after year you become more and more in tune to the ever changing landscape of your favorite NASCAR driver.
Your dedication to knowing every possible detail about him allows you to become one with him.
Really? You really think you know him that well? You consider yourself the ultimate dedicated NASCAR fan?
What if the only clue you had was his eyes, or better yet, his eye? Could you still pick him out?
Could you still without equivocation exercise your inherent eye for detail to maintain the monogamous relationship?
Or, will you stumble and hang your head in shame, realizing your dedication was built only on a facade?
It's said the eyes are windows to the soul. Have you peered deep into the soul of your gladiator? Can you continue being his loyal subject with only a fraction of detail to identify with?
For those who feel worthy, here is your chance.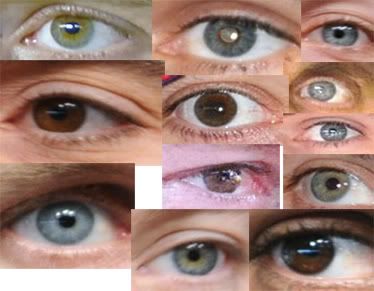 Listed in the picture are the optic generators of NASCAR's 12 chase drivers.
To make this challenge a bit easier, I offer the following hints. There are right and left eyes. Only chase driver's eyes, and one small hint located in the picture.
Answers start from top left and move right, line by line.
There is also one caveat hidden among the pictures. Only a keen eye will be able to expose it.
Ok, so your favorite driver is not in the chase and you feel at a disadvantage.
A truly dedicated NASCAR fan should make it a point to know the foes of their betrothed.
While your dedication and attention should be on your hero, protection from the enemy must also be part of the equation.
Keep your driver close; keep his competition closer!
Go forth and choose wisely as you are about to expose yourself to the ultimate test of dedication.
Good Luck!
Photo Credit and collage credit: David Yeazell