Hockey World Championship 2019 Results: Norway, Slovakia Score Crucial Wins
May 17, 2019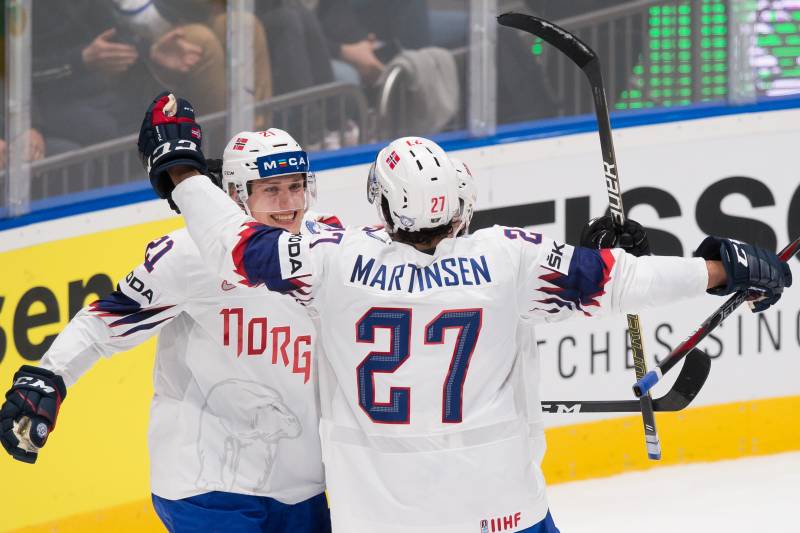 VLADIMIR SIMICEK/Getty Images
Both Norway and Slovakia picked up much-needed points with victories at the 2019 Hockey World Championship on Friday.
Finland and the Czech Republic also picked up wins during the second slate of games.
Below is a look at the latest action from pool play.
May 17 Results
Group A: Slovakia 6, France 3
Group B: Norway 5, Austria 3
Group A: Finland 5, Great Britain 0
Group B: Czech Republic 8, Italy 0
*Standings available on IIHF.com
Slovakia 6, France 3
Slovakia used an all-around team effort to defeat France, having six different players score.
Initially, it did not appear as though this game would be a high-scoring affair, as more than 10 minutes went by without a goal. However, once Richard Panik opened the scoring at the 13:25 mark in the first period, the scoring barrage got underway.
Matus Sukel and Libor Hudacek followed Panik's lead and helped push Slovakia's lead to 3-0 before the game reached its midway point.
Antonin Manavian and Alexandre Texier (who recorded two goals and one assist for the Columbus Blue Jackets in the 2019 Stanley Cup Playoffs) cut France's deficit to just 3-2 late in the second.

However, Slovakia came out of the second intermission ready to play.
Erik Cernak, Michal Cajkovsky and Ladislav Nagy all scored within the first six minutes of the third to push Slovakia's lead up to four. From that point on, Slovakia was in full control.
Slovakia moved into sixth place in Group A with the victory, its second in five games. France, meanwhile, remained in seventh (out of eight teams) with just one point through five appearances.
Slovakia will be back in action on Saturday against Great Britain, while France is off until Sunday when it will take on Finland.
Norway 5, Austria 3
Christian Bull's hat trick helped Norway hold off Austria and record its first points of the 2019 Hockey World Championship.
Bull wasted little time in opening the scoring, lighting the lamp just more than two minutes into the game. 
He later scored what would be the game-winning goal late in the third and added an empty-netter to seal the victory.
Johannes Johannesen and Alexander Reichenberg also scored for Norway.
It was a back-and-forth battle throughout the first two and a half periods, but once Reichenberg scored to give his team a 3-2 lead just past the midway point in the third, Norway would never look back.
The victory helped Norway (three points) break a tie with Austria (zero) and Italy (zero) for last place in Group B.
Norway will face Italy on Saturday, and Austria will play the Czech Republic on Sunday.
Finland 5, Great Britain 0
A three-goal second period proved to be the difference as Finland held Great Britain off the board.
After the two teams battled to a scoreless draw in the opening period, Finland struck quickly coming out of the locker rooms in the second. Toni Rajala scored less than one minute into the second period to give Finland the lead:
Atte Ohtamaa provided Finland with some breathing room a few minutes later:
Joel Kiviranta also scored in the second, while Kristian Kuusela and Mikko Lehtonen put the game away with goals in the final minutes of the third.
Of note, Finland goalie Jussi Olkinuora (one assist) had more points than any Great Britain player.
Finland (4-0-1, 13 points) jumps ahead of Germany (4-0-0, 12 points) atop Group A. Great Britain is alone in last at zero points having lost all five games to this point.
Great Britain will play Slovakia on Saturday, and Finland will battle France on Sunday.
Czech Republic 8, Italy 0
The Czech Republic used a second-period outburst to cruise to victory against an overmatched Italy squad.
Six different players scored for the Czech Republic, with Milan Gulas giving his team an early lead with a first-period goal. Radko Gudas, Michael Frolik, Jan Kovar and Dmitrij Jaskin all scored during a seven-plus minute stretch midway through the second to put the Czech Republic in full control.
IIHF

@IIHFHockey

🚨🇨🇿 Forget the blue line. Radko Gudas takes it all the way back from the red line and nets this beauty to put @narodnitym up 2-0 over @fisg_it #IIHFWorlds Stay up to the minute with game action with the IIHF App:  https://t.co/PDQtNtuJxc ▶️ https://t.co/yImldTg3TU https://t.co/U1bHVhqljp
Through 40 minutes, the Czech Republic had five goals compared to Italy's nine shots.
Dominik Simon added a goal late in the third, while Jaskin and Frolik each found the net for a second time in the closing minutes.
The Czech Republic (4-1-0), at least for the moment, moved into a tie atop the Group B standings alongside Russia and Switzerland with 12 points. Italy, on the other hand, remain at the bottom of the standings as it is winless through five games.
Italy will face Norway on Saturday, and the Czech Republic will play Austria on Sunday.