Report: Markelle Fultz, Shooting Coach Drew Hanlen Part Ways Amid Struggles
November 13, 2018
David Dow/Getty Images
Philadelphia 76ers guard Markelle Fultz has seemingly taken a step back with his shooting, with his bad free-throw miss Monday night against the Miami Heat looking like a low point: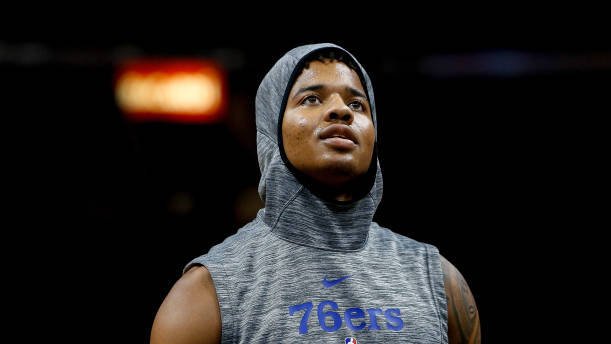 McCollum and the Blazers Snapped Postseason Losing Streak for "Jennifer"

Stars Invest in Plant-Based Food as Vegetarianism Sweeps NBA

The NBA Got Some Wild Techs This Season

Jarrett Allen Is One of the NBA's Hottest Rim Protectors

Wade's Jersey Swaps Created Epic Moments This Season

Westbrook Makes History While Honoring Nipsey Hussle

Devin Booker Makes History with Scoring Tear

29 Years Ago, Jordan Dropped Career-High 69 Points

Bosh Is Getting His Jersey Raised to the Rafters in Miami

Steph Returns to Houston for 1st Time Since His Moon Landing Troll

Lou Williams Is Coming for a Repeat of Sixth Man of the Year

Pat Beverley Has the Clippers Stealing the LA Shine

LeBron Keeps Shredding NBA Record Books

Young's Hot Streak Is Heating Up the ROY Race with Luka

LeBron and 2 Chainz Form a Superteam to Release a New Album

Wade's #OneLastDance Dominated February

Warriors Fans Go Wild After Unforgettable Moments with Steph

Eight Years Ago, the Nuggets Traded Melo to the Knicks

Two Years Ago, the Kings Shipped Boogie to the Pelicans

ASG Will Be Competitive Again If the NBA Raises the Stakes
These struggles could potentially be attributed to his split with trainer Drew Hanlen. According to Alex Kennedy of HoopsHype, the two are "no longer working together or on speaking terms."
Hanlen had worked with Fultz on his shot over the summer, but their relationship apparently went south about three weeks ago.
Prior to the separation, the trainer remained confident Fultz would get over his shooting struggles.
"He's going to figure it out," Hanlen said after the first game of the season, per Ben Rohrbach of Yahoo Sports. "He's come a long way. Worked harder than anyone I've ever had before to get back. It'll come. Just takes time."
The guard was the No. 1 overall draft pick in 2017 after a great freshman year at Washington where he shot 41.3 percent from three-point range. Unfortunately, he missed most of his first season because of a shoulder injury and hasn't been able to shoot since.
Fultz appeared in 17 regular-season and playoff games in 2017-18 and missed his only three-point attempt.
He had gotten more aggressive as a shooter to start this season, shooting 4-of-13 in eight October games, but hasn't attempted an outside shot yet in November. He has also shot just 60 percent from the free-throw line in his first 14 games of the year.
The 20-year-old is contributing in other ways—averaging 9.3 points and 3.4 assists per game entering Monday—but he clearly lacks confidence in his shot.