Joel Embiid on Celtics: 'It's Not a Rivalry. ... They Always Kick Our Ass'
October 17, 2018
Adam Glanzman/Getty Images
Take it from Joel Embiid, and there is no budding rivalry between the Boston Celtics and Philadelphia 76ers.
"This is not a rivalry," Embiid said following the Sixers' 105-87 loss to the Celtics on Tuesday night, per Sporting News' Sean Deveney. "I don't know our record against them, but it's pretty bad. They always kick our ass."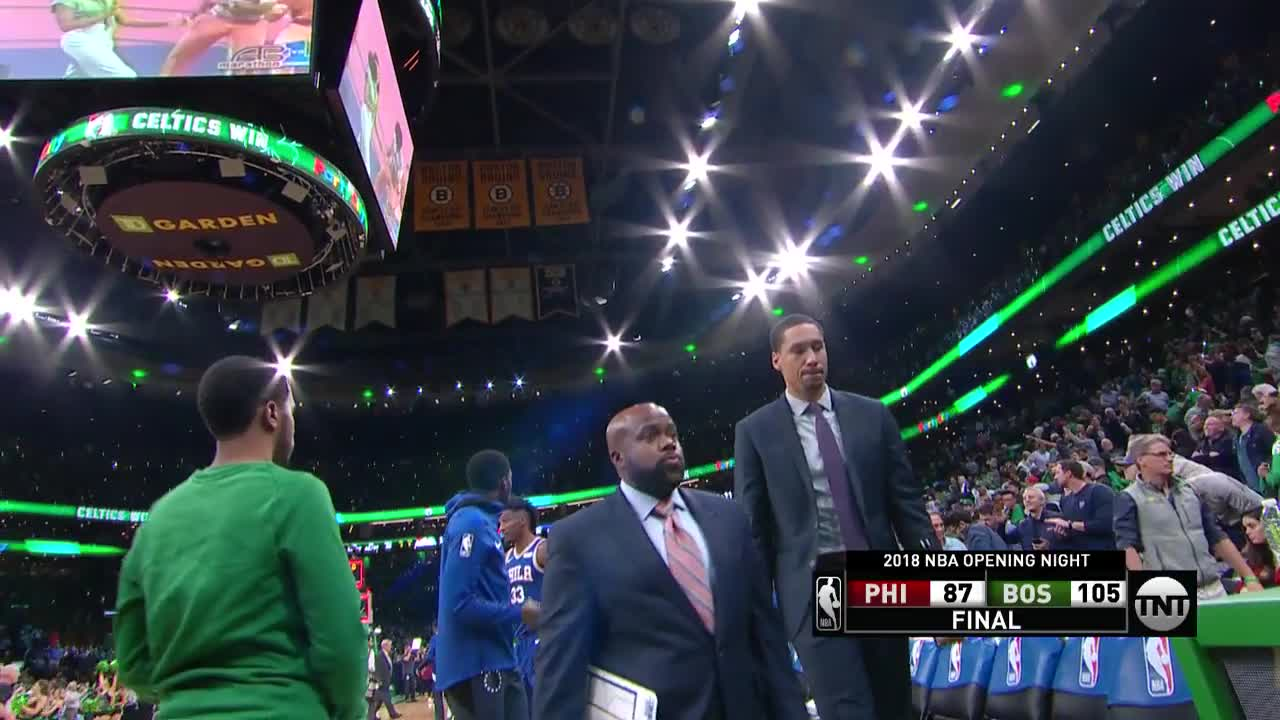 McCollum and the Blazers Snapped Postseason Losing Streak for "Jennifer"

Stars Invest in Plant-Based Food as Vegetarianism Sweeps NBA

The NBA Got Some Wild Techs This Season

Jarrett Allen Is One of the NBA's Hottest Rim Protectors

Wade's Jersey Swaps Created Epic Moments This Season

Westbrook Makes History While Honoring Nipsey Hussle

Devin Booker Makes History with Scoring Tear

29 Years Ago, Jordan Dropped Career-High 69 Points

Bosh Is Getting His Jersey Raised to the Rafters in Miami

Steph Returns to Houston for 1st Time Since His Moon Landing Troll

Lou Williams Is Coming for a Repeat of Sixth Man of the Year

Pat Beverley Has the Clippers Stealing the LA Shine

LeBron Keeps Shredding NBA Record Books

Young's Hot Streak Is Heating Up the ROY Race with Luka

LeBron and 2 Chainz Form a Superteam to Release a New Album

Wade's #OneLastDance Dominated February

Warriors Fans Go Wild After Unforgettable Moments with Steph

Eight Years Ago, the Nuggets Traded Melo to the Knicks

Two Years Ago, the Kings Shipped Boogie to the Pelicans

ASG Will Be Competitive Again If the NBA Raises the Stakes
The big man has a point.
The Celtics went 3-1 against the Sixers during the 2017-18 regular season, and they dispatched them in five games during a heated—albeit rather lopsided—Eastern Conference semifinals clash in May.
For what it's worth, Sixers shooting guard JJ Redick is with Embiid.
"I'm a firm believer having played ACC basketball that one side has to beat the other side for it to be a rivalry and vice versa," Redick told reporters prior to Tuesday's season opener. "It's not a rivalry until we knock them out of the playoffs. For now, they've got the upper hand. It's not a rivalry."
The Sixers will get their next crack at the Celtics when the two sides hit Boston's parquet floor on Christmas Day.