Paul George Rumors: 'Growing Belief' Thunder Have a Chance to Re-Sign Free Agent
June 12, 2018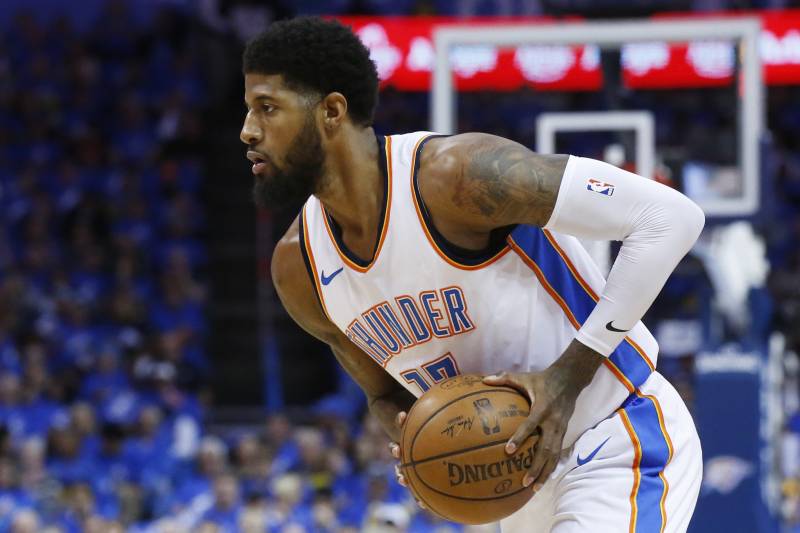 Sue Ogrocki/Associated Press
After their disappointing first-round exit in the 2018 NBA playoffs, it looked like the Oklahoma City Thunder's odds of re-signing Paul George were trending downward heading into the summer.
According to Marc Stein of the New York Times, however, the Thunder may have a realistic shot at keeping George around.
Stein reported (h/t Thunder Wire's Cody Taylor) that OKC "has a far better chance to retain the free agent-to-be [George] than many believed when the Thunder crashed out of the first round of the playoffs."
Adrian Wojnarowski reported for Yahoo Sports last offseason that George informed the Indiana Pacers he wasn't re-signing with the team and preferred to go to the Los Angeles Lakers. George is a native of Palmdale, California, and the Lakers have roughly $61.8 million in practical salary-cap space, according to Spotrac, which is more than enough to sign George and another marquee free agent.
George had a solid first season with the Thunder, averaging 21.9 points, 5.7 rebounds and 3.3 assists. More importantly, he had a largely fruitful on-court partnership with Russell Westbrook.

McCollum and the Blazers Snapped Postseason Losing Streak for "Jennifer"

Stars Invest in Plant-Based Food as Vegetarianism Sweeps NBA

The NBA Got Some Wild Techs This Season

Jarrett Allen Is One of the NBA's Hottest Rim Protectors

Wade's Jersey Swaps Created Epic Moments This Season

Westbrook Makes History While Honoring Nipsey Hussle

Devin Booker Makes History with Scoring Tear

29 Years Ago, Jordan Dropped Career-High 69 Points

Bosh Is Getting His Jersey Raised to the Rafters in Miami

Steph Returns to Houston for 1st Time Since His Moon Landing Troll

Lou Williams Is Coming for a Repeat of Sixth Man of the Year

Pat Beverley Has the Clippers Stealing the LA Shine

LeBron Keeps Shredding NBA Record Books

Young's Hot Streak Is Heating Up the ROY Race with Luka

LeBron and 2 Chainz Form a Superteam to Release a New Album

Wade's #OneLastDance Dominated February

Warriors Fans Go Wild After Unforgettable Moments with Steph

Eight Years Ago, the Nuggets Traded Melo to the Knicks

Two Years Ago, the Kings Shipped Boogie to the Pelicans

ASG Will Be Competitive Again If the NBA Raises the Stakes
"There were some highs and lows, but I thought it was good," George told reporters in April. "It was a learning experience for me. I thought we both grew together trying to get that chemistry."
George's final decision will have ripple effects throughout the rest of the NBA.
If he stays with the Thunder, then the Lakers will have to turn their attention elsewhere in free agency. Enticing another star to sign in L.A. might prove difficult if George isn't on board, too. The Houston Rockets would also have to cross off one target they could've used to catch up with the Golden State Warriors.
Should George leave Oklahoma City, things could get dark for the Thunder. They wouldn't have the cap space to pursue a free agent of similar quality, and they don't have the assets to swing another big trade. A team built around Westbrook, Steven Adams and possibly Carmelo Anthony wouldn't offer a ton of promise in 2018-19.