Mohamed Salah: I Never Told Sergio Ramos It Was 'Fine' After UCL Injury
June 9, 2018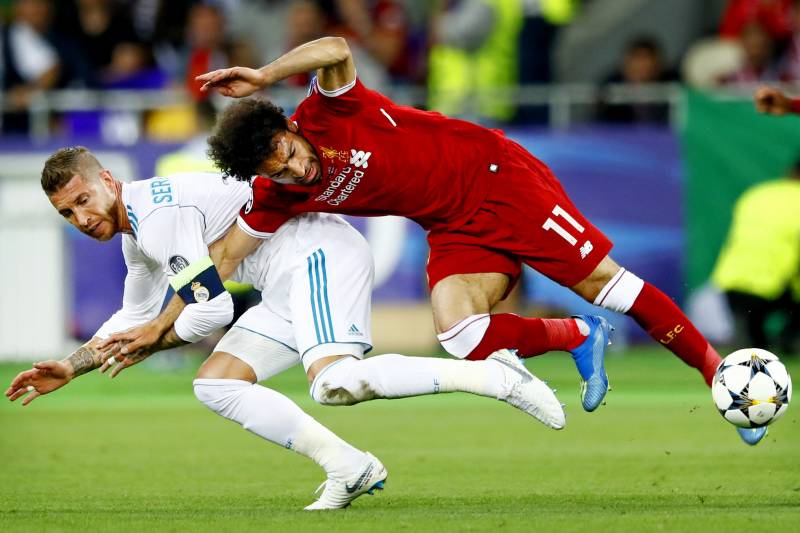 VI-Images/Getty Images
Mohamed Salah denied telling Sergio Ramos things were "fine" after the Spain international was involved in the challenge that led to his shoulder injury in the UEFA Champions League final May 26.
The Liverpool forward suffered sprained ligaments in his shoulder and had to leave the field after Real Madrid defender Ramos appeared to pull him down. Per AS (h/t ESPN FC's Dermot Corrigan), Ramos said the incident had "been blown out of all proportion" and that, having messaged Salah, he had been told everything was fine.
However, Salah told Marca's Hugo Cerezo the comments were "funny" and added (h/t ESPN FC's Sam Marsden), "He sent me a message, but I never told him it was 'fine.'"
Salah made the cover of Saturday's edition of the newspaper:
The Egypt international also responded to Ramos' suggestion that Salah need not have been substituted in the final because he could have continued with the aid of pain-killing injections: "My comment [to that] is that it's always good when the one who made you cry at first then makes you laugh. Maybe he could also tell me if I'm going to be ready for the World Cup?"
The injury put Salah's tournament in doubt, but it seems the star will be fit to play for Egypt:
Salah also gave an update on his fitness:
"When I fell to the ground, I had a mixture of physical pain and a lot of concern. There was also anger and sadness at being unable to continue playing in the Champions League final.
"Moments later, I also thought about the possibility of not playing in the World Cup and that was a devastating thought. It was the worst [moment of my career].
"Now I'm better, though. I hope to play the first game against Uruguay, but that will depend on how I feel when it approaches."
Salah bagged 44 goals in all competitions for Liverpool, so it would have been a doubly bitter blow for him to miss the World Cup on top of his exit from the Champions League final, particularly as Egypt have not appeared in the tournament since 1990 and this could be his only chance to perform on such a stage.
It seems he and Ramos have not buried the hatchet as the latter indicated.
The pair will be under a great deal of scrutiny should Egypt meet Spain in the World Cup or if Liverpool face Real in the Champions League next season.