Leonard Floyd Says It Took 2 Months to Get 'Mind Back Together' After Concussion
June 14, 2017
Nam Y. Huh/Associated Press
Chicago Bears linebacker Leonard Floyd suffered two concussions during his rookie season, and the last one caused a long recovery process.
"It took me two months to really feel like I was back to myself," Floyd said Wednesday, per Patrick Finley of the Chicago Sun-Times. "I was just at the house, relaxing, getting my mind back together. After those two months I felt back."
Floyd ended the season on injured reserve.
The 24-year-old was carted off the field after his first concussion Nov. 20. He returned to action two weeks later but then suffered his second concussion Dec. 24. The Week 16 game against the Washington Redskins was his last of the year.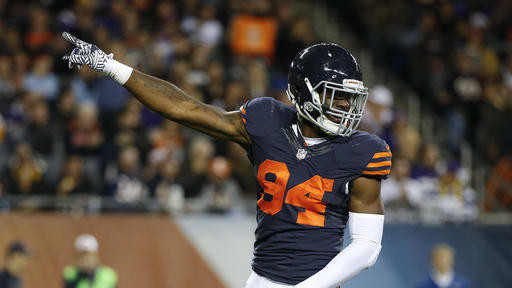 OBJ's Trade to Cleveland Has the Browns Hyped

Le'Veon's Power Move Pays Off After Signing Massive Deal with Jets

Friends to Foes, Ex-UGA Teammates Meet in Super Bowl

Cooks Gave a Super Gift to This Rams Employee

Mahomes Loves Ketchup as Much as Torching Defenses

Bears Hoping to Ride Club Dub to the Super Bowl

The Worst Fantasy Football Punishments for Last Place

NFL Players Bring Soccer Traditions to the NFL

JuJu Is a Man of the People

Bills Superfan 'Pancho Billa' Continues to Inspire

Happy 26th Birthday to OBJ 🎉

Mahomes Is 'Showtime' Off the Field Too

Thielen's Ride from Underdog to Record-Breaking WR

Shanahan and His Son Carter Are Hyped for Carter V

Browns Winning Off the Field with Community Service

Conner's Journey from Beating Cancer to Starting RB

Does Donovan McNabb Deserve Your 2019 Pro Football Hall of Fame Vote?

B/R Fantasy Expert Matt Camp Gives His Picks for Keep or Release After Week 2

Does Hines Ward Deserve Your 2019 Pro Football Hall of Fame Vote?

Shaquem Griffin Starting for Seahawks in Week 1
Floyd also described the aftereffects associated with the brain injury.
"You just don't feel normal, you know it's this thinking part, like you don't think the same," he said. "I wasn't thinking like I normally would think and then I'd be staring off in space sometimes instead of paying attention."
The No. 9 pick in the 2016 draft had a promising rookie season with seven sacks in 12 games. He also tallied a safety and a fumble returned for a touchdown. However, his health remains a bigger concern as he heads into his second season.