Gadelha vs. Kowalkiewicz Results: Winner and Reaction from UFC 212
June 4, 2017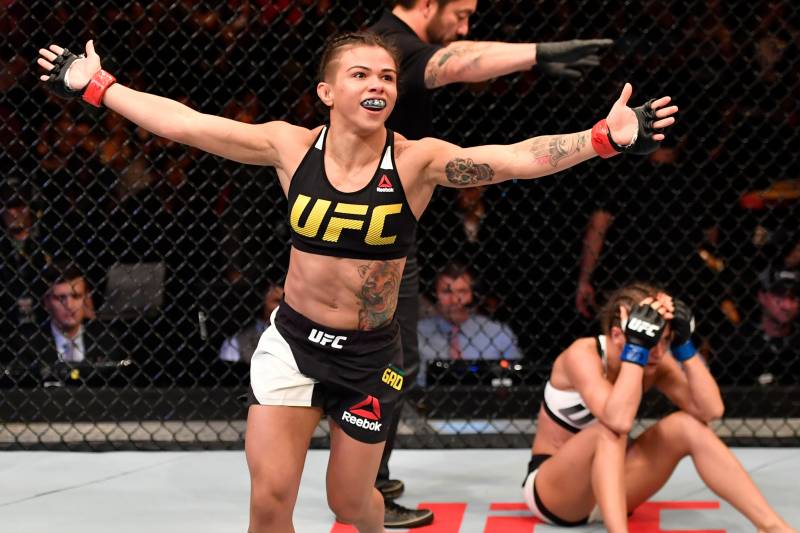 Jeff Bottari/Zuffa LLC/Getty Images
Claudia Gadelha and Karolina Kowalkiewicz entered as the top two contenders in the strawweight division, and their three combined losses all came at the hands of its champion—Joanna Jedrzejczyk.
3:03 would all it take for Gadelha to put a second loss on Kowalkiewicz's career.
Kowalkiewicz and Gadelha had early exchanges, and Kowalkiewicz's length allowed her to score more early. Gadelha had to get Kowalkiewicz's respect, and she did that with elbows from the clinch. Gadelha was able to get the double-underhooks and put Kowalkiewicz on her back.
Gadelha got to the back and sunk in a rear-naked choke for the easy win.
Kowalkiewicz was in tears after tapping, and Gadelha came over to console her opponent. The two embraced as they enter new paths in the strawweight division.
Gadelha had changed camps and moved to the United States to continually improve as she marches back toward a title shot. Saturday's performance in her home of Rio de Janeiro showed those improvements. Gadelha walked through a true top contender as if she were an unranked foe.
The win for Gadelha should almost assure that Rose Namajunas is next in line for a title shot. Gadelha, having suffered two losses to Jedrzejczyk, will still need another fight or two before she gets her call. In the post-fight interview, Gadelha made no callout, saying only that she plans on moving full-time to Albuquerque, buying a new car and a fancy dog. Fair enough.
Kowalkiewicz will have to go back into the pack as she falls off the pace for her title chance. Meeting Viviane Pereira, who won on the UFC 212 undercard, would be an appropriate fight.
Gadelha will no doubt fight another contender. Of those top contenders, only Tecia Torres is coming off a win. That makes her the logical choice.
Gadelha's move to Albuquerque paid off in a massive way with one of her most impressive performances to date. No matter who the UFC chooses for both women in their next outings, we can expect both to be perennial contenders for the foreseeable future.