Chargers Stadium Deal Rejected by San Diego Voters: Latest Comments, Reaction
Sean M. Haffey/Getty Images
The San Diego Chargers might be headed out of town after voters rejected a deal for a new stadium.
According to Dan McSwain of the San Diego Union-Tribune on Tuesday, Measure C provided an option to raise hotel taxes and contribute public money toward a new downtown stadium and convention center. The final vote tally was 59.96 percent opposed to the downtown stadium and 43.04 percent in favor, per Chargers reporter Annie Heibrunn.
Ian Rapoport of NFL Network shared a letter Chargers owner Dean Spanos sent to season-ticket holders following the rejection of the deal:
Spanos also provided a statement on Wednesday:
Bleacher Report's Jason Cole broke down what's next for the city of San Diego and the Chargers: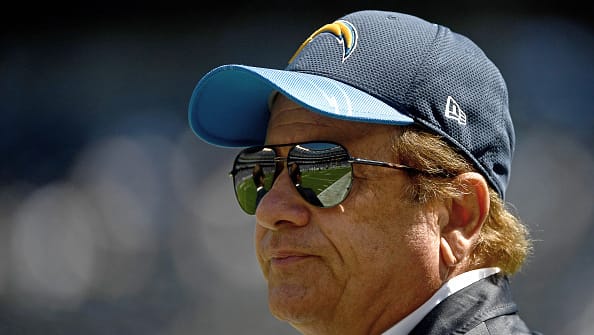 OBJ's Trade to Cleveland Has the Browns Hyped

Le'Veon's Power Move Pays Off After Signing Massive Deal with Jets

Friends to Foes, Ex-UGA Teammates Meet in Super Bowl

Cooks Gave a Super Gift to This Rams Employee

Mahomes Loves Ketchup as Much as Torching Defenses

Bears Hoping to Ride Club Dub to the Super Bowl

The Worst Fantasy Football Punishments for Last Place

NFL Players Bring Soccer Traditions to the NFL

JuJu Is a Man of the People

Bills Superfan 'Pancho Billa' Continues to Inspire

Happy 26th Birthday to OBJ 🎉

Mahomes Is 'Showtime' Off the Field Too

Thielen's Ride from Underdog to Record-Breaking WR

Shanahan and His Son Carter Are Hyped for Carter V

Browns Winning Off the Field with Community Service

Conner's Journey from Beating Cancer to Starting RB

Does Donovan McNabb Deserve Your 2019 Pro Football Hall of Fame Vote?

B/R Fantasy Expert Matt Camp Gives His Picks for Keep or Release After Week 2

Does Hines Ward Deserve Your 2019 Pro Football Hall of Fame Vote?

Shaquem Griffin Starting for Seahawks in Week 1
Rapoport reported a potential timeline for San Diego's next steps:
"I can't see us not here," said quarterback Phillip Rivers on Wednesday, per Ricky Henne of Chargers.com. "I'm always optimistic."
Per McSwain, Chargers chairman Dean Spanos spent $10 million trying to pass Measure C instead of immediately moving the team to Los Angeles last offseason. The Chargers have a lease on Qualcomm Stadium until 2020, but it appears a move will be more imminent.
CW6 News noted that the team has a right to move after exhausting its options with San Diego. It now can share a stadium with the Los Angeles Rams or revisit a new downtown stadium plan.
The Chargers spent their first year in Los Angeles in 1960 before moving to San Diego, where the organization has stayed since 1961. The team has played in Qualcomm Stadium (formerly Jack Murphy Stadium) since 1967.
In addition to a potential move back to Los Angeles, Las Vegas also remains a possibility.