2016 NBA Mock Draft: 1st-Round Projections and Predictions for Top Prospects
May 2, 2016
Frederick Breedon/Getty Images
Need a break from the 2016 NBA playoffs?
Let's talk about the NBA draft.
After all, June 23 is creeping closer and closer. Before long, the NBA will crown a champion, and some college (or international) star will be shaking NBA Commissioner Adam Silver's hand as the No. 1 pick.
Plus, keep in mind the lottery will take place May 17—which is nearly two weeks away.
Below is what you need to know before then.
Mock draft
First-round projections
Pick
Player
Team
1
Brandon Ingram (Duke)
76ers
2
Ben Simmons (LSU)
Lakers
3
Buddy Hield (Oklahoma)
Celtics
4
Dragan Bender (International)
Suns
5
Kris Dunn (Providence)
Timberwolves
6
Jamal Murray (Kentucky)
Pelicans
7
Jaylen Brown (Cal)
Nuggets
8
Wade Baldwin IV (Vanderbilt)
Kings
9
Jakob Poeltl (Utah)
Raptors
10
Skal Labissiere (Kentucky)
Bucks
11
Henry Ellenson (Marquette)
Magic
12
Demetrius Jackson (Notre Dame)
Jazz
13
Timothe Luwawu (International)
Suns
14
Tyler Ulis (Kentucky)
Bulls
15
Deyonta Davis (Michigan State)
Nuggets
16
Domantas Sabonis (Gonzaga)
Celtics
17
Marquese Chriss (Washington)
Grizzlies
18
Denzel Valentine (Michigan State)
Pistons
19
Furkan Korkmaz (International)
Nuggets
20
Taurean Prince (Baylor)
Pacers
21
Damian Jones (Vanderbilt)
Hawks
22
Diamond Stone (Maryland)
Hornets
23
Ivica Zubac (International)
Celtics
24
Ante Zizic (International)
76ers
25
Stephen Zimmerman (UNLV)
Clippers
26
Malik Beasley (Florida State)
76ers
27
Zhou Qi (International)
Raptors
28
Juan Hernangomez (International)
Suns
29
Petr Cornelie (International)
Spurs
30
DeAndre' Bembry (Saint Joseph's)
Warriors
Author's Picks
Predictions
Buddy Hield will crack the top five
Eric Gay/Associated Press
After watching what Oklahoma's Buddy Hield did in the NCAA tournament, how could he not go in the top five?
Think of the teams that are drafting there—they need stability. Potential is great, but how many swings and misses can the likes of the Phoenix Suns afford? Sure, the 22-year-old senior is older than most projected lottery picks, but that can also be a plus.
He's more mature. He knows how to carry a team. He's a winner.
As of Sunday, DraftExpress had Hield going seventh overall to the Denver Nuggets, but NBADraft.net had him going at No. 3 to the Boston Celtics.
While the Philadelphia 76ers are likely to land either the No. 1 or No. 2 pick and take Duke's Brandon Ingram or LSU's Ben Simmons, Tom Moore of Calkins Media touched on an interesting point:
Hield is a marksman, so a playoff team such as Boston could immediately plug him in and use his strengths while the rest of his game grows.
The postseason won't intimidate him: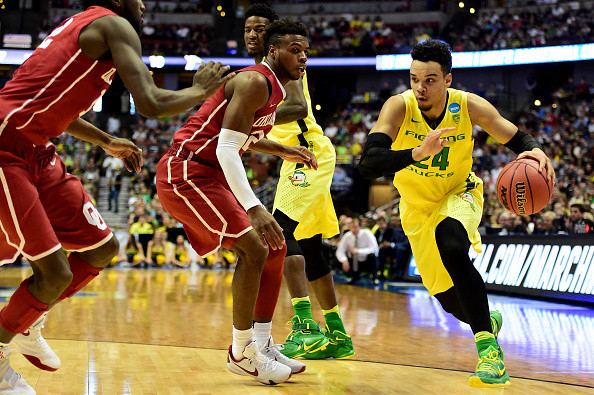 McCollum and the Blazers Snapped Postseason Losing Streak for "Jennifer"

Stars Invest in Plant-Based Food as Vegetarianism Sweeps NBA

The NBA Got Some Wild Techs This Season

Jarrett Allen Is One of the NBA's Hottest Rim Protectors

Wade's Jersey Swaps Created Epic Moments This Season

Westbrook Makes History While Honoring Nipsey Hussle

Devin Booker Makes History with Scoring Tear

29 Years Ago, Jordan Dropped Career-High 69 Points

Bosh Is Getting His Jersey Raised to the Rafters in Miami

Steph Returns to Houston for 1st Time Since His Moon Landing Troll

Lou Williams Is Coming for a Repeat of Sixth Man of the Year

Pat Beverley Has the Clippers Stealing the LA Shine

LeBron Keeps Shredding NBA Record Books

Young's Hot Streak Is Heating Up the ROY Race with Luka

LeBron and 2 Chainz Form a Superteam to Release a New Album

Wade's #OneLastDance Dominated February

Warriors Fans Go Wild After Unforgettable Moments with Steph

Eight Years Ago, the Nuggets Traded Melo to the Knicks

Two Years Ago, the Kings Shipped Boogie to the Pelicans

ASG Will Be Competitive Again If the NBA Raises the Stakes
This kid did all he could to launch up the boards, so expect to hear his name not long after the calling of Ingram and Simmons.
The Lakers will land Ben Simmons
Kathy Willens/Associated Press
Ingram has surpassed Simmons as the top pick in many mock drafts, but if the Los Angeles Lakers strike gold in the lottery, that won't matter.
Of course, Simmons played high school ball with Los Angeles point guard D'Angelo Russell.
"We're real close friends," Russell told Bleacher Report's Kevin Ding. "[When we talk] it's obvious: 'Oh, man, I hope you come here.' It's obvious. But we talk about a lot of other things."
Kelly Kline/Getty Images
Their chemistry would be instant. Plus, Simmons would be significantly more engaged than when he was down in Louisiana, where he often came across as disinterested at times.
There are few stages in the world that can match Los Angeles.
"He's going to be happy and appreciative of anywhere he goes," Liam Simmons, Ben's older brother, told Mark Medina of the Los Angeles Daily News. "The Lakers franchise is a juggernaut. Along with that comes the responsibility of carrying the franchise's name and the legends before him. I think he'll enjoy that."
Per ESPN.com, the Lakers have a 19.9 percent chance of winning the lottery. Their pick is top-three protected, which means it will go to the 76ers if the pingpong balls are unkind to the Lakers.
Should luck be on Los Angeles' side, don't be surprised if the franchise passes on Ingram and takes Russell's buddy.