UEFA World Cup Qualifying 2013 Results: Updated Look at Field for Brazil
November 20, 2013

Martin Rose/Getty Images
Four more teams from Europe punched their respective tickets to Brazil for the 2014 World Cup on Tuesday in what was a thrilling day of UEFA soccer action.
While the star duo of Cristiano Ronaldo and Zlatan Ibrahimovic stole the show in the Portugal-Sweden matchup, there were plenty of other theatrics to see as UEFA wrapped up its portion of World Cup qualifying.
There are only two games left before the entire 32-team World Cup field is set, with both contests set to take place on Wednesday.
2014 World Cup Field
Algeria
Greece
Argentina
Honduras
Australia
Iran
Belgium
Italy
Bosnia-Herzegovina
Ivory Coast
Brazil
Japan
Cameroon
Korea Republic
Chile
Netherlands
Colombia
Nigeria
Costa Rica
Portugal
Croatia
Russia
Ecuador
Spain
England
Switzerland
France
USA
Germany
Mexico/New Zealand
Ghana
Uruguay/Jordan
FIFA.com
Now let's take a closer look at Europe and how the drama unfolded:
Portugal defeats Sweden (4-2 aggregate)
Portugal vs. Sweden
Match
Home
Score
Away
Leg 1
Portugal
1-0
Sweden
Leg 2
Sweden
2-3
Portugal
ESPN FC
Tuesday's contest was a scoreless affair before intermission but featured a flurry of goals from Ronaldo and Ibrahimovic in the second half.
Ronaldo put Portugal up 1-0 in the 50th minute when he made a nice run from midfield, gathered the ball on a long pass from a teammate and pushed it through near the right post. But Ibrahimovic answered with two quick-strike goals in the 68th and 72nd minutes, setting the stage for Ronaldo's heroics.
Ronaldo knotted things up 2-2 by streaking down the left side of the field unmarked and striking one home before providing the game-winner to complete a scintillating hat-trick and give Portugal the 3-2 win.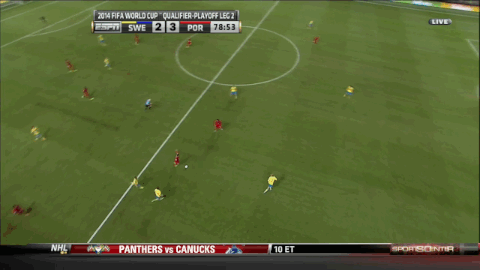 B/R UK
But perhaps the best part was the epic dogpile that followed.
B/R UK
It's a shame that we won't get to see Ibrahimovic on international soccer's biggest stage, but it's hard to imagine a World Cup without Ronaldo.
France defeats Ukraine (3-2 aggregate)
France vs. Ukraine
Match
Home
Score
Away
Leg 1
Ukraine
2-0
France
Leg 2
France
3-0
Ukraine
ESPN FC
France faced an uphill battle entering the second leg of their matchup with Ukraine after losing 2-0 in Kiev last week. But by half-time of Tuesday's contest, things were all square with Mamadou Sakho and Karim Benzema each scoring goals.
The game—and a berth for the World Cup—was decided in the 72nd minute when France kept the pressure on Ukraine and went ahead on an own goal.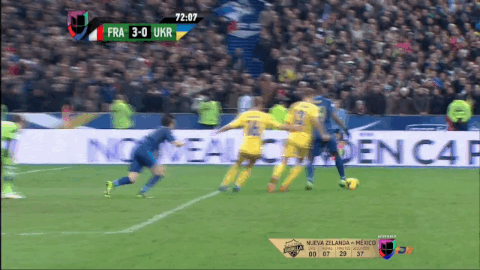 B/R UK
Swede Oleh Husyev was responsible for the own goal, while Sakho was credited with his second score of the day. Meanwhile, Hugo Lloris had to make just two saves to keep a clean sheet for France, who held a 24-9 shot advantage against Ukraine.
It completed a remarkable turnaround for Les Bleus, who responded when their hopes to reach Brazil essentially seemed dead.
Croatia defeats Iceland (2-0 aggregate)
Croatia vs. Iceland
Match
Home
Score
Away
Leg 1
Iceland
0-0
Croatia
Leg 2
Croatia
2-0
Iceland
ESPN FC
Tuesday's contest decided everything after the teams played to a scoreless tie last week in the first leg of this series.
While time of possession was split 50-50 this time around, Croatia held an advantage in shots (19-7) and shots on goal (8-1), cruising to an easy 2-0 victory in the second leg. Mario Mandzukic (27') and Darijo Srna (42') provided the goals for the winning side.
Mandzukic was also sent off near the end of the first half for this transgression: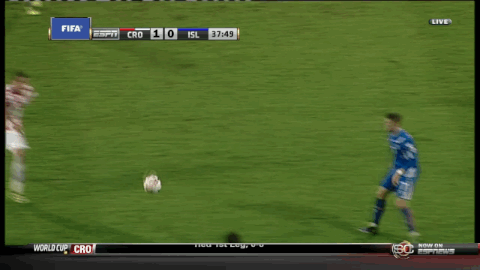 B/R UK
Greece defeats Romania (4-2 aggregate)
Greece vs. Romania
Match
Home
Score
Away
Leg 1
Greece
3-1
Romania
Leg 2
Romania
1-1
Greece
ESPN FC
Greece did their heavy lifting in the first leg by capturing a commanding 3-1 win against Romania in Athens.
Romania were the aggressor on Tuesday, controlling the ball 67 percent of the time while outshooting Greece 11-4. But both teams had three shots on target and both teams had one goal, with Romania's coming on an own goal from Greek defender Vasilis Torosidis in the 55th minute.