UFC 148: Why an "Angry" Anderson Silva Won't Beat Chael Sonnen
July 3, 2012

"We are getting closer to the time of truth."
Anderson Silva's words were dead on at the UFC 148 Media Call. The time for talking and excuses are over. At UFC 148, there will be only one man left standing.
Will it be Silva or Chael Sonnen?
For years, Sonnen has attempted to get under Silva's skin by making outrageously offensive remarks about his family and the entire country of Brazil. While Sonnen was constantly spewing out garbage, Silva sat idly, taking it all in.
It was "The Spider's" way. Silva has never been one to engage in pre-fight talk. He had always been relatively soft spoken, but then he ran into Sonnen, a man who nearly defeated him a couple of years ago.
At the Media Call, Silva finally lost his cool and let out years of anger and frustration.
"What I'm going to do inside the Octagon is something that's going to change the image of the sport, I'm sorry. I'm going to beat his ass like he's never been beaten before. This is going to be violent and I am sorry. I'm going to make sure that every one of his teeth are broken, that his arms are broken and his legs are broken. He's not going to be able to walk out of the Octagon by himself. I can guarantee that. He will need a plastic surgeon afterwards."
People can say what they want about Sonnen, but deep down, the world knows there is a layer of truth to what he's saying. Silva was the victor in the first bout, but Sonnen handed out an incredibly lopsided beating.
The defense for Silva and fans has always pointed to Sonnen being popped for performance-enhancing drugs following the fight. Steroids are banned from athletics for a reason, but those reasons aren't the explanation to Silva's performance that night.
People act like Sonnen's strategy was some brand new wrinkle never shown against Silva. Throughout his entire career, Silva has always had suspect takedown defense.
Dan Henderson utilized his world-class wrestling and handled Silva relatively easily in the first round of their championship scrap back in March 2008.
Unfortunately, Henderson thought it would be wise to deviate from his takedowns in the second round, and he paid the price by getting clipped and submitted by the greatest striker of all time, who also happens to be a black belt in Brazilian Jiu-Jitsu.
Travis Lutter, a mediocre wrestler with high level BJJ, scored three takedowns in his bout with Silva at UFC 67.
Why wouldn't Sonnen be able to do the same on a more consistent basis?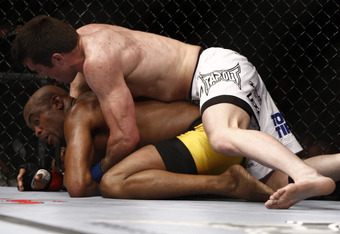 A more aggressive approach may not be the answer against Sonnen, a proven wrestler with world class takedowns. Unlike some of Silva's previous opponents, Sonnen isn't going to let up on the takedowns.
He prides himself on sticking to his bread and butter.
A super aggressive Silva would only make things easier on the challenger. As great as Silva's BJJ is, he doesn't have the wrestling chops to shrug off Sonnen's takedowns.
If Silva is going to be angry, his game plan will have to be more focused and controlled. He needs to pick his shots on the outside and utilize good footwork to make things difficult on Sonnen when he tries to close the distance.
Whether people choose to believe or not, the writing has been on the wall for years in regards to Silva's takedown defense, but like a true champion, he always finds a way to win.
Will Silva find a way on Saturday night, or will Sonnen's takedowns once again prove to be too much for the legendary middleweight?