Why the Red Sox Should Avoid Big Trades and Wait Until Winter to Retool
June 29, 2012

Elsa/Getty Images
This time last season, the Boston Red Sox were 45-34 and in second place in the AL East (thank you, Baseball-Reference.com, you are awesome). They were on pace to win 92 games.
Despite the team's strong pace, then-GM Theo Epstein was active at the trade deadline. He brought in Mike Aviles via an under-the-radar deal with the Kansas City Royals and he executed a deal to acquire Erik Bedard from the Seattle Mariners.
Aviles hit over .300 for the Red Sox the rest of the way, and Bedard posted a decent 4.03 ERA in eight starts. In retrospect, Epstein's small deadline moves paid off. The Red Sox missed the postseason, but that wasn't the new guys' fault.
These days, the Red Sox are 40-36 and in third place in the AL East, six-and-a-half games behind the New York Yankees. They're only on pace to win about 85 games, which probably won't be good enough to earn them a postseason berth, even with the second wild card in place this season.
Because of that, common sense suggests that the Red Sox will be much more aggressive at the trade deadline this season than they were last year. And indeed, last year's eventual collapse should give new GM Ben Cherington even more incentive to strengthen his club for the stretch run. Why take any chances, right?
Indeed.
...But I wouldn't count on anything big happen. For that matter, I wouldn't even count on anything small happening.
Last year and in most of the years prior, the Red Sox truly needed to find extra able bodies for their roster at the trade deadline. Answers could only come from outside the organization.
That's exactly what's different this year. The 2012 Red Sox need able bodies for the stretch run, but there are plenty of answers lying around within the organization. Boston has more talent lying around on its disabled list than any other team in the league.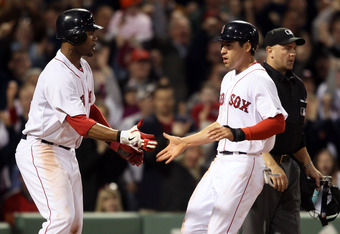 Elsa/Getty Images
For the first time in a long time, the news concerning the Red Sox's injured players is largely positive. According to the Boston Herald, Jacoby Ellsbury and Carl Crawford have started their minor league rehab assignments and could be back in a matter of weeks. Gordon Edes of ESPNBoston.com and others have reported that Josh Beckett will be returning to the mound this weekend in Seattle. Peter Abraham of The Boston Globe has reported that Ryan Sweeney is recovering nicely from a wounded toe, Scott Podsednik is starting a rehab assignment, Rich Hill is almost ready to start throwing and Andrew Bailey is playing long toss and is almost ready to start throwing off a mound.
And so on and so on. The short version is this: The troops are recovering.
As a team, the Red Sox haven't been close to being 100 percent healthy all season, so the fact that they're still within shouting distance of first place in the AL East, baseball's toughest division, is quite commendable. 
They're very close to having all the right pieces in all the right places. When they do, they'll have everything they need to make a late-season surge toward October baseball.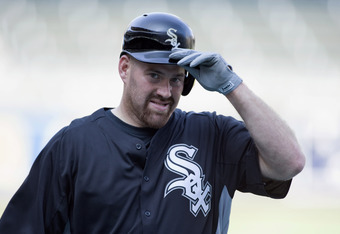 Hannah Foslien/Getty Images
The Red Sox have already made one major trade this season, and that was the deal that sent Kevin Youkilis packing to the South Side of Chicago. If they do make more deals before the trade deadline, they'll probably be very similar to the Youkilis deal. Cherington will be sending players out rather than bringing players in. 
For example, Jayson Stark of ESPN.com has reported that there's some speculation that Kelly Shoppach will be traded. Once Crawford and Ellsbury are healthy, Cherington will find himself with a wealth of outfielders. He could ship one of them off to a needy team.
With so much depth to play with, there's really no need for Cherington to sacrifice any of the team's prized prospects for the sake of pursuing one of this year's big trade targets (i.e., Matt Garza, Ryan Dempster, Cole Hamels, Zack Greinke, Carlos Quentin, et al). For the first time in a long time, the Red Sox are in a position where they can roll with what they've got.
If the Red Sox happen to make the postseason this year, even the biggest Sox haters (and there are many of those out there) will have to tip their caps. Bad vibes surrounded the organization during the offseason, and they still haven't really gone away three months into the season. The injuries haven't made life any easier. 
Make no mistake, this is a team that shouldn't make the playoffs.
For that exact reason, the end of the world will not be nigh if the Red Sox fail to make it to October this year. There will be grumbling, to be sure, but certainly not outright panic like there was at the end of the 2011 season.
This offseason shouldn't be nearly as tumultuous as the 2011 offseason. The Red Sox (presumably) won't have to worry about finding both a new manager and a new general manager, leaving everyone in the organization free to worry about the personnel out on the field and little else.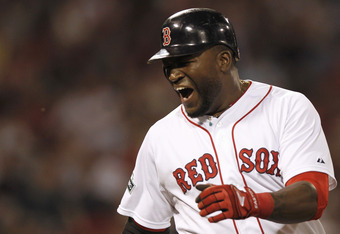 Winslow Townson/Getty Images
Boston will have to make a decision about David Ortiz, who is scheduled to hit free agency after the season. The team will also have to mull over whether or not to offer extensions to key players like Jacoby Ellsbury and Jarrod Saltalamacchia. 
But on balance, the Red Sox won't have that many pressing matters to tend to. It's hard to imagine them spending big money on a free agent such as Josh Hamilton, Hamels or Greinke given the amount of bloated contracts they already have on their payroll, but you can rest assured that Cherington will be active in trying to find bargain players just as he was this past offseason.
The Red Sox didn't go all-in this past offseason to try to win big in 2012. They were too busy trying to prop up a sinking ship. Things will be much more stable this offseason, meaning the Red Sox will have every excuse to go all-in to try to win big in 2013.
In the meantime, Red Sox Nation should just take things as they come for the rest of the 2012 campaign. Regardless of how it all turns out, it's going to go into the books as a very strange season.
If you want to talk baseball, hit me up on Twitter.