Why the New England Patriots Shouldn't Be in a Rush to Get over Super Bowl XLVI
June 25, 2012

This year, the Los Angeles Kings played with an urgent compulsion to win. Last year, the Boston Bruins played with an all-out refusal to lose. Two different types of teams with contrasting philosophies, yet both hoisted the Stanley Cup.
If your team fits into one of these types, does it matter which philosophy they embrace?
Well, it depends. If you're talking about the difference between no rings and one ring, then it doesn't matter. 
But if you're talking about the difference between three rings and five rings, then it matters.
Change is a constant in the world. That's especially true in sports.
The great players who win championships throughout their careers adapt to changing times. They mold their games to fit changing rosters in changing leagues.
Kobe Bryant is a great example of this. As his career went on, the NBA continuously got more athletic, the players got younger and bigger, and the Lakers kept shuffling their roster, but Bryant kept winning rings.
He endured the changing times.  
Tom Brady shares some of these hallmarks. Like Bryant, Brady established a dynasty early in his career, then went on to define himself as one of the premier individual athletes of his generation.
But as similar as Brady and Bryant are, there's one big difference: It's the difference between playing to win and refusing to lose. 
In the Tom Brady era, the Patriots have competed in five Super Bowls. Each time, they played with a winning sense of urgency. Ultimately, that was enough to capture three crowns. 
Tough to argue with those results.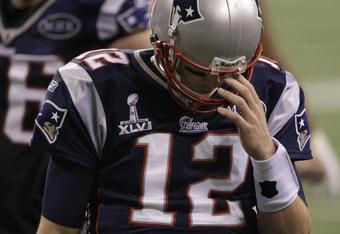 But it's important to note that both of their Super Bowl losses came against a team that refused to lose.
Like Brady, Bryant has generally embraced a winning sense of urgency throughout his career. But here's where they hit a crossroads and go in opposite directions: Brady never changed that urgency, but Bryant did. 
That change came in the NBA Finals rematch between the Lakers and Celtics.
Two years prior to that rematch, the Celtics throttled the Lakers. That series included some prolific games by Boston, one of which qualifies as one of the most stunning comebacks in NBA history. The series was topped off in Game 6, when the Celtics won by 39 points and clinched the trophy.
It was a demoralizing defeat for Bryant.
He played that series with a winning sense of urgency, but the Celtics played with the same urgency. Ultimately, Boston was tougher, and they wanted it more.
Two years later, in their finals rematch, the Celtics continued with their sense of urgency, but Bryant changed his philosophy. Instead of playing to win, Bryant refused to lose. That may not seem like a big change, but it was enough for the Lakers to win.
What motivated Bryant to adopt that "refuse to lose" mindset?
Well, it was a combination of things.
For starters, he refused to suffer another finals loss to the same team. Secondly, he refused to lose again to a team that he especially hated.
The third reason had to do with a much deeper kind of revenge.
This traced back to 2007-08. At that point, Bryant was in the midst of a perfect season. He was All-NBA first team and all-defensive first team. He became the youngest player in history to reach 20,000 career points. He also won the league's MVP award and grabbed a gold medal at the 2008 Summer Olympics. That string of accomplishments marked a special time in his career.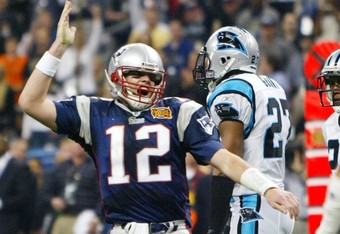 But the Celtics spoiled that perfection when they out-muscled him for the championship trophy.
Bryant never forgot that. So, when he met the Celtics for a rematch, he changed his mindset.
He refused to lose.  
All of this relates to the Patriots. In Super XLII, the Giants spoiled the Patriots' perfect season; the Giants stole history from them. Super Bowl XLVI was an opportunity for revenge. But the Patriots never changed their mindset, and that revenge never happened.
What bothers me most about Super Bowl XLVI is that the Patriots were never in control of that game. For a second straight time (third if you count the regular season rematch in 2011), the Giants were the more desperate team. The Giants were the more scrappy team.
Once again, the Giants were the team that refused to lose.
The Patriots played Super Bowl XLVI as if Super Bowl XLII never happened. That's the danger of the whole "looking forward, not back" thing.
Sometimes, looking back is the right thing to do.
Who cares that the rosters were different? The key players were still there, and so was the bad blood.
Instead of looking back and using the agony from 2007 as motivation, the Patriots only looked forward. That robbed them of a reason to play desperate.
Sometimes, being a winner means playing angry, playing desperate or playing to get even. Athletes like Muhammad Ali, Michael Jordan and Tiger Woods have photographic memories of their lowest points. They remember specific incidents, losses and opponents who got under their skin.
At certain points in their careers, those guys capitalized on emotion, anger and cold-blooded fury to help them win. And while Kobe Bryant may not fit in with those immortal athletes, he has occasionally adopted that same mindset to help him win.
More often than not, those athletes played with an urgent drive to win. But sometimes, when necessary, they played desperate and refused to lose. 
The point is this: Every single season, Brady and the Patriots have a Goliath-type image. They're always considered the big dog.
But that image isn't helping this team win championships right now.
I don't want to be the Goliath team anymore. I don't want to be a team on a mission to win. Every team is on a mission to win, and those teams lose all the time. I want to be the team that's fueled by something that can't be stopped.
I want to be the team that refuses to lose.
Heading into 2012, I don't want the Patriots to be defined by the three rings they have. Instead, I would prefer that they be defined by the two rings they don't have.
Get desperate. Be scrappy. Refuse to submit to the will of any other team in the league. Define yourselves by your greatest losses, remember what that pain feels like and then make a pledge to never experience it again. 
The message is this: Don't be in a rush to move on from the loss of Super Bowl XLVI. Don't start over from scratch. Starting over is for teams with minimal ambition and for teams that are literally starting over, with new quarterbacks and new rosters.
The Patriots don't fit into either category. 
When you're coming off two Super Bowl losses to the same team, you should be angry. This is not the time to do the polite "look forward, not back" thing. Don't be sweet. Get vicious and channel that rage into a productive mindset. 
Don't start fresh and clean. Start filthy and refuse to lose.