Kansas City Chiefs: Stat Predictions for Jamaal Charles & Peyton Hillis in 2012
June 13, 2012

Kevin C. Cox/Getty Images
As the NFL evolves into an ultra-aggressive, quick-strike passing league, the Kansas City Chiefs maintain interest in returning to their 2010 form when they led the NFL in rushing, averaging 164.2 yards per game.
Though the Chiefs have more than enough receiving options to keep everyone happy—including quarterback Matt Cassel—their bread and butter on offense will be trying to keep the ball out of the hands of the opposition and in the mitts of their own running backs, Jamaal Charles and the newly-signed Peyton Hillis.
Charles has been the Chiefs' most productive rusher since coming into the league in 2008, but there has always been concern about how his smallish frame would hold up to the regular onslaught of NFL defenders.
Although an ACL tear isn't indicative of the constant barrage of punishment to one's body—being more of a fluke injury—the Chiefs' biggest worry came to fruition when Charles was lost for the season in a 48-3 Week 2 loss to the Detroit Lions last season.
With an aging Thomas Jones and inexperienced backs in Jackie Battle and Dexter McCluster, the Chiefs lacked the proper depth at the running back position to absorb such a loss, and as a result fell to the middle of the pack in the NFL in rushing yards.
To help get the running game back on track, the Chiefs signed Hillis and drafted Cyrus Gray this offseason. McCluster also returns, and although he is being worked out at wide receiver so far during OTAs, he should get plenty of looks all over the field this season.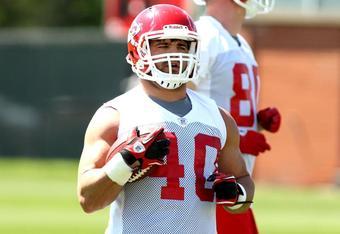 But the focal points of the Chiefs' rushing attack will be Charles and Hillis, who will more than likely assume the role that Jones served over the last couple of seasons.
While it may be easy to look at the situation and deduce that the Chiefs would be best served feeding the ball to their best player as much as possible, Charles has proven what he is capable of on approximately 15 touches per game over his career. It isn't a guarantee that he would be more productive with a heavier workload, nor are the Chiefs interested in bringing their playmaker back too quickly from injury.
Though Charles and Hillis will serve different roles in the offense, their touches might look a lot like the Charles/Jones combination from the last couple of years, except Hillis is a younger, more capable threat than Jones was during his time with the Chiefs.
If all goes as planned for the Chiefs in 2012, they will be playing with leads late in games which will result in more carries for Hillis. This is not a bad thing if he proves to be an upgrade over Jones, as it lessens the load on Charles and reduces the risk of injury.
Assuming both play a full slate of games, here are stat predictions for Charles and Hillis for the 2012 season.
Jamaal Charles
Rushing: 1,144 yards and eight touchdowns on 220 carries (5.2 YPC)
Receiving: 420 yards and three touchdowns on 45 receptions (9.33 avg.)
Peyton Hillis
Rushing: 1,024 yards and eight touchdowns on 256 carries (4.0 YPC)
Receiving: 169 yards and one touchdown on 26 receptions (6.5 avg.)
Contact Jeremy at jeremy@popflyboys.com, on Twitter @KCPopFlyBoy and at popflyboys.com.