NASCAR Sprint Cup: 'Pocono Pit Blame Game' Exposes Soft Underbelly of the Sport
June 10, 2012

Jeff Zelevansky/Getty Images
Sunday's NASCAR Sprint Cup Series race at Pocono was a record-breaking event.
In all, 15 drivers combined to make history by earning an unprecedented 22 pit road speeding penalties in Sunday's running of the Pocono 400.
Among those involved in the historic event were five-time NASCAR Sprint Cup champ Jimmie Johnson, four-time champion Jeff Gordon, Kevin Harvick and Brad Keselowski.
Following Sunday's 400-miler, drivers left their cars fuming over the vast number of speeding penalties, and the "Pocono Pit Blame Game" commenced.
"It was obvious that the section had some kind of issue, because I know both times I got busted, I was under the limit with my tools that I have available," Keselowski told SB Nation after the race.
"I think there's plenty of evidence to show that there is something wrong with the section timing, with whether they're looking at who got busted or what I just said there."
Johnson, who was busted on consecutive pit road visits, seconded Keselowski's sentiment. Per SB Nation:
"When we get to the end of pit road, when your nose hits the line, you take off," he said. "I did that the first time and I got nailed. Alright, maybe I just overdid it. The second time, I waited until the tail crossed the yellow line and still got pinned."
That 15 drivers combined for 22 pit road speeding penalties rose plenty of questions about the validity of said penalties. Like Keselowski and Johnson, many race fans felt as though the newly-repaved Pocono Raceway included some sort of pit road scoring glitch, so to speak.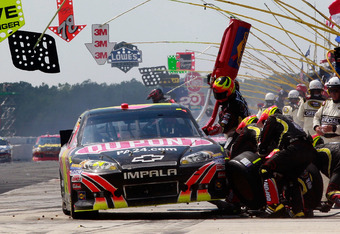 Geoff Burke/Getty Images
TNT race broadcasters Kyle Petty and Wally Dallenbach also weren't shy to share their opinions on the afternoon's speed-stravaganza.
"To have gotten this many people this quick, there's got to be something that's amiss in the scoring," said Petty, per this video from CBSSports.com.
But while many were quick to blame the timing lines at Pocono for all the pit road speeding issues, perhaps the real issue rests with the drivers.
Or even with NASCAR itself.
Let's start with the drivers. In all, 15 drivers were caught speeding on pit road Sunday. While that is an uncharacteristically high number, 43 drivers started the race, which means 28 drivers did not speed.
Furthermore, drivers have been known to find where the timing lines are on pit road and exploit them, including both Johnson and Keselowski. For the latter, NASCAR went so far as to change the pit road timing lines for the race earlier this year at Bristol.
The reason for the penalties at Pocono was not that the lines were messed up, but that some drivers decided to push the issue too hard on pit road in order to gain position and it bit them.
If lines were indeed the issue, 43 drivers would have been caught speeding on Sunday. Not 15.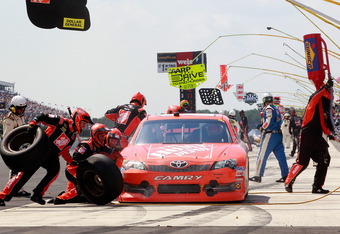 Geoff Burke/Getty Images
But the overall problem goes deeper than the drivers. It's on NASCAR.
In the video linked above, you see TNT pit reporter Ralph Sheheen holding up a map that shows where each individual timing line is on pit road. The map is accessible to all drivers and teams and allows them to find out where it's safe to speed when the driver comes in for a stop.
Wait, what?
Yes. Prior to each race, NASCAR supplies its teams with the information they need to break the rules NASCAR has in place to ensure pit road safety. The information allows teams to, in some places, go as fast as 20 mph over the pit road speed limit.
Meaning at a track like Pocono, where pit road speed is 55 mph, drivers can reach speeds as high as 75 mph while driving just feet from exposed crew members.
Basically, it is like the head referee in an NFL game telling the coaches and player before the game starts that it's OK to hold at the left hash of the 41-yard-line, on the center logo at midfield, and at the right hash of the 12-yard-line because those are places where the ref's view will be blocked by other players.
Or, in real-life terms, it's no different than a sheriff's office telling its civilians that it's OK to go 45 mph in a 25 mph school zone as long as they do it behind that clump of trees where the officer won't see them.
The fact that NASCAR has actually given these drivers all the tools they need to beat the system is very sobering. Instead of ensuring crew member safety and fairness by enforcing the speed limit at all costs, they've allowed drivers places to speed and have told them where those places are.
It's like building a nuclear weapon for a deranged dictator and then telling him the code to detonate it, only far less dangerous.
But you get the idea.
Even more sad than that was listening to drivers like Keselowski and Johnson whine about the fact that they were basically not told where and how they could cheat, and pouted when they got busted.
It's sickens me to see this. It demonstrates just how bad things are in NASCAR today and just how soft things have gotten that drivers are upset when they aren't being told how to beat the system by the people who set the system in place.
To Johnson, Keselowski and every other driver out there who's upset they didn't get away with breaking the rules today, get over it. Pit road is not a place for racing. It's a place to get your car serviced so that you can race.
You don't like that you had to play by the rules at Pocono? Good. Get over it. That's life.
If the "Pocono Pit Blame Game" was good for anything, it's this: it brought into the light just how soft the sport and its members have really gotten.
And with all the changes NASCAR has made over the last few years, maybe this has left us to pine for one more request from both the sport and the drivers.
Toughen up.