Debating the Buffalo Bills' Biggest Weakness
June 7, 2012

Donald Miralle/Getty Images
The Buffalo Bills have bolstered plenty of positions this offseason, adding two top-notch defensive ends in free agency and two solid cornerbacks in the draft.
A slew of other additions have this roster looking much more impressive and primed for a postseason party like it's 1999.
Everything looks rosy in Buffalo, but it's never perfect. What is the Bills' biggest weakness?
To talk about it, we bring in Bleacher Report Bills featured columnist Chris Trapasso, who can also be found on Twitter.
Take it away, Chris.
Chris
Expectations have certainly reached new heights in Buffalo, the city most yearning to see its team in the postseason. Yes, the team has made considerable acquisitions this offseason, but even the most optimistic Bills fans realize the team has weaknesses.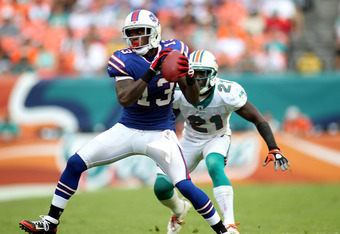 Marc Serota/Getty Images
For me, it's easy: The team's greatest weakness lies within its receiving contingent. On the surface, the newly re-signed Stevie Johnson is a No. 1 receiver who's bound for his third consecutive 1,000-yard season.
But if you look back at his 2011 campaign and his career statistics, you'll see that he's far from a true No. 1.
First and foremost, Johnson averages only 12.9 yards per carry, or as I like to say, more T.J. Houshmandzadeh-esque than Chad Johnson-like.
He's incredible beating press coverage at the line and can find openings in zone coverage, but he doesn't exactly possess the game-breaking speed to be a well-rounded threat.
In 2011, he went relatively quiet when the Bills struggled during the middle of the year, and remember, he only had one 100-yard receiving game and didn't catch more than one touchdown pass in any game.
Chan Gailey's system is predicated on spreading around the football, but Johnson needs to improve his own weaknesses. Catching the ball in critical situations would help, too.
After that, the Bills are made up of raw and rather unproven wide receivers.
David Nelson's the most sure-handed of the group and has emerged as a formidable slot option at 6'4'', but his role as a chain-mover likely won't change. Chances are, he'll stay around the 600 to 800 receiving yard mark every season, which is fine.
After him, Brad Smith's 32 catches in 2007 with the jets is the best career high of any Bills receiver not named Steve Johnson or David Nelson. Naaman Roosevelt and Donald Jones contributed last year, but can they be relied upon as anything more than a situational fourth or fifth option? Marcus Easley has promise, but he's yet to play an NFL down. T.J. Graham's got speed but is just a rookie.
Lots of question marks.
Erik
There were four primary weaknesses leading up to the draft—wide receiver, linebacker, cornerback and offensive line depth. The Bills addressed every one of those needs in some capacity in the draft. But there are still holes to fill.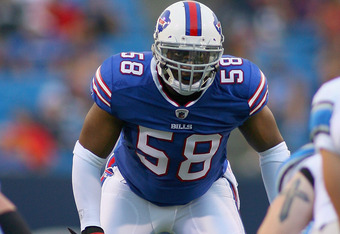 Rick Stewart/Getty Images
The Bills need more production at wide receiver, specifically in the vertical passing game. They are hopeful that adding third-round receiver T.J. Graham to the fold will help stretch the field a bit and open things up for the offense. He may not give the Bills a true No. 1, as you put it, or at least not just yet. But between Graham, Stevie Johnson, David Nelson and a laundry list of hopefuls, the Bills have enough options to keep themselves busy during camp.
I agree with you, but while we're on the topic of weaknesses, what about the linebacker spot? Yes, the team has veteran Nick Barnett and newcomer Kelvin Sheppard, but who mans the other spot? Is the team confident in Kirk Morrison to man the other spot?
Even if they are, is he a long-term answer? His two-year deal for $2.5 million is indicative that the team doesn't feel a need to commit to him long-term.
Barnett is a solid 'backer for 2012, but at 31 years old, how much does he have left? Yes, Ray Lewis is 37 and still playing, but he's an exception, and Barnett has dealt with some injuries, especially over the past few years.
Even if linebacker isn't a pressing need or a weakness this year, it could be one going forward.
Chris
The linebacker spot is certainly an area of concern on defense, mainly because the team's relying on Kirk Morrison to man one of the starting outside linebacker positions.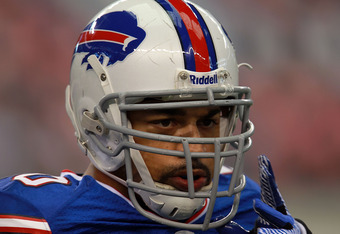 Ronald Martinez/Getty Images
However, Nick Barnett was a significant upgrade over Paul Posluszny, and after gaining a great deal of experience in 2011, Kelvin Sheppard should be fine in a classic "Mike" position in the 4-3. He's not spectacular, but playing alongside two sharp veterans and behind what should be one of the more formidable defensive lines in the AFC, I think the linebacker unit will be fine.
Unfortunately, the wide receiver corps doesn't have a group to rely on within Buffalo's offense to aid their contributors. Sure, Fred Jackson and C.J. Spiller are solid and should get more cumulative carries in 2012, but Ryan Fitzpatrick isn't the type of quarterback that can instantly make the wideouts around him better.
Stevie Johnson's a fine possession receiver, as is David Nelson out of the slot, but there's just so much uncertainty with the rest of the unit that the receivers have to be Buffalo's greatest weakness heading into 2012.
Erik
The problem with Barnett is that he's only ever played middle, and either he or Sheppard will likely be asked to man a spot that isn't 100 percent comfortable for them. With that in mind, I like Sheppard's athleticism at the WILL spot a lot more than Barnett's or Morrison's.
At receiver, though, as you said earlier, it's all about spreading the ball around. At least, in that respect, they have a lot of good receivers despite Johnson being the only receiver of note. Who's going to be the top option remains unclear, but recent history suggests it'll be Johnson.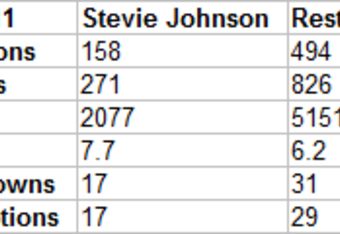 What is clear, though, is that if their offense is going to be about spreading the ball around, they need to take that to heart and not put the burden of the offense on Johnson as they have for the past two seasons. In that way, the Bills have set themselves up for failure if and when Johnson doesn't produce, as you mentioned earlier.
A No. 1 receiver would help in certain situations, and Fitzpatrick's dip from 7.6 yards per attempt in the first seven games to a mere 6.2 in the final nine indicates that a lack of explosive threat in the passing game contributed in some way to the struggles of the offense.
The question shouldn't be whether Fitzpatrick can make the weapons around him better. It should be whether he can be smart with the weapons that are around him.
Just look at Joe Flacco. He's never been the type of quarterback to make the rest of his receivers look better, but he is at least capable of making use of what's around him and being efficient about it in a way that doesn't cost his team games.
Chris
You make some great points, Erik. The Bills offense is predicated on spreading around the football, and in the first six games of 2011, that system worked wonderfully.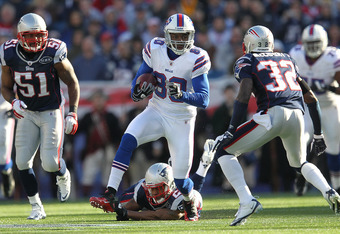 Jim Rogash/Getty Images
Many of the unheralded and overlooked wideouts seemed comfortable in the quick passing attack. As the year wore on, the lack of talent was glaringly obvious in the receiving corps. Many players had issues getting open for Fitzpatrick and registered far too many drops.
Sure, the numbers are there, but will Chan Gailey be able rely on a crop of unproven guys to emerge as viable targets in his spread system?
Meanwhile, the linebackers may be in slightly different positions, but they're in a much easier position with four defensive linemen in front of them and have vast experience compared to the wide receiving contingent.
Erik
Great points to close out, Chris. Thanks for joining me, and we'll be sure to link up again in the future.
Readers can vote in the poll and leave your thoughts in the comments below. Check back at the AFC East blog every day for more debates.
Erik Frenz is the AFC East lead blogger for Bleacher Report. Be sure to follow Erik on Twitter and "like" the AFC East blog on Facebook to keep up with all the updates.