Power Ranking the Texas Rangers' Under-the-Radar X-Factors
June 6, 2012

Rick Yeatts/Getty Images
One of the great things about baseball is its peculiar reliance on the individual performance in conjunction with the team effort. The combination of the two is a necessity for the cohesion of a productive—and winning—team.
It's a blast to watch Josh Hamilton hit four home runs in one game or crush the game-winner in extra innings. People that pay good money (even those that pay bad money) to watch the Rangers have come to expect it. They also expect big games from Hamilton's fellow superstars such as Yu Darvish, Adrian Beltre and Ian Kinsler, to name a few. 
But it takes more than those aforementioned standouts to make the 2012 Texas Rangers a successful team.  Josh Hamilton and company aren't always going to be able to produce the game-changing play—this is precisely why you need those contributions from the unheralded players. 
Here's a look at some of those standout players that don't always get overlooked, but do generally fly well under-the-radar.  
7. Craig Gentry (.300/.371/.388, 8 stolen bases) 
Gentry is quietly putting together an excellent season.  He's arguably the Rangers' best defensive center fielder, and he comes equipped with an arm more typical of a right fielder.  
Gentry's calling card is his outstanding speed.  He's not only fleet of foot, but he uses his great instincts before attempting a stolen base. Over his career, Gentry has only been caught stealing twice in 28 attempts, a 93 percent success rate. 
6. Koji Uehara (1.33 ERA, 0.54 WHIP, 9.3 K/9) 
After struggling with the Rangers since he was acquired for Chris Davis and Tommy Hunter during last summer's trading deadline, Uehara continued his precipitous decline during the postseason. 
To start of the 2012 campaign, it looked as though the Rangers were going to be treated to the same old "bad" Koji.  
However, thanks to improved command and the return of his nasty split-fingered fastball, Uehara has quietly been one of the Rangers' top relievers thus far in 2012.  
5. David Murphy (.261/.341/.430, 5 HR) 
There are plenty of major league teams that would covet David Murphy as an everyday player. For the Texas Rangers, he's a fourth outfielder. Murphy's role on the team is easy to overlook, as he is certainly not a household name—especially outside of the DFW market. 
Murphy is a versatile athlete that is often called upon to help out the Rangers' injury prone starting outfield of Josh Hamilton, Craig Gentry and Nelson Cruz. 
And whenever his name is penciled into the starting lineup, more often than not, Murphy delivers the goods.       
4. Joe Nathan (1.99 ERA, 0.88 WHIP, 10.7 K/9, 11 Saves) 
Joe Nathan's offseason signing signified the Rangers' intention to move Neftali Feliz out of the closer's role and into the starting rotation.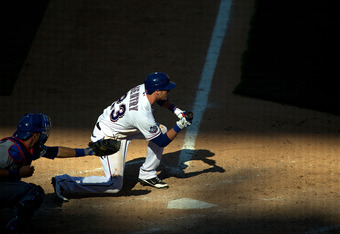 Cooper Neill/Getty Images
Although Feliz did have his struggles as the ninth-inning man, overall he was outstanding. His departure left some pretty big shoes for Nathan to fill. 
Almost immediately, Nathan earned a loss against the Chicago White Sox and then was hammered by the Mariners for a blown save.  
Since then, he has been nails as the lockdown closer the Rangers so desperately sought this past winter.    
3. Robbie Ross (5-0, 1.50 ERA, 1.00 WHIP, 6.0 K/9, 0.6 HR/9)
Ross is one of the biggest feel-good stories of the year for the Texas Rangers. The wide-eyed 22-year-old left-hander was considered a long shot to make the team out of spring training. 
Ross has successfully segued his Cactus League success into an outstanding rookie campaign. He is truly a key component to the team's outstanding bullpen—not to mention a HUGE upgrade over Arthur Rhodes and Darren Oliver from years past.  
2. Elvis Andrus (.311/.393/.421, 26 RBI) 
Long known for his outstanding glove work at shortstop, Elvis Andrus' plate production has really come alive this season. 
If it weren't for Elvis Andrus' ability to get on base, how many solo home runs would Josh Hamilton have this year?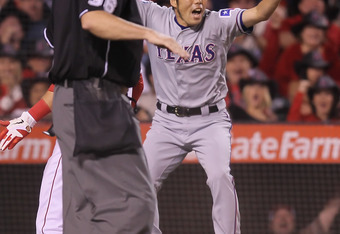 Jeff Gross/Getty Images
Andrus can now change games not only by preventing runs with his leather, but by driving in runs in the No. 2 hole. 
1. Colby Lewis (4-4, 3.50 ERA, 1.12 WHIP, 8.0 K/9)
Colby Lewis is the consummate underrated starter.  When he was named the Rangers' Opening Day pitcher there were plenty in Rangers Nation that were left scratching their heads. 
Some of "Colbyashi's" underratedness stems from the fact that his fastball is more high-80s than low-90s.   
Despite his lack of velocity and propensity to surrender the occasional long ball, Lewis has inexplicably maintained an 8.0 K/9 as well as the league's best K/BB ratio of 6.4.
For the third straight year, he is quietly compiling another stellar season in true Colby Lewis fashion: under-the-radar. 
Check out BaseballDo—the Texas Rangers Blog that's funny too!