Pittsburgh Steelers: Which Players Will Disappoint in 2012?
June 6, 2012

Thearon W. Henderson/Getty Images
There is a lot to be excited about this season if you are a fan of the Pittsburgh Steelers. They have a new offensive coordinator and are coming off an outstanding draft.
These changes should position the Steelers to once again compete for an AFC North title and challenge for a Super Bowl. However, that does not mean the team is without its flaws.
Each year, no matter the talent on the team, brings about a player who just does not meet expectations. Sometimes it is because of injury and other times because of ridiculous expectations. Then there are just down seasons.
Pittsburgh will not be without its underachievers this season. These players are still capable of having good seasons, but not the type of season that is expected of them from the fans or coaches.
Here is a look at the players who could disappoint in 2012. 
Alameda Ta'amu
There is a lot of hope for Alameda Ta'amu, who was one of the top rated 3-4 nose tackles in the entire draft. He was considered a steal for the Steelers in the fourth round.
With Casey Hampton possibly starting the season on the PUP list, Ta'amu may have to make an impact early in his career, but it will not likely be what we would hope.
It should not be a surprise if Ta'amu's playing time is limited. Rookies typically do not see much time on defense, particularly on the defensive line where defensive line coach John Mitchell completely rebuilds his linemen to fit his style.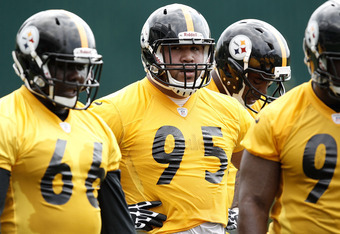 Jared Wickerham/Getty Images
As much as myself, and others, would like to see Ta'amu see significant action, even start early this season, he will sit behind Steve McLendon and later Hampton.
In other words, Ta'amu will not meet the unrealistic expectations that we have placed on him as a fourth-round draft choice. 
Keenan Lewis
Keenan Lewis has some bold predictions for himself this season, considering he only has one career interception.
"Pro Bowl," Lewis told the Pittsburgh Post-Gazette. "Watch out, this is going to be a big year right here."
Lewis has already set himself up for disappointment.
It was not until his third season before Lewis finally made an impact, but it was as a back-up; he was unable to beat out William Gay for a starting job.
This year, Lewis will compete with two talented cornerbacks, with Curtis Brown and Cortez Allen both vying for the starting spot as well.
Even if Lewis wins the starting job, he has not shown the skill set to be a Pro Bowl player. He is a solid defender, but lacks the playmaking ability of the top corners in the game and isn't even the shutdown corner that Ike Taylor is. 
James Harrison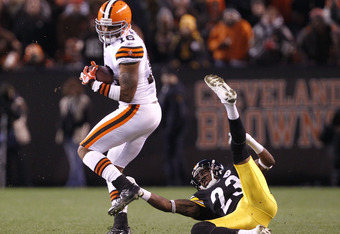 Matt Sullivan/Getty Images
Back surgery slowed James Harrison down last season and he did not look like one of the most dominating defenders in the league as we had become accustomed to seeing.
That is not saying Harrison was not a good linebacker—he still was—but he's no longer at the elite level.
There is a chance that he will continue to slow as his body slowly breaks down from his physical style of play. This will have a negative effect on a Steelers defense that needs to generate pressure with its outside linebackers to help force turnovers.
The team will instead have to rely heavily on LaMarr Woodley, who has been a fairly streaky player. But when on his game, he is one of the best pass-rushers in the league.
Harrison will still be one of the better linebackers in the league, but he may not have the legs to get him through the whole season at a high level. 
Lawrence Timmons
In my opinion, Lawrence Timmons was the biggest underachiever last season, and there is a chance he will maintain that status this season.
Save the excuses that he was forced to play out of position. You can still play out of position and make some sort of impact. He was invisible out there last season when playing on the outside—the position he was originally drafted to play.
Timmons expects to have a double-digit sack season this year (that's after predicting 18 sacks for last season and finishing with two). If he can reach his career high of seven sacks, that would be an accomplishment.
I understand that Timmons will make a lot of contributions defending the pass, but he needs to be more involved in making splash plays.
Timmons has only had one very good season in his five-year career, so expect this season to be on par with what he usually produces, not the outlier of the group. But I do hope that I am wrong on this one.
Follow me on Twitter @ChrisG_FC