FedEx 400 2012: Start Time, Lineup, TV Schedule and More
May 30, 2012

Jamey Price/Getty Images
All eyes will be on Jeff Gordon at the FedEx 400 at the Monster Mile this weekend, where he'll be aiming to collect his 400th career top-10 finish. It seems like it's fate that he'll win: a 400th win in the Dover 400? Meant to be.
A win would give Gordon his fourth win at the track, but he won't be the only star in the field searching for glory this weekend. Greg Biffle is hunting for a third win at Dover, Clint Bowyer is looking to get a sixth top-10 finish and Kurt Busch is aiming for a seventh top-five finish. Plus, Jimmie Johnson currently leads all active drivers with six wins at Dover and is looking to make it a seventh.
The race will once again be partnered with Autism Speaks, and the drivers will raise awareness for the cause all weekend by sporting decals on their cars. 

Where: Dover International Speedway in Dover, Del.
When: Sunday, June 3 at 12:30 p.m. ET
Watch: Fox
Live Stream: TrackPass 
Listen: Motor Racing Network
Starting Order: Qualifying will be held on Saturday, June 2 at 12 p.m. ET. You can catch the action live on SPEED.

Full TV Schedule (Courtesy of NASCAR.com)
FedEx 400 Practice: Friday, June 1, 11 a.m. ET, SPEED
FedEx 400 Practice: Friday, June 1, 2:45 p.m. ET, SPEED
FedEx 400 Qualifying: Saturday, June 2, 12 p.m. ET, SPEED
FedEx 400: Sunday, June 3, 12:30 p.m. ET, Fox

Drivers to Watch
Jeff Gordon
Of course, it's important to reiterate the fact that Gordon could hunt down history with a mere top-10 finish in this race, which would give him the 400th of his career. He'd garner an 86th career victory, and a seventh at Dover, with a win.
Gordon refuses to let the hype interfere with his focus as he heads back to a track that's been a challenge—but a beatable challenge—for him and his team.
He told Motorsport.com, "Dover is very fast and very challenging. Our team has always excelled at tracks that have been the most challenging."

Carl Edwards
Edwards has only emerged victorious once at Dover in his career, but he's garnered seven top-five finishes and 11 top 10s. His average finish at the track is 7.3, and he has a third-best driver rating of 106.5 in the series. 

Jimmie Johnson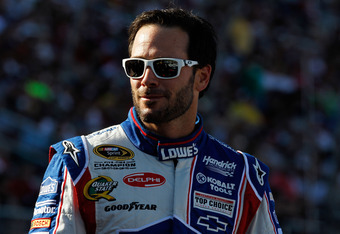 Chris Graythen/Getty Images
He may have been winless in two races at Dover last year, but Johnson is not a driver to be counted out at this track. In his career, he has six wins at Dover, nine top-five finishes and 14 top 10s. In 2002, his rookie season, he swept the two races at Dover and did it again in 2009. In October, he finished second at Dover to Kurt Busch. 

Predicted Winner: Jeff Gordon
It just seems fated for his 400th top-10 finish to occur in the Dover 400. It's not as though his historical performance there is anything to doubt, either.