What Matt Forte's Refusal of the Franchise Tag Means for the NFL's 3 Marquee RBs
May 23, 2012

Grant Halverson/Getty Images
The running back position is quickly becoming an unnecessary factor in a developing pass-first NFL, but that is not keeping Matt Forte from giving a firm stiff arm to the Chicago Bears and their attempt to place the franchise tag on him.
As the Bears' greatest weapon and accounting for much of their offensive output, Forte was understandably seeking a contract that complements the value he delivers on the field.
Prior to LeSean McCoy signing a contract extension with the Philadelphia Eagles worth $9 million a year, Forte's agent was seeking a long-term contract for $8.5 million annually, according to the Chicago Tribune.
With no intent to sign anything but a long-term deal, McCoy's pricey extension will only make things more difficult for the Bears to work something out with their star running back, who has accounted for 300 touches a year over the course of his four-year career.
But with McCoy's contract providing a certain boost to Forte's demands, so too will Forte's refusal to accept less than he believes he is worth—despite the dynamic of the NFL quickly changing—prove to be inspiration for some of the NFL's marquee running backs being underpaid for their unparalleled contributions.
Maurice Jones-Drew
The Jacksonville Jaguars running back Maurice Jones-Drew skipped organized team activities with his teammates and new head coach, and while that is not a new occurrence for Jones-Drew—who has not attended OTAs the past three seasons—Mularkey stated that the star ball-carrier was seeking a contract extension.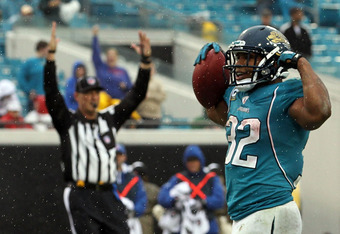 Sam Greenwood/Getty Images
As one of the premier backs in the NFL getting paid less than fellow stars Chris Johnson, Arian Foster and Marshawn Lynch, Jones-Drew has a gripe.
Like Matt Forte, Jones-Drew is the primary—if not only—offensive weapon for the Jaguars. In 2011, Jones-Drew eclipsed 300 carries for the second time in three seasons with a career-high 343.
Jones-Drew has tallied 6,854 rushing yards, 2,473 receiving yards and 73 touchdowns in seven seasons for one of the NFL's most lackluster offensive attacks. Despite his team's struggles, Jones-Drew has been consistent since day one.
He led the NFL in rushing yards this past season with 1,606 for the NFL's worst offense.
Quite literally carrying the Jaguars on his back, Jones-Drew is not being compensated as such. With Matt Forte willing to take such a stance to get what he believes he has earned, don't be surprised if Jones-Drew and his agent seek to do the same.
Jones-Drew has been doing what he does his entire career and he is long overdue to get the respect he deserves. He is making more money than Forte was last season, but watching the Bears' running back go down with injury and the potential risk involved could—and should—be enough to push Jones-Drew to follow suit and hold out for a new contract this season.
If the $7.7 million franchise tag tender is not good enough for Forte, there is no reason Jones-Drew should settle for $4.5 million over the next two seasons in Jacksonville.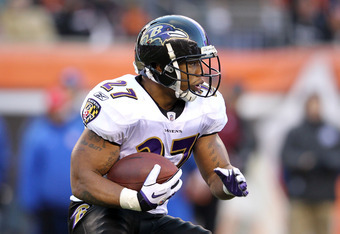 Andy Lyons/Getty Images
Ray Rice
Ray Rice joins Matt Forte in similar company, receiving the franchise tag from the Baltimore Ravens this offseason.
Like Forte, Rice has refused to sign his franchise tender and has not participated in the team's offseason activities thus far. Like Forte, Rice is a huge, vital piece to the Ravens' offensive success.
The versatile back has been a force since entering the league as the Ravens' second-round draft pick in 2008 out of Rutgers. He has eclipsed at least 1,200 yards rushing each of the last three seasons while catching more than 70 passes for over 700 yards twice in that span. He also rushed for 15 total touchdowns in 2011.
While the rest of the NFL shifts to a pass-first offense, Rice is an all-around back that forces you to keep the ball in his hands all game long. If a guy is shouldering most of the offensive load, you must pay him as such.
And clearly Rice is of the same school as Forte, as neither has signed his tender and neither plans to. Both men have been two of the most productive players in the NFL and are firm in their stance about getting paid for that production.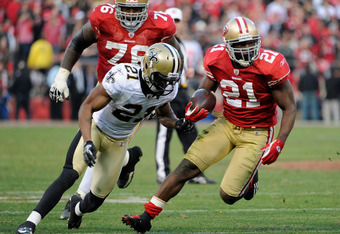 Thearon W. Henderson/Getty Images
There is good news for Rice, however, as the Baltimore Sun's Jeff Zrebiec has reported that progress has been made in contract talks.
With many of the NFL's top backs receiving new contracts recently, it appears San Francisco 49ers running back Frank Gore is a bit overdue for an upgrade himself.
Rushing for 1,000 yards in five of his seven NFL seasons, Gore has cemented himself as a consistent, dependable ball-carrier as a member of the Niners. Despite nagging injuries hindering his play, the former Miami Hurricane has been a workhorse for the 49ers and deserves to get paid for his contributions—even with the addition of a plethora of backs to the depth chart in San Francisco.
In 2012, Gore is expected to make just $2 million in base salary—less than Pierre Thomas, Darren Sproles, Reggie Bush and Fred Jackson. Gore's money lies in bonuses, of which he can earn upwards of $8.133 million behind only Chris Johnson, Steven Jackson, DeAngelo Williams and Maurice Jones-Drew.
Gore is 29 years old, however, approaching that ever fearful 30-year-old mark teams avoid at all costs at the running back position. But Gore's play has not slowed and he continues to be an integral player in the 49ers' offensive success.
At this age, the likeliness of Gore being able to live up to the expectations of his current contract to really earn his money through bonuses is dwindling. Having contributed so much over the past seven seasons, Gore deserves to be rewarded with a new, hefty contract from the 49ers.
Much like aforementioned backs Matt Forte, Ray Rice and Jones-Drew, Gore has and will continue to handle much of the brunt work for Coach Jim Harbaugh. San Francisco added a collection of receivers to hopefully strengthen their passing game this offseason, but Gore remains an indispensable member of the offense for all that he is capable of.
A holdout for Gore may not be the best option going into the offseason, contrary to his counterparts, but the 49ers' back has earned a new contract and it should match his merit as a sustaining central figure in the franchise's ongoing success.
Louis Musto is a featured columnist for Bleacher Report. Follow him on Twitter.