Miami Dolphins: Reggie Bush Is Aiming for the Rushing Title in 2012
May 15, 2012

Winslow Townson/Getty Images
Dreams. We all have them. My dream is to fly an X-wing fighter through the trench of the Death Star and to hit a thermal exhaust port that is less than two meters wide, setting off a chain reaction that should destroy the station. 
As he told WSVN-TV, via the South Florida Sun-Sentinel, Reggie Bush wants to lead the league in rushing in 2012:
I want the rushing title. This offseason I've been working toward that goal. Just being effective like I was this past season.

Every time I rush the ball, I want four yards. I'm keeping my focus simple and small, but at the same time helping my team progress
It's hard to say which of these two dreams is closer to approaching reality. 
Don't get me wrong—I love what we saw from Bush in a Miami Dolphins uniform last year. Criticized his whole career for his tendency to dance and attempt to bounce every run outside in search of the home run, the seven-year veteran appeared to embrace hitting the hole and getting tough yards up the middle in a career year that saw him finish 11th in the league in rushing.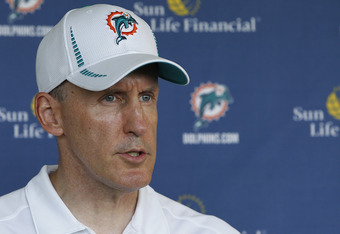 Joel Auerbach/Getty Images
Unfortunately, it's hard to see Bush doing much better than that, let alone winning a rushing title, with the shift from Tony Sparano to new Dolphins head coach Joe Philbin.
Obviously, it's hard to draw any definitive conclusions as to how Philbin will use Bush in his offense, but if his offense ends up being anything like the ones he worked on in Green Bay, Bush should get used to the idea of being kept in for pass protection. 
That's not to say I don't think Philbin will use Bush or any of the backs on the Dolphins roster in a way that highlights their talents. It's hard to say much about how Philbin will run the offense actually, since he almost never called the plays as offensive coordinator in Green Bay. 
But if Philbin has taken anything from Mike McCarthy's style of offense, you can bet that Bush will be as close to the rushing title by the end of the year as I am to taking down the Death Star.