Way-Too-Early Award Predictions for the Detroit Lions
May 14, 2012

Never let it be said that just because my crystal ball is Time Warner and doesn't get NFLN that I won't venture into the wonderful world of way-too-early predictions.
Everyone can call these things after camp. I scoff at those who do.
I will produce results before camps have even started! *Guaranteed!
*guarantee not valid in current dimension or on planet Earth.
So without further ado, let's take a stab at some of the awards my crystal ball would show me if it would get off the Dancing With the Stars channel.
MVP—Calvin Johnson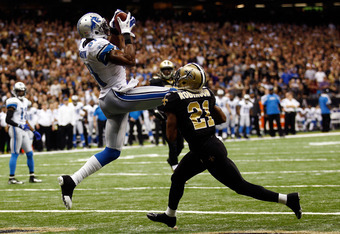 Chris Graythen/Getty Images
I'll start off a bit obvious. Listen, I could see Matt Stafford being the guy, and there are some other potential choices, but at the end of the day you can't stop the Megatron. He can take over a game at the drop of a hat, is the most reliable player on the team and has more impact than anyone this side of Stafford.
I can easily see Johnson going for a huge year, especially with some of the out-of-division matchups they will be seeing. He will make important plays when he needs to and make even hard plays look easy.
He'll be the team MVP when the season closes.
Rookie of the Year—Dwight Bentley, CB
Riley Reiff is the easy pick here, but you can never tell how a tackle will do in his first season, and if they keep him at right tackle while he adjusts, how much impact will he have?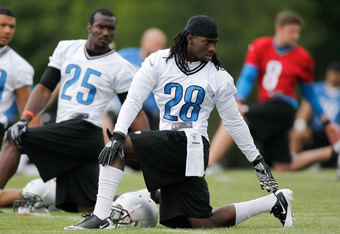 Gregory Shamus/Getty Images
There is nobody really across from Chris Houston, so it's completely possible that Bentley will get a shot this year. In a division as long-ball happy as the NFC North, he'll have ample opportunity to make an impression.
Bentley has decent cover skills and is a very quick player—much quicker in person than on tape. He can recover fast and bear down on a ball-carrier.
I expect a huge impact from him his first year, and in this division that could be huge.
Defensive MVP—Stephen Tulloch, ILB

Maybe it seems odd to give this award to an inside linebacker, but just because you don't have a sexy number of sacks doesn't mean you're not vital to the defensive effort.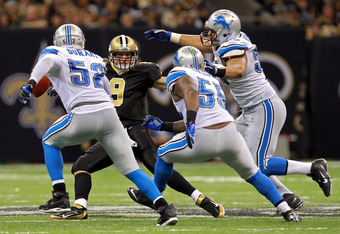 Ronald Martinez/Getty Images
Tulloch was the backbone of this defense in 2011, flying around the field to the tune of 84 tackles, which was down from his total of 111 in 2010.
I expect the totals to go back up in 2012, as offensive players will have nowhere to run. Tulloch is a steadying presence in a defense that needs it.
That's why, at year's end, I expect him to be this defense's MVP.
Offensive MVP—see Team MVP
Since I gave the MVP to Calvin Johnson, it makes no sense to then hand the offensive award to another guy. I'm all for just splitting MVP into offensive and defensive, but the NFL doesn't, so I didn't.  
And now, because it's always fun to think about oddball stuff...
The Lions Oddball Awards
These are a bit silly, hopefully fun and potentially funny. All a bit weird. Enjoy.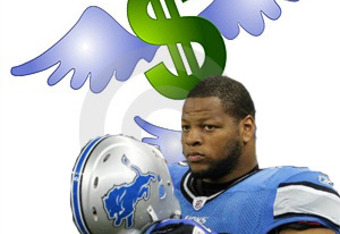 Most Fines for the Season—Ndamukong Suh
Here's hoping I get this one wrong. I wrote that the only thing really keeping Suh from greatness is his temper (and maybe gap responsibility), so I'd like to think he might grow up as a player.
Two years in, though, I have my doubts about it. There's a good chance he will calm down, but he won't change how he plays, so he'll accrue some fines.
He may not be dirty, but he finds himself on the wrong side of a hit too often.
Worst Choice of Snack—Mikel LeShoure
Am I wrong to call this already? Is there something worse to eat than marijuana when you're about to be arrested?
By the way, I think LeShoure could be a strong candidate for team MVP this year. If he stays healthy and avoids more trouble, he seems like he is in for a heck of a season.
The Calvin Johnson Award (A.K.A. Who Got the Worst Call?)
I know that we can all go back and forth as to whether the catch a couple of seasons ago was a catch or not—you know what I am talking about, when he placed the ball on the ground.
In my opinion, he got robbed.
So Johnson gets an award named after himself, though it's one I would guess he'd pass on if he could.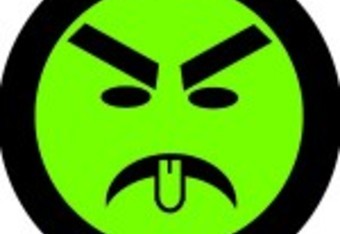 Who gets screwed by a call this year? Ndamukong Suh is in the running, as his rep is bound to get him flagged for something he didn't do or was borderline. Maybe Bentley, as young corners sometimes hold when they are struggling, and he will—as all rookies do—struggle at times.
I'm going to go out on a limb here, though, and say head coach Jim Schwartz. At some point, he's going to pull out that red flag and we'll all think he's right. We'll watch the video replays and think "smart challenge."
Then the ref will come out from under the hood and overrule him, and we'll be treated to 10 minutes of the announcers trying to explain how the ref was right when he wasn't.
Sorry, coach—you're my pick for the inaugural Calvin Johnson Award.
DON'T FORGET TO CHECK OUT THE NEW B/R NFC NORTH FACEBOOK PAGE - GO AHEAD AND LIKE US TO KEEP UP TO DATE ON ALL THE ACTION IN THE NFC NORTH!