Lukas Podolski: Picking an Arsenal Starting Lineup to Showcase Their New Striker
May 7, 2012

Clive Mason/Getty Images
Sometimes, you just have to go home again. Lukas Podolski started his professional career at FC Cologne in fine form. His prolific scoring rate earned him a transfer to Bayern Munich just after his 21st birthday.
And then he flopped.
Starting only sporadically over three seasons, Podolski scored more often for Germany than he did in the Bundesliga.
During his final season in 2009, then Bayern manager Jurgen Klinsmann questioned Podolski's "fight" as the striker rusted on the bench behind Luca Toni and Miroslav Klose.
That summer, Podolski left Bayern and returned to Cologne as a bust.
Playing regularly once again, the striker rediscovered his goalscoring touch. This season, he's netted 18 times in 29 appearances for his hometown club.
That form has given him the chance to redeem himself at another big club.
When the London club revealed the deal for Podolski at the end of last month, manager Arsene Wenger called him "an important part of (Arsenal's) future."
While he meant it as an homage to the player, he could have also been talking about the role Podolski's early signing will play in convincing Robin van Persie to extend his contract with the Gunners this summer.
By signing Cologne's 18-goal scorer, Wenger is first and foremost trying to keep his own 36-goal scorer.
If Podolski helps to that end, he will be a bargain even if he never manages a single goal for Arsenal.
But he will take the field next season and probably score goals. The question is: Where will Wenger put him, and how will that push the other chess pieces around the board?
Striker?
Barring an injury or a transfer for Van Persie, the only place Podolski will definitely not play regularly is striker.
His role in that position for Arsenal is to provide cover in case the oft-knocked RVP proves less durable next season than he has this one.
Wenger could get tricky from time to time, shifting to a two-forward formation that allows him to pair his new purchase with Van Persie up top.
He could also drop the Dutchman into an attacking midfield position with Podolski ahead to exploit Van Persie's fine passing ability.
But both those options figure to be more tactical wrinkles than regular features of Wenger's strategy next season.
Midfield?
From time to time, Podolski has lined up as an attacking midfielder for Cologne this season. On those occasions, he generally proved effective rather than brilliant.
But it is an option, especially given Aaron Ramsey's apparent stall in development and Wenger's concerns about Jack Wilshere's fitness to begin next season.
Song will be the deep-lying player in the middle, and Arteta was a revelation for Arsenal this season in his effort to fill Cesc Fabregas' role, but that leaves the third spot in the Gunners' midfield trinity open for debate.
My guess is that Podolski could drop into an attacking midfield role every now and again. But don't expect to see it often.
On the Wings?
This is where you will see Podolski fly most often.
Theo Walcott will man the right unless disaster strikes. And the German international will head out to the left to fill the need that brought first Andrey Arshavin and then Gervinho to London.
Both of those players flamed out or otherwise failed to live up to the hype. Wenger will be hoping Podolski doesn't fall victim to the same curse.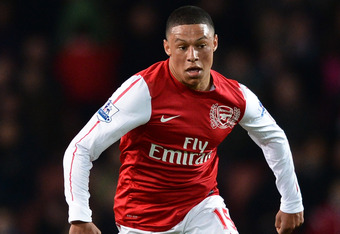 Laurence Griffiths/Getty Images
What About Alex Oxlade-Chamberlain?
Of all Arsenal's young players, Podolski's arrival probably most directly impacts Alex Oxlade-Chamberlain. He broke into the first team this season, after arriving from Southampton over the summer, and cut quite a figure in several big games.
But he's not the finished product yet, and it won't hurt him to start the season as everybody's backup. He'll get plenty of games filling in left, right and center (literally) and will provide a spark off the substitute's bench week-in and week-out.
And if Podolski gets off to a slow start, he might just find himself watching the 18-year-old play rather than the other way around.