Kentucky Oaks 2012: Tradition Continues to Make Filly Friday as Special as Derby
May 2, 2012

The Kentucky Derby will kick off on Saturday, creating another two minutes that will keep us riveted, but not before Friday's majestic turn with the Kentucky Oaks. 
The grandeur of the Kentucky Derby is not relegated to the couple minutes of horses stampeding around Churchill Downs. 
That is the greatest misnomer about the whole ordeal. No, there are many other events to note, and the greatest of a wealth of peripherals is the Kentucky Oaks. 
The Oaks is a Grade I stakes race for three-year-old Thoroughbred fillies, at least that is the less jazzy summation of the race. 
The event itself has as much pageantry as the one that takes place a day later. The Oaks is reserved more as a local event with Kentucky feel. 
The flower is the Oaks Lily, and the winner is adorned with them. Recently, the tradition has welcomed various charities that make the running on Friday a perfect spot to bust out your pink wear.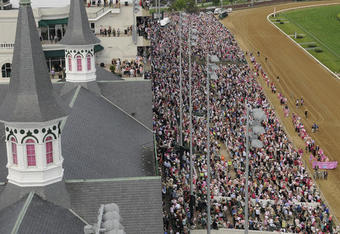 The site asks you to Pink Out and to support cancer patients and survivors, and there is even a survivors parade. 
Then, of course, there is the actual race, which is where the ladies of the field shine. This year's field of fillies is just as full of talent as those of years past. 
We have to wait a day to see the post draw for the Derby, but we now know how the ladies will line up on Friday, via NewsNet5. 
Grace Hall is the presumptive favorite, and has a draw out of the two position. Summer Applause is the most enticing filly, coming out of the favorable three position. 
The race will be just as brief as any this weekend, but the event will be a long-lasting treat for all who attend. 
The Derby may take all the media hype, but there is a lot to love about the ladies of the Kentucky Oaks.