2012 NFL Draft All-Name Team
May 1, 2012

Jonathan Daniel/Getty Images
Sure, the NFL draft is a long and monotonous process. A team goes on the clock, makes a decision and the commissioner—or someone else, for that matter—approaches the podium to announce said decision. 
What you can rarely count on, however, is which name will be called and how badly the difficult ones may be butchered. Not everyone has the name Joe Smith—or George Foreman, despite his several attempts to change that. 
Aside from ripping up your mock drafts, it's perhaps the most fun part of the draft. 
So here it is—the 2012 NFL Draft All-Name Team. Enjoy! 
Offense
QB Andrew Luck, Indianapolis Colts
The first overall pick in the draft is also the quarterback of this team. He has the size, skill set and intangibles of a franchise quarterback. And his name is pretty cool, too. 
Headlines: "The Colts Need a Lot More Than Luck to Return to Postseason," "Beginner's Luck" or "Luck is Not Enough."
The possibilities are endless. 
RB Terrance Ganaway, New York Jets
"Ganaway gets the ball, jukes left then right, finds a hole and cuts up field. He sheds one, two tackles and is off to the races. Ganaway again ran away from the defense for another big play." Sounds like a football call I would like to make, and that's why he gets the nod here.
Or maybe it's just a personal bias for last names that end in "-way."
TE Brad Smelley, Cleveland Browns
Third-graders and immature NFL players (or writers) are going to love teasing this guy.
Maybe it's the tight end's secret weapon. When you lack top-end speed—like Smelley—the other way to get separation from defenders is bad hygiene. 
WR Brian Quick, St. Louis Rams
This is a great football name, especially at the wide receiver position. The only way it could be any better is if his first name was "Great-Hands" and he had an ampersand (&) for a middle name.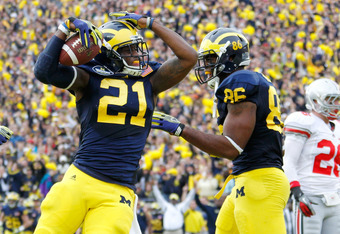 Gregory Shamus/Getty Images
"And Sam Bradford again connects with his go-to receiver, Great-Hands & Quick, for a touchdown strike!"
WR Junior Hemingway, Kansas City Chiefs
Sentimental selection here. I bought a fish when I was younger and named it Hemingway—after my favorite author. Two days later, I found Hemingway upside down, floating at the top of the water. RIP. 
Hopefully, this Hemingway enjoys a longer stay in the NFL. 
OL Amini Silatolu, Carolina Panthers
See-I-told-you Silatolu is a good one.  
Or we can focus on the first name and call him a "meanie" for his bullying blocks and rough play inside the trenches. 
OL Bobby Massie, Arizona Cardinals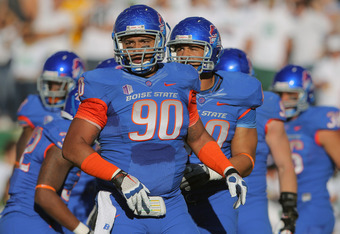 Doug Pensinger/Getty Images
When a person weighs 316 pounds and has the last name "Massie," you can't help but smile. This massive tackle has the size and athleticism to contribute right away. 
C Jason Slowey, San Francisco 49ers
There was Brian Quick at receiver, and now Jason Slowey at center.
Maybe names are the best scouting reports—if that were the case, it would be hard to argue against Jerel Worthy as the first-overall pick. 
Remember, slow(ey) and steady often wins the race. 
Defense
DL Billy Winn, Cleveland Browns
"All he do is win."
In fact, he won so much at Boise State they gave him an extra "n" at the end of "win," and that's how his last name was formed. 
The Browns are hoping he brings a winning mentality to a franchise that has grown accustomed to losing.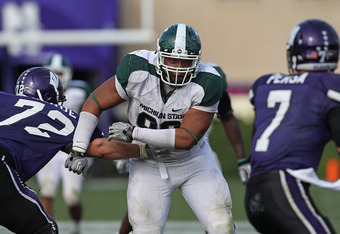 Jonathan Daniel/Getty Images
DE Whitney Mercilus, Houston Texans 
A defensive end/outside linebacker with the name Mercilus? Sounds too good to be true. Watch him play and you will realize it's all too real. 
In his junior season, he led the nation with 16 sacks, nine forced fumbles and had 22.5 tackles for a loss. Sounds Mercilus to me. 
DL Jerel Worthy, Green Bay Packers
Such an honorable name. Everyone wants to be worthy of something, and Worthy is worthy of inclusion on this list.
It also helps that he's a solid prospect worthy of his second-round selection by the Packers.  
LB Tim Fugger, Indianapolis Colts
Make sure to pronounce the "g," sound or you may be sent to the principal's office. 
But seriously, when are they going to make the movie The Fockers Meet the Fuggers?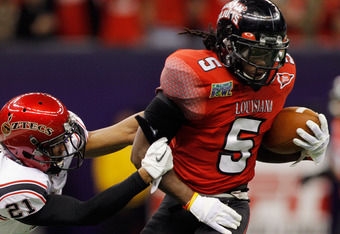 Chris Graythen/Getty Images
LB Tank Carder, Buffalo Bills
The name Tank guarantees a spot on this list. On top of that, he's a linebacker, so it's a win-win situation. And on top of that, he plays like a tank. Nothing too flashy and not very fast, but he gets the job done. 
The Tank will be a fan favorite as soon as he rolls through Ralph Wilson Stadium. 
CB Asa Jackson, Baltimore Ravens
In Malagasy—the native language of Madagascar, and language I learned while living on the island—"asa" means "work."
It fits Jackson, who worked hard at Cal Poly to put himself on the scouting radar and hear his name called on draft day. He will have to continue working hard to secure a spot on the roster and climb up the depth chart.  
CB Dwight Bentley, Detroit Lions
This guy plays as smooth as a Bentley and makes the cornerback position look easy—a very difficult task. This Bentley can also shift into another gear when chasing down speedy receivers. 
S George Iloka, Cincinnati Bengals
An uncommon name for an uncommon safety prospect. Iloka is long, lean and can cover a lot of ground in a hurry. 
So who will have his jersey misspelled first by his respective team? Any takers on Iloka? 
Special Teams
K Randy Bullock, Houston Texans
Bullock is no lock to make the team, but a strong and accurate leg helps his chances. He made over 87 percent of his field goals during his senior year and is a reliable kickoff specialist. 
P Bryan Anger, Jacksonville Jaguars
You know that feeling when anger takes over and you just want to kick something really far and really hard?
Anger, though calm and collected as a punter, gets to do that on a regular basis. And he does it well, providing distance and touch when needed.