B/R Exclusive: Stewart Cink Dishes Majors, Social Media and Why Golf Is a Sport
April 24, 2012

Stanley Chou/Getty Images
You might know Stewart Cink as the six-time PGA Tour winner, four-time Ryder Cup competitor and 2009 British Open champion, but behind the silky swing and stoic exterior, Cink is a social-media guru, devoted Georgia Tech alum, and passionate sports fan.
He gave B/R some time to chat about the changes he's implementing in his evolving golf game, his traumatic transition after his beloved Atlanta Thrashers were bought, and the life he leads off the course and in the Twitter-sphere.
WL: Let's start this off with some quick sports facts about yourself. What's your favorite sports movie?
SC: Got to be Hoosiers, although Rudy is up there.
WL: How about favorite sports moment?
SC: Because I'm a golfer, Jack Nicklaus winning the '86 Masters. I was only 12 years old at the time, I was just getting into the game, and before that Masters, I tended to watch more cartoons than golf, but that really got me into it.
WL: Who was your favorite athlete as a kid? 
SC: Larry Bird. I played some basketball growing up—not very well—but I admired Bird because of how competitive he was and his refusal-to-lose attitude.
WL: Do you have a current favorite athlete?
SC: Lindsey Vonn and I have a developed a nice little relationship on Twitter. I am fascinated by her dominance over her sport. It always points back to dedication and hard work, and she's earned it.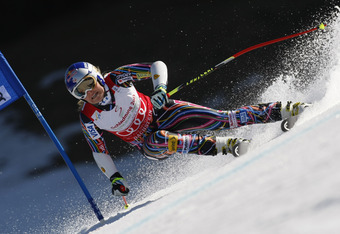 Alexis Boichard/Agence Zoom/Getty Images
WL: You were one of the first professional golfers to really immerse yourself in the world of social media, especially Twitter. How did you first get started with Twitter?
SC: It's actually an interesting story because I was watching PTI (Pardon the Interruption), one of my favorite shows, and they started talking about my Georgia Tech buddy, Chris Bosh.
My 16-year-old son was with me, and when the PTI guys mentioned that Bosh had put out some message on Twitter about being unhappy or something, my son explained to me what Twitter was.
The point of the conversation quickly shifted from Chris Bosh to social media and the way media like Twitter will start to affect sports. It sounded like a bare-bones Facebook to me. So I signed up.
WL: So you signed up, and now a few years later, you have over 1.1 million followers! (@stewartcink) That's incredible.
SC: Well, it's been amazing because Twitter applied really well to golf, because you see us play on TV and you can learn raw statistics about us, the golfers. But as far as personality coming through the camera lens into the living room, not all of us are Tiger Woods and Phil Mickelson.
We appear uniform in our personalities, especially because golf asks that they you remain even keel and that you keep your emotions under control. But Twitter let me open up and show some of my personality.  I chose to use Twitter differently, more so that it became more of an ongoing question and answer between me and my fans.
People tend to use it as a megaphone, but I prefer to learn about other people and have been lucky to make some great, unexpected relationships.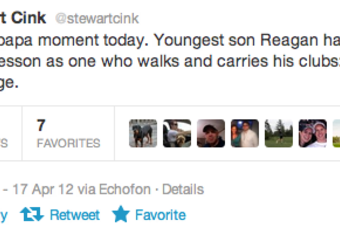 WL: Do you think there's more of an advantage or disadvantage for athletes using Twitter?
SC: Well, there's no denying the obvious advantage for Twitter is the branding side of it. But, the disadvantage comes with what you have to say. Some have gotten in trouble for what they've uttered on Twitter, so you just have to be careful.
If you want to build a good connection with your fans, it's more effective to say something authentic. That's what I try to do; say what I care about, rather than trying to say something fans want to see. 
WL: For the second year now, you've partnered with Chase Sapphire to host this series of interactive golf clinics for card members. What is this partnership all about and how can golf fans get involved?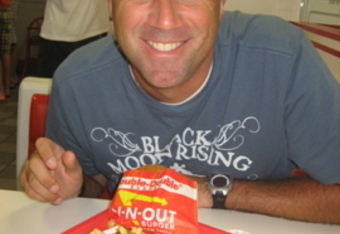 SC: This has really been a win-win situation for both the Chase Sapphire members and myself. Members can use their member reward points to get into these golf events, which we call "golf experiences."
Instead of standing on the driving range just explaining the mechanics of the swing, we—me and Webb Simpson—are actually playing the golf course for two holes alongside Chase Sapphire members.
As we play, we are mic'd up, we answer any and all questions that come to us, including discussing our strategies on the course, because realistically, it's much better to get in the head of a PGA tour player than to watch passively from the range. Card members need just 25,000 points, which equates to about $250.00. It's a terrific deal, and I've really enjoyed working with the Chase Sapphire members.
WL: Being a Georgia guy, I know you were a big Atlanta Thrashers fan. Were you upset to see them bought and become the Winnipeg Jets?
SC: When they finally announced they were bought and moving to Winnipeg, it sort of felt like the the last time I got dumped by a girlfriend 20 years ago. Let's just say I didn't like that feeling. The Atlanta Thrashers were the one team that our family centered around.
Being in Georgia, this is football country. I mean SEC is serious around here. But, my family was all about the Thrashers. We monitored player movements, personnel decisions, season-ticket holders—the whole thing. They were our team, but unfortunately, we sort of saw it coming.
WL: Do you you still follow the NHL? And who is your pick to win the Stanley Cup?
SC: Well, my whole family still loves the game, but we've sort of pulled away since the Thrashers left. I'm picking the Philadelphia Flyers for the Cup, but who knows, this might be the year for a West Coast team.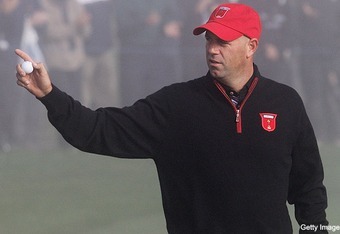 WL: Sports fans tend to sideline golf as not a "real" sport. How would you respond to them?
SC: Look, there's parts of golf that are and parts that aren't. I wouldn't react in an insensitive way to this question. Physically, golf is obviously not super-demanding. There's not a lot of contact and, you know, no one is running a marathon.
But the hand-eye coordination involved in hitting a certain kind of shot, like hitting a drive 320 yards down a tree-lined narrow fairway, or a delicate pitch shot from behind a sloped green, or simply the tiny movements within the swing is what makes it athletic and challenging and a sport. In the end, there's no real answer, and I don't think it matters in the end because golf has strong, loyal fans.
WL: Looking at your golf season, what grade would you give yourself so far in 2012 and why?
SC: (Huge sigh.) Well, if you look at my results (one top-25 finish, six of 10 cuts made), you might think "F." But, I'm making some major changes right now to fortify my game for what may very well be the final stage of my career. I'm 38 now, so I'm thinking long term until about 45 or 46.
Even after my British Open win in 2009, I could tell things were off in my game. I was putting myself at a disadvantage, so I went about correcting it starting at the end of last year. It's not real pretty sometimes. I'm caught between old instincts and new form. It's been disappointing, so I give myself an "F."
But on the external side, when I hit a good shot, it's more pure than it ever has been, and I'm confident it will get better.
WL: Did these changes have anything to do with your weekend at the Masters? You shot 81 Saturday and then 69 Sunday. I doubt that was the plan.
SC: The Masters was a good snapshot of 2012 for me. A high round and then an excellent low round. I didn't putt well, which can really hurt you. But Augusta National can really challenge you if you are not dead on with your confidence. My confidence went down after that 81 Saturday.
I was completely exposed there, and my game began to wobble. My putting wasn't there to save me. Then, I played really well Sunday because I had nothing to lose. You don't always know what's going on in your game, and sometimes it's best to just let loose.
WL: With the U.S. Open on the horizon at the Olympic Golf Club in San Francisco June 14-17, who or what is your biggest obstacle with regard to preparation?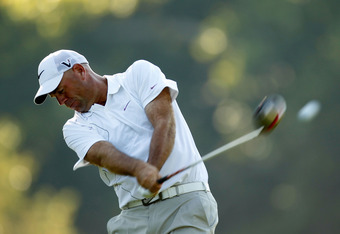 Mike Ehrmann/Getty Images
SC: In a U.S. Open, my biggest obstacle is always the golf course. It's not about who. I played Olympic back in '98 (finished T10). I know the course will be in amazing shape.