Masters 2012: Why Tiger Woods Needs to Win at Augusta
April 5, 2012

David Cannon/Getty Images
I have a confession to make—I am sixteen years old.
I had not yet experienced my second birthday when Tiger Woods took the golf world by storm and captured the 1997 Masters in a dominant fashion, setting a new course record for the lowest score in the process.
As Tiger continued to drive, chip and putt his way to victory throughout the late nineties and early 2000s, I was still too young to regard golf as anything more than a game that rich old people played on the weekends. By the time I started paying attention, Tiger was at the peak of his game, winning multiple majors in 2005 and 2006. 
Still, I was unaware of the fact that at one point, Tiger Woods wasn't merely the best player in the game—he was the game. I was unaware of the fact that between 2000 and 2001, he captured all four majors in a row, or that courses had to be redesigned just because of him.
When Tiger was on the course, it became a battle for second place—his dominance of the game is something I have never seen done by anyone in any other sport.
Flash forward to November, 2009. Word gets around to me that Tiger Woods, a man who I was just starting to appreciate and cheer on in his quest to pass Jack Nicklaus for the most majors won all time, had been involved in a serious automobile accident. At first, I am concerned about the physical damage of the accident—just how badly was he injured? Enough to end his career?
Little did I know at the time, physical injuries would wind up being the least of the accident's impact on his career. The next week of my life was spent trying to make sense of a seemingly clean-cut athlete, a rarity in the modern world of sports, being exposed as a serial philanderer.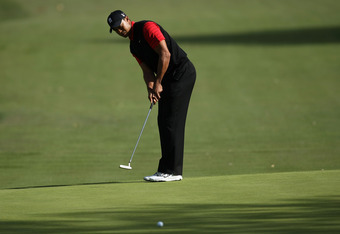 Robert Meggers/Getty Images
Eventually, I got over the whole thing and grew to appreciate him as much as I had prior to the incident. But until last December in Thousand Oaks, California, his career appeared to be spiraling out of control.
Each month, it seemed, brought new challenges—sometimes it was an injury, other times a swing change, and other times he just didn't play well and there were no excuses available. For a time, I figured I could forget about him passing Nicklaus and just hope to see him win again.
Not anymore.
Tiger Woods, a man whose name was once synonymous with the game of golf, is coming off of his first PGA Tour win since the car crash and, quite frankly, looks like himself for the first time since before his affairs became public and his image (and quality of play) took a serious nose dive.
He's hitting the fairway with accuracy, reaching the green in regulation and even putting with some semblance of his former self, back when he was considered the world's best player on the green.
Better yet, he appears to be doing something that cannot be seen by the naked eye. He appears to have regained the confidence he once had in himself, that killer instinct that causes challengers to crumble like Rory McIlroy did at Augusta last year.
In other words, he's Tiger Woods again.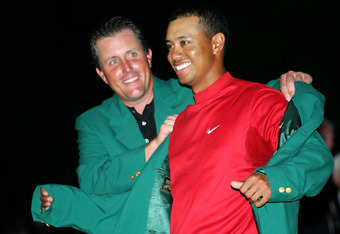 Harry How/Getty Images
Now, don't get me wrong. I'm all for good competition, which is why I expect to see both Rory and Phil Mickelson be relevant all the way through Sunday's back nine.
However, I don't expect either of them to win.
Rory and Phil are both great players, but this is Tiger's time. Tiger Woods needs another major, and golf needs him to win it. What better time than this weekend, when Tiger is coming off of positive momentum for the first time in what feels like centuries?
There are those who say that Tiger is finished, golf has moved on, and seeing today's younger stars compete is much more exciting than having Tiger Woods dominate tournament after tournament.
These people, while well intentioned, are nonetheless misguided.
Tiger Woods brings something to golf, something that nobody else is capable of bringing to the game. When he wins, people pay attention. When he loses, people pay attention. Can you imagine baseball without the New York Yankees? The same concept applies here—whether you love him or hate him, there is no denying that Tiger's presence makes golf better.
I was watching the Golf Channel earlier, and they were showing footage of the fateful 1997 Masters, where Tiger Woods blew the field away, setting a new record in the process. As I observed the crowd's reaction to his every shot, I thought back to a week and a half ago, when I watched him edge out Graeme McDowell at Bay Hill for his first official win in two-and-a-half years.
It was then that something dawned on me—15 years, 13 majors, a major scandal, multiple knee surgeries and countless swing changes later, the public was still in love with this goofy looking kid from Orange County, California.
We may raise an eyebrow at the number of mistresses he had, and we may not approve of his life choices, but the fact is that Tiger is still our Tiger, and we want him to succeed, whether we realize it or not. Golf needs him to succeed too, which is why you see so many avid golf enthusiasts following him around wherever he plays, cheering him on as if he's their own son.
Indeed, Tiger is still America's son, and he has a chance to make all of us proud of him once more this weekend, reminding us of why we liked him so much in the first place.
He can win his fifth green jacket, silencing his doubters while simultaneously putting himself back in the conversation for nineteen majors.
It won't be easy, but it needs to happen.
Golf's very livelihood depends on it.