NBA Mock Draft 2012: Will Anthony Davis or Michael Kidd-Gilchrist Be Better Pro?
March 29, 2012

Joe Robbins/Getty Images
Since the NBA draft was first established way back in 1950, only three pairs of teammates have both been selected within the first three picks of the draft. Soon, we're going to have a fourth set. 
Most recently, Emeka Okafor and Ben Gordon turned their success with the Connecticut Huskies into the No. 2 and No. 3 selections of the 2004 NBA draft. Two years prior to that, Duke sent both Jay Williams and Mike Dunleavy into the next level, and they were drafted in the same spots as Okafor and Gordon. 
But the first pair to make history one-upped both pairs. Fresh off of their dominance at UCLA, Kareem Abdul-Jabbar was the No. 1 overall pick of the 1969 NBA draft, and Lucius Allen was taken just two picks later. 
With Anthony Davis seemingly locked in as the top pick of the upcoming draft and Michael Kidd-Gilchrist projected to go as high as No. 2 in some mock drafts, this pair of Kentucky Wildcats has a chance to combine for the lowest total draft number between two teammates in NBA history. 
The question remains though: which one will become the better pro?
The Case for Anthony Davis
It's impossible to start talking about The Uniblocker and not immediately mention his otherworldly defensive presence, so I won't try to buck the norm and do otherwise here. 
Anthony Davis is a fantastic on-ball defender, but no one cares about that in comparison to his legendary blocking skills. If an opponent tries to get into the paint, more often than not, he's going to leave without his dignity intact. There's always potential for the ball to leave an imprint on the shooter's face or to wind up in the eighth row of the stands, but Davis doesn't go for the glamorous blocks, instead choosing to keep the ball in play. 
I can't overstate just how important that is. Think back, if you can, to Wilt Chamberlain and Bill Russell. For the younger or less-versed in NBA history out there, think back to Dwight Howard and Tim Duncan around 2007 when both players were still performing at the highest level possible on defense.
Both Wilt and Dwight went for the glamorous blocks and cost their teams valuable fast-break opportunities. Duncan though would tip the ball to his own teammates, and Russell possessed the once-in-a-lifetime ability to actually make outlet passes with his blocks, or so the stories go. 
I wouldn't go so far as to say that Davis reminds me of Russell with his passing, but I will say that he's far more on the Russell/Duncan side than the Chamberlain/Howard one.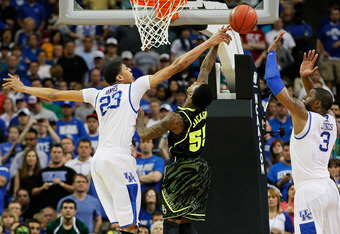 Kevin C. Cox/Getty Images
Fortunately with Davis, we don't have to worry about the quantity vs. quality debate because he fulfills both requirements. As impressive as his blocks and the resulting plays may be, there are also a hell of a lot of them. Davis is leading the nation in blocks and total blocks while coming in at sixth in block percentage, which is quite impressive since he's on the court so often. 
There are quite a few other advanced stats that show just how dominant Davis has been at the collegiate level on the defensive end of the court. He's tied for first in defensive win shares and first in defensive rating as well, and none of those numbers can truly measure either how many shots Davis has altered without even tipping just from his sheer presence or how beneficial his ridiculous ability to stay out of foul trouble has been. 
The million dollar question though isn't about how good he's been in college, but rather how good he'll be at the next level. 
Truthfully, the only defensive knock I can possibly find about The Uniblocker is that he's a bit skinny. That didn't stop Marcus Camby from developing into a terrific defensive presence. Plus, players like Dwight Howard put up some serious muscle mass after they blossomed into grown men, something that Davis isn't quite yet. 
Davis has the intensity, desire, athleticism, quickness and instincts to be a dominant defender in the NBA, and I'd place a lot of money on that dominance translating if, you know, gambling on sports was legal and approved of by the general population. 
As much credit as Davis has gotten during his freshman season for John Calipari at the one-and-done academy known as the University of Kentucky, it amazes me how underrated his offensive game is. Davis isn't the prototypical shot-blocking big man who can only score through putbacks and alley-oops. 
Davis has taken noticeable strides on the offensive end of the court throughout the season, which isn't too surprising since he was a 6'2" point guard running the show in high school not too long ago. Now, a lanky 6'10" big man who may still be growing, Davis still possesses elite handles, and he's developing quite the dangerous arsenal of post moves. 
At least a few times per game now, you'll see the player who's ranked second in offensive rating (trailing only Matt Roth, a seldom-used guard from Indiana), first in PER and third in effective field goal percentage take the ball on the block and stun his defender before dropping a good-looking jump-hook or jumper through the bottom of the net.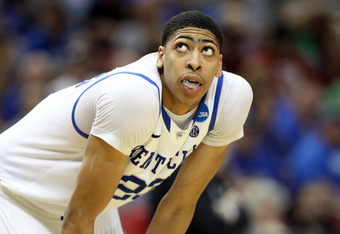 Andy Lyons/Getty Images
Lately, he's even extended his range to behind the three-point line, really helping the Wildcats to spread out their half-court sets. And then, of course, there are the thunderous alley-oops he throws down on occasion. And by "on occasion" I mean "at least once per game."
The versatility in his offensive game and the fact that he can still improve quite a bit leads me to believe that he'll be an elite offensive player in the NBA while remaining one of the league's best interior defenders. 
The Case for Michael Kidd-Gilchrist
A few weeks ago, I said to one of my good friends that I thought Michael Kidd-Gilchrist had a chance to become a better pro than Anthony Davis in the long run, even if he wasn't going to be as dominant during his rookie season. While I stand by the latter statement, I'm not going to spoil the conclusion of this internal debate by telling you if the former one remains my prevailing opinion. 
That said, the very fact that I thought that at such a late point during the 2011-2012 campaign should speak volumes about just how good MKG is going to be in the NBA. 
It's a bit harder for me to articulate the case for the small forward because he lacks the statistical dominance of Davis and the argument hinges upon player comparisons, styles and attitudes, but here we go nonetheless.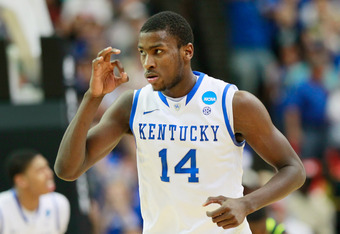 Kevin C. Cox/Getty Images
Throughout the college basketball season, I've continuously compared MKG to a certain Hall of Famer named Scottie Pippen. Although that comparison seems to have become quite popular lately and some may think it's giving the young Kentucky freshman too much credit, I'm going to stand by it. 
When you think of Pippen's game, two things should come to mind immediately: his suffocating defense and his all-around style of play that resulted in him leading the Chicago Bulls in points, assists, blocks and steals during the 1993-1994 season. 
Both of those are true of Kidd-Gilchrist as well, with the exception of the whole leading the Bulls in statistical categories thing, which will probably never happen since the Bulls won't be picking in the lottery this year. And what's even more impressive is that two aspects of his game stand out even more to me. 
The first of those two is MKG's ridiculous ability to finish at the rim in transition. With his size and athletic ability, when he decides he wants to score at the tin, he's going to score at the tin. I've watched every single televised Kentucky game this year, and I can't remember a single time that he failed to either put the ball in the hoop or get fouled when he put his head down and drove to the basket. 
And the 6'6" small forward hasn't even filled out his frame yet, so just imagine what he's going to be able to do once he's hit the NBA weight rooms and trained with the big boys. I'm not sure I can imagine just how good he's going to be in transition. 
But the single most impressive thing about Kidd-Gilchrist is his mentality on the basketball court—one that seems like it should belong to a grizzled NBA veteran and not a precocious freshman experiencing the madness of March for the first (and likely only) time.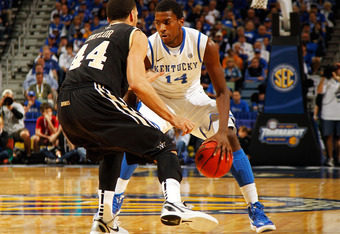 Chris Graythen/Getty Images
Always one of the hardest workers in the game, Kidd-Gilchrist doesn't seem to care about how he contributes, so long as he's contributing. He can have dominant performances like his 24-point, 19-rebound outing against Louisville back in December, or he can impact the game with his defense if other players are capably scoring the basketball. 
If the Wildcats have needed a big rebound, he's been the one to get it. If they need a defensive stop, it's him that's going to up the pressure. If they need someone to do anything, Kidd-Gilchrist is likely to be the one to step up. 
The one knock on his game is his lack of a consistent jump shot from the perimeter. Remember anyone else who became elite while still developing a jumper? If you answered with Pippen, you're correct!
With his work ethic, it seems quite likely that MKG will work his butt off until he can hit shots from the outside. 
So Adam, who are you picking?
I really want to say that it's a tie because I fully expect both players to make multiple All-Star teams and possibly become bona fide MVP candidates just a few years into their respective careers. But I have to make a decision. 
Both players possess great all-around games and the ability to come into the league and dominate on the defensive end of the court immediately. That said, Davis' lack of a glaring flaw trumps MKG's jump shot-less game right now. 
For that reason, I'm hesitantly leaning towards the unibrow in this debate. 
For anything and everything basketball, make sure to follow @fromal09