NFL vs. Fans: The Day a Buffalo Bills Fan Was Silenced by the League
March 21, 2012

Tom Szczerbowski/Getty Images
As a fan advocate, sometimes I find myself in the position of advocating for change that is meant to protect the leagues we all love from themselves. In a way, pro sports are a bit like politics. Except we vote with our money and emotions. 
I was recently asked to write an editorial for US News and World Report on the subject of NFL blackouts. The editorial was meant to run against an opinion submitted by the NFL. The only problem is that the NFL abruptly decided not to cooperate with US News to offer a counterpoint. 
US News & World Report has given permission to publish the editorial below. In a perfect world, the NFL can see the forest for the trees and be open to change. We all want to see the league continue to be great.
You decide.
Let me preface my opinions by stating that, as part of sports fan organization, I am first and foremost a sports fan. I want my team, the Buffalo Bills, and the league they play in to be continuing successes. I am hopeful that when faced with facts and public opinion, the league will begin to look in the mirror and reexamine their fundamentals.
Sports economists have posited to the FCC that NFL blackouts have no significant effect on ticket sales. Elected officials have come out en masse opposing blackout policies. Disabled and elderly fans have written to the NFL pleading their case to end a policy that discriminates against them.
Even a former NFL marketing executive blasts blackouts as "deplorable customer service."
Despite evidence, expert opinions and popular sentiment, why exactly does the NFL want to continue blacking out their fans?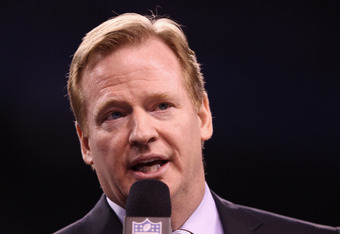 Elsa/Getty Images
The answer is simple. They're afraid of losing control.
Opponents to ending the blackout policy often claim that the policy ensures full stadiums by encouraging ticket sales.  Other than an opinion, where are the facts? Where are their supporting studies?
Opponents have also made the case that the NFL is a private business. They can decide their own policies. This is true. However, in these responses, critics fail to bring up some very important facts.  The NFL and other professional leagues enjoy the protection of government antitrust exemptions, along with spectacular financial subsidies. 
To provide a fair picture, these laissez faire advocates should oppose the existence of any government policy or protection such as one that ensures blackouts. If not, it's only fair that in exchange for the public's protection and policies to ensure their successes, leagues should be open to allowing the public more input in policy decisions.
While the NFL and other leagues may be reluctant to give up measures of control that they have enjoyed for decades, the time has come to acknowledge that these issues aren't black and white. Professional sports are businesses to be certain.
However, they are businesses that are built on public protections, civic pride and our emotional attachment to the teams that represent who we are as communities. The fight to end blackouts is just the beginning for a coming wave of fans who aren't asking for sports anarchy. They are simply asking for respect.
Follow Matt on Twitter @fffmatt