Michael Ballack: Is MLS the Final Destination for the German Star?
March 20, 2012

Shaun Botterill/Getty Images
MLS may have a new aging superstar join its ranks this summer if circulating reports are true. According to Goal.com, various media outlets and his own agent; Michael Ballack is looking to spend the last two years of his career in MLS.
This should come as no surprise considering Ballack's age and his coming to the end of his Bayer Leverkusen contract.
It has also been reported that Adidas was pushing Ballack towards the move to help carry their brand in MLS. There are many factors working towards this move, but his landing spot is still very much the question.
According to Goal.com, the New York Red Bulls, Seattle Sounders, Philadelphia Union, Montreal Impact, and Chicago Fire have all been rumored to have interest in the former captain of the German National Team.
According to reports, the German midfielder wants to move to a team which can compete for the MLS Cup right now. He is also seeking a contract in the neighborhood of Thierry Henry and David Beckham in regards to monetary value. With this in mind, the chances of some interested parties become very slim.
The New York Red Bulls seem to be the most logical destination for Ballack. With Henry already in the fold, there is talent in New York, and they came into the season touted as an MLS Cup contender.
The monetary figure would be no issue with Red Bull management. New York also has history on its side when you consider Franz Beckenbauer once ruled the soccer kingdom in New York.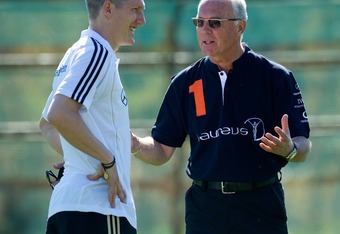 Pool/Getty Images
Following the Kaiser's footsteps to play in New York would seem to be ideal, but it also has its drawbacks. There would inevitably be some comparisons to deal with between the current Red Bull squad and Beckenbauer's Cosmos.
Ballack will come armed with enough expectations as it is. Ballack's agent recently called out the Red Bulls for their apparent interest in Stephen Ireland. The comments made and with Ireland potentially being courted could spell the end of Ballack to NYRB before it starts.
Seattle is a team which checks off the competitive now box. Potentially helping the transition would be Seattle's German-American coach Sigi Schmid. The tremendous support in Seattle would also make Ballack feel at home.
The problem is with Seattle already having three designated players on the books. To add another would require moving one or paying the additional $250,000 fee for another DP. Seattle also appears to be pretty settled in midfield, and it makes one wonder if his addition would really be a subtraction for the Sounders.
Philadelphia may have had a better chance in the Ballack sweepstakes if they had not moved so many key players from last year's playoff squad.
While Philadelphia desperately needs a true face of the franchise, it is hard to see Ballack coming to a squad which boasts Freddy Adu as the most recognized player. This is not to take a shot at Adu, but early impressions from this season have not been good.
A run of good form from the team could help put them back into the race for Michael's signature.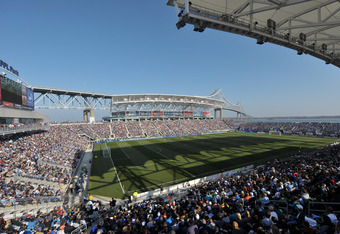 Drew Hallowell/Getty Images
As a franchise in its inaugural season, Montreal would love to give their fans even more to cheer about. Putting up the funds and convincing Ballack to come to the Impact would send a statement to everyone regarding their intentions for this team.
The problem for Montreal is the competing for the MLS Cup. Montreal filled out their roster with some solid MLS-experienced players. They would be better off chasing a couple of DPs similar to Eric Hassli and Kris Boyd which they could bring into the fold for longer than two years.
A play for an aging big name is not needed since the crowds will come to see them play the first year or two regardless of the names.
If there is a dark horse in this race, it is the Chicago Fire. A move to Chicago may be the most intriguing option for Ballack.
With a large contingent of German population around Chicago, he would have a huge following from the get-go. Chicago is building a good nucleus, but lacks one or two pieces before they are legitimate contenders.
Ballack may be the key piece to getting them to that point. Chicago's management are willing to put a good deal of cash for the right player. They have seen what a good DP choice can do for a team (Cuauhtemoc Blanco), and while Ballack is not as charismatic as Blanco, he does affect games in many ways.
There are other teams who may jump into the race in order to push themselves to the top. Until a decision is made, speculation will continue to swirl.
It would be nice to see Ballack in MLS, but it would also be nice to see a big name DP who was still in his prime. Perhaps MLS will get there eventually, but until then we will have to be happy that the Ballacks of the soccer world even consider MLS as a destination.