NFL Free Agency: Method to the Dolphins' Madness, or Madness to Their Method?
March 19, 2012

"People who run ball clubs, they think in terms of buying players. Your goal shouldn't be to buy players, your goal should be to buy wins." - Peter Brand, Moneyball
Draft and develop.
The Dolphins are being tarred and feathered in the national media for a turbulent offseason that included striking out on Jeff Fisher and Peyton Manning, an exclamation point on a decade of mediocrity. Making few moves in free agency has put the final nail in their coffin, it seems.
Think about the Green Bay Packers as you have known them for the past decade or so. Now, think about every marquee offensive free agent they have signed.
I would wager to say you cannot, and this is largely in part to their philosophy on building through the draft and developing their players.
Indeed, the Packers rarely make free-agent moves, particularly on offense. Aaron Rodgers, Greg Jennings, Jermichael Finley, Jordy Nelson, James Jones and even Old Man Donald Driver were all developed as draft picks. Joe Philbin was a big part of that philosophy.
In fact, Brett Favre, whom the Packers had intended to draft only to trade for him a year later, and Ahman Green, acquired from Seattle, are the only significant starters not drafted or signed as undrafted free agents by Green Bay over the past decade. Donald Lee and John Kuhn—a second tight end and part-time fullback—are the only other contributors in an offense filled with players acquired in the draft.
Rarely does a team that wins free agency find themselves winning in February. Just ask the "Dream Team" of a season ago, the Philadelphia Eagles. After adding Nnamdi Asomugha, Jason Babin, Dominique Rodgers-Cromartie, Evan Mathis and Vince Young, many penciled them into the Super Bowl.
They stumbled out of the gate and missed the playoffs entirely.
Contrast them to the New York Giants, a team whose offseason moves from a year ago—or lack thereof—caused many to question what they were doing. 
What of those Packers, who have not made a significant free-agent acquisition in years? They were favorites to land back in the Super Bowl last year after winning it all in 2010 before the Giants got in the way.
Granted, all of those teams have franchise quarterbacks, something the Dolphins have been lacking since No. 13 retired 13 years ago. 
Of course, "draft and develop" cannot have been the plan all along, at least not the only one. As much as it seems like Miami is giving Joe Philbin a chance to implement his "draft-and-develop" philosophy, they have been spurned in one way or another during free agency.
Make no mistake about it, the Dolphins swung with a mighty whiff on Peyton Manning. Whatever the factors may be, Miami was not even in the future Hall-of-Famer's top three in the end.  The pursuit of Manning flies in the face of the "draft-and-develop" strategy, but he was a special case—how often do elite quarterbacks come loose in free agency?
Stephen Ross is a businessman, after all, and Manning would have been a cash cow for the marine mammals.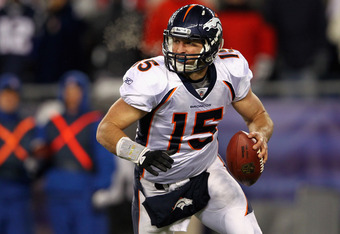 Al Bello/Getty Images
The Dolphins were not done striking out, as Matt Flynn wound up signing in Seattle, though there is a reason they did not pony up to pay him to start in Miami. Nobody was more qualified to assess Flynn's potential as a starter than Philbin, his former coach, so it comes as little surprise the Dolphins did not want to overpay the former backup.
Finally, perhaps in an ultimately futile attempt to save face, they pursued former 49er quarterback Alex Smith, who would be on his fifth offensive system.
Fan appeasement aside, the Dolphins seem to have given Philbin a shot to implement his philosophy, whether it was purposely or not. Proof lies in the other moves Miami has made this offseason.
Shipping Brandon Marshall off did have an element of "rebuilding" to it. Jeff Ireland had grown weary of the headaches the troubled receiver created. His latest incident may have been the straw that broke the general manager's back.
Headaches aside, however, Joe Philbin offenses have not featured a guy like Marshall, a wide receiver the Dolphins traded two second-round picks for, then signed to a rich deal. Every one of his receivers in Green Bay was home grown with less-than-elite measurables.
Outside the Marshall deal, Ireland and Philbin have been operating quietly since free agency began. They landed underrated defensive back Richard Marshall and retained Philip Merling and Paul Soliai, two moves that will keep the defense strong.
In today's pass-happy NFL, though, having a good quarterback is key to success. While Miami's failed attempts to land one over the years are well-documented, we arrive once more at Philbin's philosophy.
You see, the Packers have had a bit of success drafting quarterbacks. Aaron Rodgers fell into their laps in 2005, yes, but they also found Matt Flynn. Brian Brohm was a miss, so they have not been perfect, but they seem to know what they are doing at any rate.
This year's Aaron Rodgers? Brandon Weeden, perhaps.
Though saying he is anywhere near Rodgers' level is premature, the talented quarterback from Oklahoma State has been dogged by ageism, dragging his draft stock down into the second round in some cases. Some scouts say he would be a top-15 pick were it not for his age. Miami cannot afford to wait that long if he is their man, however—if they believe he is their quarterback, they must take him when they can, even if they are stuck at No. 8.
Then there is the receiving corps to address, a position of strength that quickly turned to one of weakness after shipping Marshall to the Bears. The team now features Brian Hartline, Davone Bess and Clyde Gates at the position.
Because the Marshall trade was made just before free agency opened up, many thought the Dolphins would pursue a free agent receiver. Any pursuit was ultimately tepid, as the Dolphins made no serious overtures to available wide receivers, reinforcing the idea they would try to build the corps through the draft. With a deep receiver class, I expect the Dolphins to make at least two draft picks to replenish the position.
In fairness, it is not easy to trust Miami in the draft. From Cecil Collins to Daniel Thomas and Pat White to John Beck, many draft choices made over the years have been abject failures. Hopefully, Green Bay's success in the draft comes along with Philbin.
Hanging over all this is a storm cloud, menacing every free-agent coaching candidate and growing each time they fail to land a target. A decade of mismanagement and poor decision-making has the national media eviscerating the Miami Dolphins right now. 
Perception is everything, and right now, the Dolphins seem like a fish out of water in the NFL. It is this ugly picture that could drive ownership to make an ill-advised play for Tim Tebow or overpay the likes of Alex Smith or David Garrard.
Truth be told, poor management over the past few years in particular does not instill confidence the Dolphins will be able to do anything right without cleaning house in the front office, if not new ownership. Perhaps the Dolphins were half-hearted in offering some of these contracts during their coaching search and free agency, but that is putting a lot of sugarcoating on what amounts to many failures.
This is not a quick-fix situation for the Dolphins. Like a big ship, turning the franchise around will take time. Dolphins fans just have to hope the ship is not sinking.
To give Joe Philbin and his philosophy a fair chance, the Dolphins are going to have to trust him and give him what he needs. If they truly want to do that, they must let him draft and develop his offensive players.
Most of all, if they truly want to give him that, Stephen Ross and Jeff Ireland must have patience, something Dolphins fans have long ago exhausted. They must prove there is a method to their madness.