NFL Draft 2012: Why Robert Griffin III Will Be Epic Fail for Washington Redskins
March 3, 2012

Ronald Martinez/Getty Images
The Washington Redskins badly need a quarterback of the future, but drafting Baylor quarterback Robert Griffin III would be a huge failure for the team. It would cost a lot to move up in the draft to select him. Plus, the Redskins don't have enough talent on offense to make him productive.
The Redskins currently have the No. 6 overall pick, but could find themselves admiring the talents of Griffin so much that they trade up to No. 2 in order to take him. The St. Louis Rams, who hold the second overall pick, are reportedly open to trading it.
While Griffin would certainly be an upgrade over current Redskins quarterbacks John Beck and Rex Grossman, he won't have enough weapons on offense to be effective in his rookie season.
The best Redskins wide receiver is Santana Moss, who is still a good player but isn't an elite deep threat or a top possession receiver. The team's second-best receiver is veteran Jabar Gaffney, who, at this stage of his career, is not a real No. 2 option.
Tight end Chris Cooley is a fine player, but he only played in five games last season due to injuries. The Redskins just don't have the pieces on their roster to be able to surround Griffin with enough talent to best utilize his passing skills. 
Griffin throws an excellent deep ball, but Washington's offense doesn't have a player that can stretch the field and create problems for opposing defensive backs.
Not only will the Redskins not have a lot of talent around Griffin, they will have to sacrifice a lot of draft picks just to acquire him.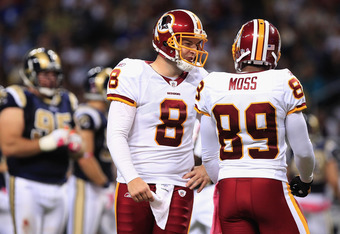 Whitney Curtis/Getty Images
Howard Eskin of NBC 10 in Philadelphia has reported that the Redskins might be willing to part with a first-rounder, second-rounder and third-round pick this season, plus a first-round pick next year, to jump to pick No. 2 and take Griffin in April. That's a humongous package to trade up for Griffin, and losing that many quality picks would prevent the Redskins from surrounding the Heisman Trophy winner with enough talent.
The Redskins badly need a franchise quarterback, but taking Griffin and mortgaging your future in the process is a plan destined to fail. There's no point in drafting Griffin if you cannot give him enough quality players to work with on offense, which is exactly what will happen if Washington parts with multiple draft picks to select him.