Kampmann vs. Alves Results: Reaction, Grades and Analysis
March 3, 2012

Mark Kolbe/Getty Images
In what was the UFC's second show on FX, the free event that featured Kampmann vs. Alves was one of the best live events in the last few months. With the added controversy, this is a show we will be talking about for a long time.
From championship contenders being elevated to a celebrity status, to a controversial reversal of a call and a last-second submission, this UFC on FX will prove that MMA is here to stay in the mainstream.
Fight Breakdowns
Thiago Alves vs. Martin Kampmann  
With both men coming into this fight looking to prove that they still have what it takes to be a serious contender, there was no lack of effort in this fight.
As much as Kampmann was landing his usual effective counterpunches, Alves used his leg kicks and striking to give himself the clear lead on the cards through the third round. That's when Alves made the biggest mistake of his in-octagon career.
With under a minute left in the final round, Alves shot in for a double-leg takedown and was caught in a guillotine choke. In the blink of an eye, it went from a decision win for Alves to a submission victory for Kampmann.
Fight Grade: A+
Joseph Benavidez vs. Yasuhiro Urushitani    
If the fans of UFC weren't excited for the addition of the flyweight division to the company, the TKO from Joseph Benavidez to Yasuhiro Urushitani was enough to get any fan pumped.
Benavidez isn't a new player in the game either, holding a career 16-2 record, with the star's only two losses coming to UFC sensation and current Bantamweight Champion, Dominick Cruz.
While Urushitani is a solid fighter, he was nothing compared to Benavidez. With quick work, the former WEC star showed the UFC faithful why he can be the face of the new division.
Fight Grade: B+
Demetrious Johnson vs. Ian McCall
While the other match to decide the top contender for the vacant flyweight title was clear cut, the second match between Demetrious Johnson and Ian McCall had fans up in arms and the Australian crowd in a frenzy.
After going the distance in what was a perfectly set-up match, the judges returned a decision in favor of Mighty Mouse Demetrious Johnson. While the crowd disagreed, apparently there was an adding error that caused this decision to be wrong.
In what could be construed as a bad sign in terms of integrity, the judges' official scorecards had this fight ruled a majority draw and the duo will have to battle again. While the ending sounded fishy, the fight was amazing.
Fight Grade: A-
Reaction
UFC's official Twitter shared the same feeling most fans did about the spectacular finish: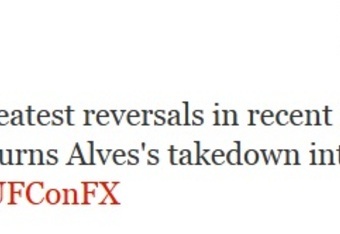 CompuStrike breaks down the fight by the numbers and proves Alves had this win wrapped up: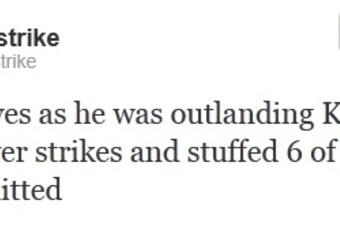 MMAFighting.com shows both sides of the spectrum in this amazing finish: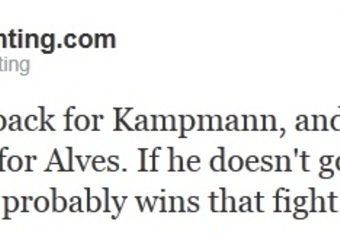 UFC President Dan White calls it exactly how he sees it: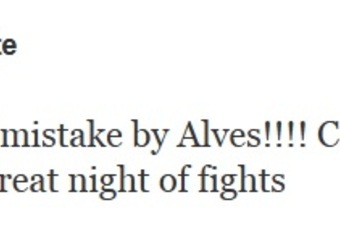 Final Show Grade: A-
While many fans have been iffy on the UFC's transition to the mainstream via FOX Sports Network-airwaves, last night's show is exactly what the people want to see.
Interesting stories behind fights, legitimate tension and spectacular finishes are what people want, and that's exactly what they got Friday night.
If the UFC continues to put on free shows like this, their buy rates will start increasing for their PPVs, which will allow them to show even better fights on free TV. It's a sinister chain of events, but it's exactly what the fans want.
Check back for more on Mixed Martial Arts as it comes, and check out Bleacher Report's UFC Page to get your fill of all things UFC/MMA. For more on MMA/UFC, check out Ring Rust Radio for all of the hot topics.