J.D. Drew Retires: Veteran MLB Outfielder and Historic Bust Reportedly Done
January 24, 2012

J. Meric/Getty Images
It looks like the not-so-illustrious career of veteran outfielder J.D. Drew is coming to an end, according to Jon Heyman of CBS sports.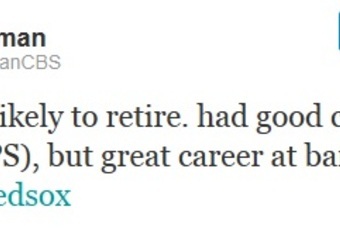 The ever-polarizing underperformer has been a lightning rod of controversy since he first snubbed the Philadelphia Phillies after the 1997 draft. It was at that point that many fans of baseball started to question the star.
Looking back on the questionable career moves and unquestionable inconsistency, the Phillies are glad they didn't get the star, and the Boston Red Sox are glad he is off their hands as well.
What It Means 
The Boston Red Sox were not going to pursue the free agent after several dismal seasons, and from the looks of things, not many teams were interested at all. While the door won't be closed completely, the lack of interest has the former star prospect thinking retirement.
As the season progresses, there may be a team or two that come calling in need of a bench player that can add some spark, but only if the team is far out of contention. Drew to the San Diego Padres would be a good fit because they wouldn't expect anything out of him, and that's exactly what they'd get.
Drew is making the right choice calling it quits after such a mediocre career. Now he can sit back and bask in all the money he didn't earn.
What's Next
After years of disappointing teams with his lack of production at the plate, the career .278 batting average is a perfect example of Drew's unfulfilled possibilities. While he had good runs at times, the lack of consistency doomed him from the start.
Drew was a solid fielder who depended on his defense to keep him relevant when his bat undoubtedly went cold. With his body getting older, he can't move around the field as well, which makes him a complete liability instead of just an offensive liability.
Now that it looks like it's all over, we can think back on the good times Drew had in MLB. Thanks for the memories, jerk.
Check back for more on Major League Baseball as it comes, and check out Bleacher Report's MLB Page to get your fill of all things baseball.