Why the Miami Heat Must Rest Dwyane Wade and Unleash Him During the NBA Playoffs
January 23, 2012

Doug Pensinger/Getty Images
The Miami Heat are in the midst of their second shot at the inevitable, as they gear up to hit the meaty part of the season en route to their date with the NBA Finals.
As of just recently, the upcoming stretch is looking far less rosy than LeBron and co. like it, as Dwyane Wade has gone down with a sprained ankle.
Wade has been sidelined for a handful of games already, which has given people a chance to see the latest incarnation of the Heat in action with only a "Big Two-Thirds." Results have been mixed, at best, with Miami going 3-2 since Wade was last seen rolling on the hardwood.
Mixed results meaning they're playing above 500, as opposed to the usual unceremonious beatdowns, they would no doubt prefer to be dispensing. But in the long run, they are still playing good enough ball, and this is what counts most as this meat grinder of a schedule plays out.
Of course, when Wade is there, this team goes from beatable on a bad night to beatable mostly in dreamland. But to make Wade play major minutes just to win more games is overkill when his team is perfectly playoff-bound as is.
If Miami wants to go on the cakewalk they all envisioned when coming together, their best bet is to save Wade for the postseason. Am I saying limit his minutes even when he's fully recovered? Absolutely.
While some will defiantly declare Wade's physical resilience above reproach, the fact remains—to hear him tell it, at least—that this is the worst sprain Wade has suffered in his career, and he's at a point where age is slowly becoming a factor.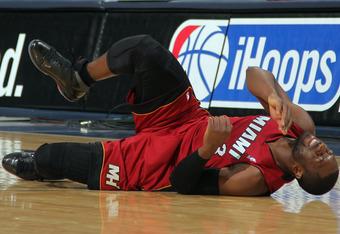 Doug Pensinger/Getty Images
Ideally, the Heat would keep his minutes at or below 24 a night, to where he could still have a presence, stay loose within the team and still spare himself the hazards of a compacted season. Heck, have him sit out every fourth or fifth game...they might drop a few more than they should, but how much will standings matter when April comes, and this beast is back at 100 percent?
This is a team that can beat absolutely anyone in the NBA when they're locked in (i.e. withing arm's length of their cruelly overdue glorification), and at full strength, which in this writer's opinion, makes concerns over seeding somewhat moot.
Normally, the incentive is there to play for a higher seed in order to avoid drawing a stronger team. This, in turn, allows teams to have achievable step goals and loftier expectations.
However, when you're the Miami Heat, expectations are already through the stratosphere, and you've got your sights on the NBA Finals no matter how the brackets shake out.
The Heat just need to qualify, bring their leader back full-time and the rampage begins in earnest. For the master plan to succeed, they'll need all the Wade power they can get, but in the meantime, even with "only" James and Bosh leading the way, they can easily survive the regular season without risking banging him up needlessly.
Wade's on-court impact on this team is already well-documented; meanwhile, here's another way he brings an unprecedented dimension to the Heat.
He can be more or less shelved until wartime, providing a monstrous upgrade when needed—think Super Mario Bros. with the yellow star—while conserving himself in the meantime...
It's unorthodox, to say the least; nobody has ever thought of deliberately under-using an MVP candidate, but that's because no team has ever had the luxury of doing so without sinking like a stone. News flash: the very same case of "monster-itis" the "non-Miamian" world has been lamenting for the past year-and-a-half means Miami can manage. 
Sponsors and Heat fans might grate at the thought of being deprived of their full trifecta of stars, but they'll be singing a different tune come playoff time when Wade is fresh and recovered and just plain D-Wade, the two-way terror...
Which is exactly what the Heat cannot do without when they're in the pressure cooker and can do without for most of the rest of the season. All that matters is the big dance, and with this team ostensibly desperate to avoid another embarrassing non-championship, it's a simple matter of priorities.
Really, the Heat should be able to figure this out for themselves, since they're so adept at looking past the regular season anyway.