Blake Griffin: Rare Rookie Card of Clippers Star Sells for Ridiculous Price
January 20, 2012

Jeff Gross/Getty Images
Blake Griffin is awesome, but he's not $38,000-piece-of-cardboard awesome.
A rare rookie card featuring the Los Angeles Clippers' dunk master recently sold for that price on eBay. It's a number that has even left industry experts shocked, according to a report from Tracy Hackler:
"The number is definitely surprising, I don't think there is any denying that," said Rob Springs, a senior market analyst for Dallas-based Beckett Media, the recognized leader in sports card valuations.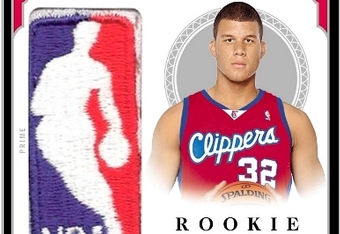 Even though there's no denying Griffin's talent, that's a lot of faith to put in a young player who has only completed one full season in the NBA.
Don't forget that Griffin missed what should have been his rookie year after breaking his left kneecap. That's one of the biggest problems with investing in sports cards; one more injury could derail his promising career and make the card a $38,000 drink coaster.
There are just too many risks involved to consider it a smart business decision.
Griffin will need to have a Hall-of-Fame career in order to make the card worth more than was paid for it, and even then, the buyer will probably have to sit on the piece for nearly two decades before his payday for it arrives.
This is an example of the hype surrounding a player getting out of control.
Griffin has the look of a multiple All-Star and will probably be throwing down thunderous dunks for many more years, but do his cards deserve to garner that much value? No chance.
That's especially true since the sports trading card market is so fickle. The value of cards tends to fluctuate quite a bit throughout a player's career, and this certainly isn't a case of buying low. It's buying at a premium price now in hopes that it will pay off in the long run.
In other words, it's an extremely risky purchase. Hopefully the buyer is a huge fan of Griffin, because he'll be staring at his rookie card for quite a while.