Les Miles on LSU Football 2012: 'We'll Throw the Football More. We'll Improve'
January 18, 2012

Chris Graythen/Getty Images
In an end-of-season wrap-up press conference intended to put the 2011 season to rest and get ready for spring football, LSU head coach Les Miles did his best to put rumors to rest that he benched key players because they approached him pregame about the Tigers' starting quarterback situation.
According to a USA Today report, Miles said, "We took the field just like we always have. There's never been any issue prior to a game. There has never been a player-coach interaction before or after a game that was negative."
I think LSU fans are happy to see Jordan Jefferson and Jarrett Lee graduate and move on from the constant controversy at the quarterback position that has loomed over the team for three seasons.
Despite losing the No. 1 pro-style quarterback recruit, Gunner Kiel, to Notre Dame, waiting in the wings for LSU is junior college transfer Zach Mettenberger.
Hopefully, Mettenberger will come in next year and play smart, controlled football and lead the team.  The last thing Tiger fans want or need is for him to struggle and create a new quarterback controversy.
"We'll throw the football more," Miles said when asked about next season.
"We'll have a guy who can scramble, but he'll throw the football for a greater percentage. We'll improve."
I hope Miles is serious.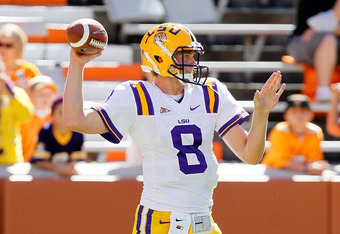 Kevin C. Cox/Getty Images
There is no reason that LSU should ever struggle to move the ball on offense like they did in the BCS title game.
The Tigers have four running backs that could start for almost every other team in the nation. Even an average passer should have success in this offense.
Judging by Mettenberger's spring game this season, he has the tools to run this offense. He is strong and accurate and has amazing touch on his deep throws.
Working with offensive coordinator Steve Kragthorpe should improve his game even more, and it wouldn't surprise me if the Tigers are the top passing offense in the SEC next season.
It will be amazing to finally have a vertical passing game in Baton Rouge.
Follow me on Twitter @brettstephen