Why Does It Take an Olympic Games to Put Track and Field in the Spotlight ?
January 17, 2012

Stu Forster/Getty Images
I think I'm having an out-of-body experience.
As a hard-core Track and Field fan who seriously follows the sport all year, every year, I'm having to get out of my own skin in order to gain the perspective of the general sports fan who eats, sleeps and breathes for such sporting commodities as say...football, basketball or baseball.
Considering my own particular passion, I understand the obsessive nature of sports fandom. But why does that fanaticism normally exist at the exclusion of what might possibly be the oldest and purest of all sports?
In any given day during the year, Track and Field athletes are competing at all levels somewhere in the world, yet most sports fans—especially here in America—are either unaware or uninterested.
Except during those two weeks of magic in the summer of an Olympics year.
Then, Track and Field becomes the premier draw in what is arguably the most concentrated gathering of elite athletes on the planet.
Quite a leap forward for a sport normally relegated to the back pages of the sports section during the other 36 months and 50 weeks of the quadrennium.
And so, as I mystically hover above my diehard fanatic self, I'm asking this question: Why doesn't the temporary fervor generated by the casual fan toward Track and Field during the Olympics carry over to the non-Olympic years?
After all, in two of those non-Olympic years the World Outdoor Track and Field Championships provide a global stage almost as prestigious as the Olympics. And new world records occur much more frequently in non-Olympic settings. Also, at the elite professional level—when one considers prize money, appearance fees and shoe endorsements—financial compensation for the athlete is approaching the level of the big three (NFL, NBA, MLB).
And did I mention that nearly every major pro meet in the world can be seen via live internet stream, if not via live TV?
Within the sport, "experts" have been asking where the former glory of the sport has gone. A tainted image brought on by high-profile drug cheats is an almost universal answer. Some cite poor marketing techniques or lack of quality media exposure. Still others point to a refusal (so far) to adopt the modern "extravaganza" approach typified by the Super Bowl and NBA All-Star Weekend.
Although it doesn't solicit it directly, Track and Field does benefit from an Olympics media coverage which comes close to the Super Bowl in terms of hype in promoting its featured sport. (Therein might lie part of the answer I'm seeking).
Another segment within the sport argues that with the emergence of charismatic superstars such as Usain Bolt, Yelena Isinbayeva and Jessica Ennis, the sport is actually on the upswing. Still, the days of seeing USA vs. USSR or Coe vs. Ovett plastered across the top of the typical American sports page are long since passed.
So it is with a bit of urgency that I now ask you, the reader, what it is Track and Field must do to keep your attention, on a yearly—or even monthly—basis. Use the comments section below to enlighten me.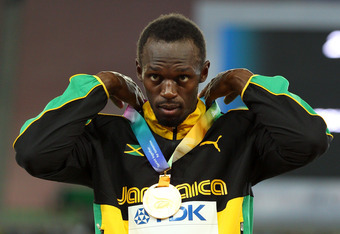 Mark Dadswell/Getty Images
And could you hurry? I'm in a literal state of suspension and I'm eager to get back into my old familiar Olympic-frenzied, rabid self.
Things to look forward to this year:
Indoor season (collegiate and pro)—underway now through March.
Outdoor season—April through September (in the northern hemisphere)
US Olympic Trials (team selection)—Eugene, OR: June 22-July 1
XXX Olympic Games—London, UK: July 27-August 12
Join Bleacher Report's Track and Field community