NFL Playoffs 2012 Running Diary: New York Giants 37, Green Bay 20
January 15, 2012

Jamie Squire/Getty Images
Giants @ Packers Running Diary: Giants 37, Packers 20, Final. 
Game Recap: 5 Reasons the New York Giants Upset the 15-1 Packers 
0:00: The Packers just found out how hard it is to repeat in the NFL, no matter what you do in the regular season. 
1:48: Deon Grant with a great catch for the interception, Packers with four turnovers, Giants with just one. 
1:56: Giants can now tee off on Rodgers, Umenyiora with a sack.  
2:36: Jacobs cuts it back with a counter to the right, gets into the end zone, and that'll be all for Green Bay. Touchdown Giants (37-20). 
Ahmad Bradshaw was stuffed, but somehow gets away from B.J. Raji, who's been invisible today. Bradshaw reverses the field and gets down to the 10. Clock ticking...
4:20: Eli hits Cruz on a third down New York simply had to have. The Giants have been money on third down today, with Manning getting plenty of time and the Giants receivers getting plenty of separation. 
4:31: Giants predictably run it twice for a loss of one. Packers use two timeouts. 
4:46: Packers drive extended by horrific roughing-the-passer call on Umenyiora that would've brought up fourth down. Rodgers hits Driver for a touchdown down the middle. (Giants 30, Packers 20).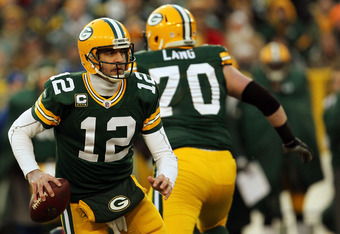 Jonathan Daniel/Getty Images
5:10: Chris Canty down on the field, slowing down the Packers no-huddle offense for a moment. 
5:48: After Cobb slants for a first down, Nelson with another dropped ball for the Packers.
6:18: Umenyiora gets flagged for a blow to the head on Rodgers on third down, didn't look like he was anywhere near his head. Don't know how they made that call, Umenyiora wrapped him up around the waist and the two helmets didn't make contact.
This Green Bay crowd is getting restless, watching the Packers flail about down on the field. 
6:53: Kenny Phillips knocks it loose as Ryan Grant was fighting for extra yards, and then Manning hits Manningham for a touchdown on a cross in the back of the endzone. Manning with 313 yards, three TDs (Giants 30, Packers 13).
7:24: That shovel toss by Rodgers was very Favre-like, wasn't it?
7:48: Morgan Burnett comes up and makes a great one-on-one tackle on Jacobs on the outside to save a touchdown, and the Packers sack Manning on third down for their first take-down of the game. Tynes with a 35-yarder to make it a two-possession game again (Giants 23, Packers 13). 
10:19: Third-and-five, Manning converts to Cruz for 11 yards. Miscommunication by the Packers allows Cruz to get open and sit in the middle of the field. Cruz down getting checked on by medical staff. Giants can't afford to lose Cruz, Manningham not as dependable and not much after him on the roster. 
Ball in the air on second down, tipped by Woodson, Giants lucky nobody was around to grab it.  
11:05: Giants conservative with screen to Nicks, run up the middle by Jacobs, but pick up their first first down of the half with a throw outside the numbers to Manningham. Giants have owned the outside of the field on third down today. 
Boley gets through with another sack on fourth down. Second time the Giants have gotten more pressure with the extra man blitzing. Giants ball after a huge stance, Packers still killing themselves with missed opportunities. 
13:00: As he has a few times today, Rodgers with a poor throw to a wide open receiver. Finley couldn't come up with the diving catch there. Packers going for it now. 
13:40: Big third-and-five, Packers in Giants territory now. 
Jordy Nelson with a first down. Nelson has been basically shut down all day. He's due for some big plays here in the fourth. 15 touchdowns in the regular season. 
Fourth Quarter
Rodgers picks up yet another first down by taking off, third quarter comes to an end with Giants still up seven.  
2:00: Manning making like Rodgers, picks up some yardage for the punt. Weatherford with a nice boot to put Green Bay inside the 30. 
3:00: Eli getting a lot of time on second down, but excellent coverage forces Manning to have to dump it off to Bradshaw for a short gain. 
Holding penalties won't help kick-start a drive much... 
Giants need to keep their foot on the gas here, keep the pressure on Green Bay. Drives like these are where the game is won. New York can either grab momentum back or play right into Green Bay's hands with predictable play-calling. 
Excellent coverage by Rolle on Jennings. Rolle used to play cornerback for Arizona, showed his skills there. Jennings also should've hauled in a perfect pass by Rodgers, but doesn't reign it in. Crosby just slips the ball inside the upright to cut it to seven (Giants 20, Packers 13).  
Third down and five after Grant stuffed for no gain. 
6:00: Starks breaks a screen, then a long run to spark the Packers. You can feel the Cheeseheads starting to gain momentum. Big moment for Giants defense here. 
Deon Grant shows how to hit in the new NFL. You've got to hit low if the receiver hasn't started upfield yet. 
With all the weapons this team possesses, it's nice to still have a veteran like Donald Driver to go to on third down. First down on a diving catch by Driver. 
Packers look sloppy and out of sync, but always a threat to hit a big play to Nelson or Jennings.  
9:06: D.J. Ware marked short of the first down by about a half yard. Looked like he fell over the yellow line with the ball. Spotted where his backside hit the ground. Giants punting on fourth-and-short. Good return by Cobb up to the 25, saving Packers from having a long field. 
Jacobs looked like he didn't expect the ball on that second-down carry. 
Ross bit on the pump fake, Umemyiora saved a touchdown as Jennings was running free. 
10:28: After Rodgers pump fake, Umenyiora slaps it right out of Rodgers hand, then slaps it away from Packers player trying to fall on it. Huge play to stop driving Packers right in their tracks. Having Umenyiora healthy really helps this front four. Smart player with Super Bowl experience.  
11:00: Rodgers barely slips away from the rush, floats it to the ancient Donald Driver for a first down. Great play by a great player. 
Another third down coming up, Giants really have to key in on Rodgers taking off, which may open things up over the middle for Packers receivers. 
13:06: The legs of Rodgers have been a killer for New York on third down. 40 yards rushing on five carries, four first downs for Rodgers. 
13:19: Rodgers once again throws behind Jennings. Very uncharacteristic of the usually machine-like Rodgers. Not playing in three weeks might have something to do with it.
13:35: Grant going nowhere on first down. Neither team has been able to run the football with much consistency.
14:00: Giants coverage giving Rodgers nothing on that first down play, but Jennings gets open on second down off the play action on a curl route.
Third Quarter 
HALFTIME
0:06: WOW! Nicks using the helmet just like Tyree. Touchdown Giants on a hail mary with no time left. What a game-changer for New York. First Bradshaw finds a way to get 23 yards AND get out of bounds on the opposite side of the field, then Nicks rises above the defense to haul in a touchdown (Giants 20, Packers 10). 
Unbelievable play by Bradshaw, Giants just trying to run out the clock, and Packers let him run across the field to get out of bounds.
Manning almost chased down by Matthews, but gets rid of it to Bradshaw without being square to the field.
Giants send Boley that time, and the extra man gets to Rodgers, Giants getting the ball back with less than a minute left. 
Green Bay got a hand on Manning's pass to Ballard, causing it to fall a little short. Giants have to settle for another field goal (Giants 13, Packers 10).
2:00: New York should've play-faked left and ran Manning on a bootleg out right on second down with Ballard running a flare to the pylon. Instead, Jacobs stuffed for a loss like Packers knew it was coming.  
Giants receivers some of the best in the NFL at running after the catch. Cruz proved it all season, Nicks now doing it in the postseason.
Rodgers uncorks a perfect pass to Jennings for a first down, but KUUUUUHN fumbles, and this one is a sure thing. Giants ball.
5:27: Manning picked off as Packers finally got to him. Not a terrible turnover, since Tynes was going to have to attempt a 50+ yard FG. Giants have to get more pressure on Rodgers now, can't keep banking on Green Bay drops.
Another third down coming up, Lambeau Field really rocking now.
6:56: Eli working it, finds 6-foot-6 Ballard up top for another third-down conversion. Manning has been phenomenal with plenty of time to throw. 
8:15: Giants are once again having their way outside the numbers, cornerbacks have no shot to cover those routes if Packers don't find a way to get more pressure. Giants receivers are getting plenty of time to work it back on those comeback routes. 
9:12: Four drops! Packers are absolutely shooting themselves in the foot; now have to punt. 
9:17: Giants getting no pressure on Rodgers, much like Packers getting nothing on Eli. Three drops for Pack so far. 
11:33: Third-and-nine, Rodgers once again uses his legs to get the first down. Giants are going to have to spy him or step up and make the tackle if he does it again. 
11:40: Rodgers throws the out but floats it a little, risked getting it picked off by Aaron Ross. 
Special teams has been the story so far for the Giants. Kick out of bounds and now a blocked field goal by Green Bay. 
John Kuhn gets wide open on a play action as Giants tried to double the outside receiver. Easy touchdown for Green Bay after almost losing ball on Jennings fumble. 
Second Quarter
Packers threatening after a poor decision by the refs on a fumble review. Jennings was involved in a disputed call in the regular season meeting between these two teams as well.
1:35: Packers doing a poor job holding onto the ball. Cobb was down the first time, but looks like Jennings knee was off the turf as the ball was coming out. That call may change the complexion of this game. 
2:06: Giants cornerbacks having a difficult time staying on their feet. Packers running a lot of comeback routes.
2:37: That's what separates Rodgers from the rest. He can move around and take off if he has to. Gets the first down there and gets past mid field. 
HOW do you kick it out of bounds, I'll never know. The field is 53 yards wide! 
Nicks bounces off a tackle, sprints to the end zone for 66-yard touchdown. Nicks really showing an extra gear in the playoffs so far. Poor attempt by safety to blow up Nicks, you've got to wrap up instead of going for the big hit (Giants 10, Packers 3).
Packers only rush three on third down, give Eli all the time in the world to find Nicks. Another long third down conversion for the Giants.
5:38: Wow, Rodgers doesn't miss those often, or ever. Floated the ball over the head of Jennings, who was wide open. Giants had no pressure at all on that one, got lucky that Rodgers overthrew it (Giants 3, Packers 3).
7:00: Giants all bit on a great play fake by Rodgers. Green Bay receivers getting a lot of space.
8:00: Great first play by Green Bay, had to know Giants were itching to get to Rodgers, simple handoff off tackle to Grant.
Kickoff: Randall Cobb will take the ball out from anywhere in the end zone. Doesn't matter if it's the 109 1/2 yard line. Doesn't look like this is a fumble. Would like to see Giants get pressure on Rodgers early on, get in his head.
8:33: Impressive drive by the Giants to open the game, had to settle for three points. Can't expect to convert on so many third downs though, must get better on first and second down (Giants 3, Packers 0).
8:37: Nice coverage by Green Bay, blanketing everyone, Eli had to get rid of it. Field goal coming.
9:18 left: Running game not going anywhere early here. Giants looking at another third down here.
10:46: Giants receivers getting open easily outside the numbers. Eli hits Beckum for another first down.
11:25: Another lame Bradshaw run up the middle for minimal gain.
12:05 left: Eli hits Victor Cruz on an out route for a first down. Third-down conversions will be the key for NYG.
First Quarter