NFL Playoff Schedule 2012: Why NFL Is Foolish to Play Super Bowl After Pro Bowl
January 8, 2012
Kent Nishimura/Getty Images
All-Star games in any sport are less than to be desired on most occasions. They have their pitfalls and mostly it's because the game being meaningless.
The same can be said for the NFL Pro Bowl which used to be played after the Super Bowl, but as of 2010, was moved to before the Super Bowl to create more buzz.
Really? Not allowing the fans to see the best players at every position is an extremely foolish move by the NFL.
With the NFL being about the fan, why wouldn't they allow all of their Pro Bowl-caliber players to be able to participate in the event?
Just think about it this year: We might not be able to see Aaron Rodgers vs. Tom Brady, two of the best quarterbacks in the game all because it's before the Super Bowl and not after.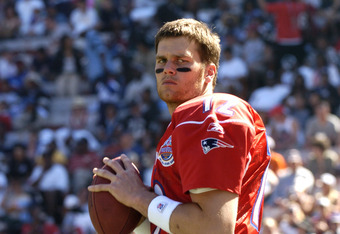 A. Messerschmidt/Getty Images
Let's say that the New England Patriots square off with the Green Bay Packers in the Super Bowl. The Patriots have eight representatives and the Packers have seven, one behind the San Francisco 49ers. That's 15 players that the fans couldn't see because they are on the best teams.
There is a reason why Super Bowl teams are good and that's because they have the best players. We wouldn't see Brady, Rodgers, Greg Jennings, Rob Gronkowski, Wes Welker, Charles Woodson, Clay Matthews and B.J. Raji.
That is a pretty huge chunk of talent that could be missed.
When I watch an All-Star game, I want to see stars, not third- and fourth-string backups just because players aren't able to go because of the Super Bowl.
I know it's just a trip to Hawaii, but I'm sure those athletes enjoy taking their families and loved ones along for a family trip.
When watching this year's Pro Bowl, I'm just going to be asking for more. Am I really watching the absolute best in the sport?
Regardless if you think the Pro Bowl is unwatchable or if it is great, you would rather watch the best players at each position.
We won't get that this year.