A Christmas Evaluation of the 2011 NHL Season
December 24, 2011
Bruce Bennett/Getty Images
While there is a short break in the NHL season, it is a good time to see how things have unfolded so far.
Biggest Surprises
Florida Panthers,  Minnesota Wild,  Dallas Stars
Nobody expected any of these teams to be high up in the conference standings, and with a reasonable remainder of the season, they should make the playoffs.
Other Surprises
Toronto Maple Leafs,  Winnipeg Jets,  Ottawa Senators
These three teams were supposed to be near the bottom of the Eastern Conference standings, but all three are contending for a playoff spot with limited talent, and if they hang in there, they might surprise everyone and make it.
Biggest Disappointments
Washington Capitals, Tampa Bay Lightning,  Anaheim Ducks
All these teams have lots of talent but little to show for it this season.  Washington was always a brittle team in the playoffs since they have come to prominence, showing very little grit.  Now it looks like it is finally showing in the regular season.  The coach paid for these sins with his job.  
In Tampa Bay, the failure to acquire a top goaltender in the prime of his career still plagues this team, which has had the potential to be a Stanley Cup contender every year since their only Cup victory.  Letting Nikolai Khabibulin go was this franchise's biggest mistake.  
In Anaheim, everybody seems to be in a collective goal-scoring slump.  Curiously, it is the same in Los Angeles.  Is it the weather?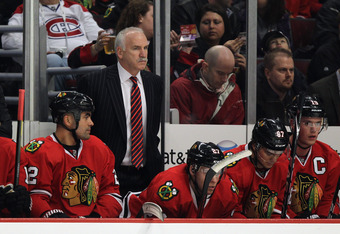 Jonathan Daniel/Getty Images
Free Falling
Bruce Boudreau took the hit, but the real cause of the fall of the Washington Capitals is Alexander Ovechkin, who by rights should be the best player in the league with Sidney Crosby gone.  To prove it, the Russian Olympic team played its worst game ever against Canada in the 2010 Olympics since they started playing NHL pros in 1972.  
Nobody knows why Ovechkin is sliding down to mediocrity just when he should be entering his prime years.  He's not even the best Russian in the NHL any more.  If he keeps on this path, he will no longer be a star but just another player.
Blood Letting At The Skin Level
Washington, Montreal, Carolina, St. Louis, Los Angeles and Anaheim all saw fit to replace the head coach.  So far, only St. Louis has reaped any benefit from it.  Can it be that these teams have deeper problems than who walks behind the bench?
Deeper Blood Letting
So far only coaches have paid for the performance of their teams, but the above section indicates that in some places, deeper surgery is needed at the management level.  Leading the way to be the first general manager fired is a neck and neck race between Montreal Canadiens Pierre Gauthier and Columbus Blue Jackets Scott Howson.  
Despite giving Montreal the best playoff goaltending since Patrick Roy, Gauthier traded away Jaroslav Halak in favour of Carey Price.  Gauthier then hired the mediocre Jacques Martin as head coach because he was bilingual and then replaced him with poor Randy Cunneyworth, whom his owner has publicly denounced for non-hockey reasons.  Things look to get worse in Montreal before they better, but a first step to improvement might be a change in the general manager position.  
Under Howson, the Blue Jackets fell out of playoff contention before the end of October and are last overall in the NHL.  Columbus has virtually the same NHL history as the Atlanta Thrashers.  Atlanta no longer exists.  Is that what is going to happen to Columbus?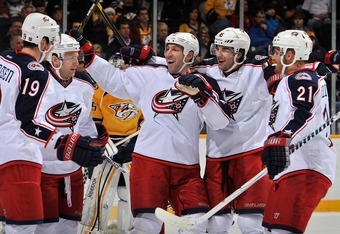 Frederick Breedon/Getty Images
Lame Ducks
Poor Randy Cunneyworth was made a lame duck before ever coached his first NHL game by the nationalist Quebec media, which denounced him on racist grounds for being an anglophone.  They have never even given him a chance to try and learn the French language, which is even less than they give players from outside Quebec who play for Montreal.  
Still worse was that Montreal owner Geoff Molson joined in the denunciation instead of giving him a fair chance.  It is rumoured because of all this that the players themselves regard Cunneyworth as a temporary lame duck and are just playing out the string until the season is over and he is replaced.  Montreal has yet to win a game since the coaching change was made.
The other lame duck is the Phoenix Coyotes, whom the NHL finally seems to be tired of owning for the past two years.  The NHL showed what they thought of the Coyotes by their new realignment. Previously, the Coyotes were safe from the hungriest city looking for an NHL team, Quebec, because a switch would cause further realignment problems.  Under the new format, Phoenix can be safely transferred to Quebec or any other city, eastern as well as western, without causing any realignment problems.  It's find an owner now or pack your bags for the Coyotes.
Fears For The Future
For Sydney Crosby and all the other players suffering from concussions.  What is worse is there is a similar epidemic of concussions in the CHL, where the suspensions for attempting to injure are much worse than in the NHL.  Kids are learning how to hit to hurt at an early age, so more of this kind of play is on the way.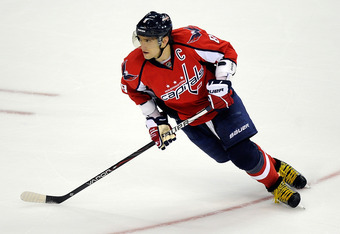 Patrick McDermott/Getty Images
Deserve Better Support
The Dallas Stars haven't been a good team for the past few seasons, but they have never come close to being perennial doormats like Atlanta, Florida, and Columbus.  They've even won a Stanley Cup, so they have some hockey tradition.  
Come on Texans—when the Dallas Cowboys become mediocre, they don't get treated the way the Stars have been treated.  Attendance was particularly horrible when the Texas Rangers were playing in the World Series.  The Stars have changed owners, and now a Canadian seeks to give hockey a rebirth in Dallas.  We'll see what happens.  
A team with even more reason to complain is the New Jersey Devils, who have been a Stanley Cup contender almost every year since the mid-1990s.  They have a distinguished hockey history since then, winning the Stanley Cup three times.  But since the Devils don't play on Manhattan Island, they are treated like third-class citizens with poor attendance.  
If these two teams were moved to Quebec, Hamilton, Saskatoon, etc., they would be semi-worshipped like the Jets now are since they have moved from Atlanta.  A similar minor fog seems to be in Minnesota, which doesn't sell out any more and fans don't seem to believe that the current success of the team is for real.
Time To Show Us The Bacon
The NHL pried its doors wide open for Quebec to return to the NHL with either an expansion team or a relocated franchise by its new realignment format.  The puck has been shot into Quebec's end of the rink, and now it's time to announce the exact construction plans of the proposed arena and step forward with a formal bid for either an existing franchise or expansion team.  If Quebec fumbles it away this time, they have nobody to blame but themselves.
Hard Done By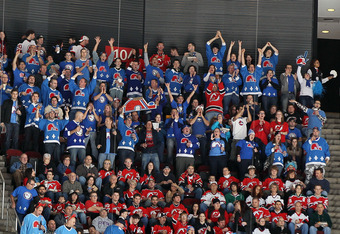 Jim McIsaac/Getty Images
Hey NHL, remember us, Hamilton, Ontario?  We have a small size NHL arena ready right now and we're willing to spend the money to raise the seating up to the NHL median of 18,000+, 3,000 more seats than that mouse hole in Winnipeg, whom you just welcomed back.
We have a consistent record of selling out Canada Cup games.  We have a competent owner who is willing to pay territorial compensation to Toronto and Buffalo, and lots of other corporate support.  We are in the centre of the best regional support for hockey in North America.  The premier of our province has come out in support of us getting a team, just like the premier of Quebec has.  
If we get a team, we're sure to get a good regional and maybe national television deal from somebody. We've been priced as the third-most valuable team in your league.  So why aren't we being treated the way you treat Quebec, Winnipeg, Hartford, Columbus, Phoenix, Atlanta, etc.?  Why are we still paying for the way Tim Doughnut fumbled away our franchise in the 1990s?
Oh Give Me A Home...
Both Edmonton and the New York Islanders are still waiting to get new, larger arenas.  There are now talks at the provincial level with the Alberta government.  The Islanders' very future is rumoured to be at stake if they don't get a new arena.  Ironically, even without improvements, Hamilton has a bigger arena than both of them.
Want of Capital
The Nashville Predators are great defensively.  Imagine if this team had enough money to sign some star forwards to go with their defence.
Back To Sleep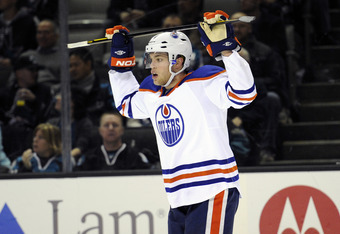 Thearon W. Henderson/Getty Images
The Edmonton Oilers, with all their recent high draft choices, showed briefly that they could well become a powerhouse like their famous predecessors but have since tumbled back down the standings to mediocrity.
The David Clayton Thomas, Blood, Sweat And Tears Spinning Wheel Awards
To the Calgary Flames for still not being able to build an offence since they last made the Stanley Cup Final.
To the San Jose Sharks for always making it to the third round of the playoffs or less and still looking far off from getting to the final, like they have against Vancouver and Chicago.
To the Columbus Blue Jackets and New York Islanders for remaining where they are, while other perennial down-and-outers have moved up this year.
Best Days Behind Them/Last Hurrah
Some games the Detroit Red Wings play are like they are still in the midst of their recent glory years, and others are like they need to start rebuilding.
The Cup Favourites?
It looks like an Original-Six matchup between the Boston Bruins and Chicago Blackhawks.  Nobody in the east looks like they can handle Boston, and if Vancouver could barely beat a much weakened Blackhawk team last year, how will they fare against a much stronger one this year?  
Vancouver, New York Rangers, Pittsburgh, and dark-horse St. Louis look like the best second choices.