WWE TLC 2011 Results: Top 15 Moments from Last Night's Event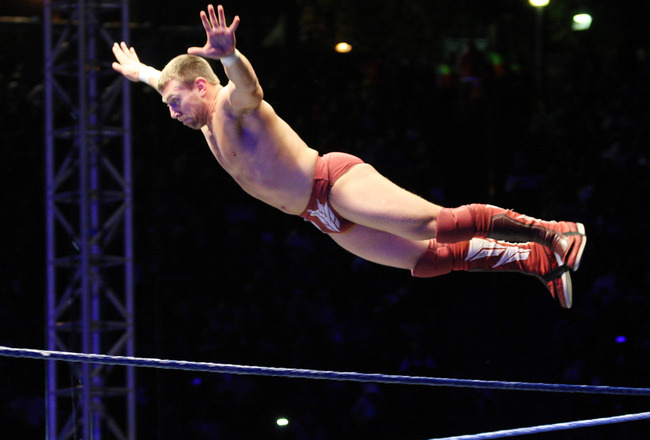 Gallo Images/Getty Images
WWE TLC was last night, and I thought it was a pretty good show. It closed the WWE PPV schedule out with a few big moves, and I liked that. It made fans go into the holidays with a bright outlook on the new year, and it gave others something more to look forward to.

I thought WWE delivered a great show. I really have liked this year's PPV shows. If you look through the past 12 months, most events have been good or even better than expected. With that being said, let's get to the best moments of the night!
15. Hornswoggle and Alicia Fox Appear
They did not play a major role in the show, but I loved their cameos. Hornswoggle is always great on television, and Fox looked awesome last night.

Both added a small touch to the event, and it was nice to see.
14. Sheamus Is a Star
Sheamus and Jack Swagger had a nice little match on the show. It was a "bonus" to see, but it was well done. Sheamus picked up yet another victory, and he continued to look great.

The sky is the limit for both wrestlers, but this is Sheamus' time to shine. Nice job!
13. Air Boom Win
Air Boom won last night, and it was much needed. There was no way they would lose the titles in an unannounced match, but I still enjoyed it.

Kofi Kingston and Evan Bourne now have some new music, so it seems they are not going anywhere as a team. I like that.
12. Rosa Mendes Is Great
She was the real star of the tag team match. Not Air Boom. Not Epico. Certainly not Primo.

This was all about Rosa Mendes, and I am more than happy to see her on WWE TV. She is another great diva in the company (Aksana) that has yet to be realized by fans.

Keep up the amazing work!

Note: To those who tweet during WWE shows, try and spell her name correctly next time you want it to trend. It ends with an "s," not a "z." Thanks!
11. Kevin Nash Delivered
I will never understand why some people are just so negative in life. I do not get it.

Fans were hoping to see Nash fail last night. Sorry, but he and Triple H had a great fight. The two men worked a physical style, and the story seems to be over. Triple H won, and Nash lost. Game over!

Honestly, I thought Kevin Nash did too much in the match. There is no reason for him to be taking some the bumps he took last night. Triple H did a few as well, but he can take a little bit more damage.

Outside of one weak Pedigree attempt, Nash looked great after all these years. He did not have a single match on WWE TV all year, and when it mattered most, he came through!
10. Zack Ryder Wins
I have been completely honest with my thoughts on him. I like the guy.

Ryder has tons of talent, but he needs to be a more serious character. It is that simple. If he continues down the "comedy" road, he might as well get released now instead of delaying it another year.

He needs to turn it up a notch and look like a real threat in the ring. The past few weeks, he has done just that! Excellent way to kick off the show! Dolph Ziggler was just as good as Ryder here, but this match was all about the new United States Champion!
9. Orton Picked Up a Victory
Randy Orton defeated Wade Barrett in a Tables match, and it was the right move.

Wade does not lose much here, and Orton picks up a nice win. He can't lose every night. While some would love to see the man (and John Cena) defeated every single time he competes, that just doesn't make any sense.

Orton has lost plenty of times over the past few months. He picked up a win here in a Tables match at WWE TLC. No complaints from me!
8. Beth Phoenix vs. Kelly Kelly
This was a great match. I will never understand the pure "hate" the divas get from some fans. Again, it just doesn't make sense to go through life thinking negative thoughts.

It was another "bonus" match, but it was a lot of fun. Beth Phoenix continues to dominate the division, and Kelly Kelly had another good outing. No harm. No foul.
7. Cody Rhodes Defeats Booker T
This was an excellent story at WWE TLC. After a few sneak attacks (like a heel would do) from Cody Rhodes, Booker T wanted to compete in their match anyways (like a face would do).

They had a nice match back and forth, but it was just too much for Booker to overcome. He was attacked before the match, and Rhodes made him pay for continuing.

This was exactly what I want in the business. A heel acted like a bad guy. The face acted like the good guy. Shocking, right?
6. Triple Threat Build
I really liked the backstage segments from CM Punk, The Miz and Alberto Del Rio all night. They added just a little bit "extra" to the main event, and it made for some good television.

I do find it strange that Johnny Ace is still texting. Are we supposed to care about who he is sending messages to or is that just a small touch he adds to his character? Either way, everybody did a great job.
5. Punk vs. Miz vs. Del Rio
This was a wonderful main event. Punk retains the WWE title, and he seems set for a long title reign. Del Rio and Miz lost, but they looked strong in defeat. It should be an interesting few weeks on WWE Raw.

Sadly, I have one major complaint about the main event match.

Ricardo Rodriguez took a very nasty bump off the top of the ladder. There was no need for this. Safety always comes first. I have been preaching that forever, but it rang true last night.

Yes, it was a nice spot, but the danger far outweighed the crowd "popping." The health of these guys is far more important than doing something "cool." I hope he is fine because that was just too much to witness.
4. Did You All Buy the Show?
This one has always bothered me. I pay for WWE PPV shows. Do you?

How many fans reading this actually paid $45 for the event? How many just read the live results? Also, how many got the show online "through other means"?

Honestly, it seems far too many people do not actually spend the cash to watch WWE shows these days. That is fine. I do not buy all of their shows. However, stealing them off the Internet is just wrong.

People do not buy them, and then they turn around and talk about the low WWE buy rates. Order the shows if you want to watch them, read the results live or go to a local bar, as plenty of them air the shows on big-screen televisions.
3. Big Show Wins the World Title
Big Show won the World Title in a short match last night. The steel chairs around the ring were certainly used, but it was clear that battle between him and Mark Henry was not set to be long.

Big Show became World Champion in short order, and it was a nice moment from him. He has always been a great talent, and it was fun to see him be a champion again. It may be his last time wearing gold, so I really appreciated it.
2. Daniel Bryan Cashes in
1. Congratulations to Daniel Bryan! Winning your first World title in WWE is always a big accomplishment. He had a career moment last night by beating a defenseless Big Show, and I am more than happy for him.

2. I still stand by what I said about Bryan. Him cashing in at WrestleMania would have been a huge moment. Him cashing in now is a big deal, but nobody can convince me that this was better than a long, drawn out story leading up to 'Mania. His celebration with all the fireworks and confetti and the underdog story being witnessed? Yeah, I will take that over TLC (not even in the main event) any day of the week, and I doubt anyone will tell me otherwise.

3. Like I said before, this moment is surely to lead to somebody turning heel. Whether it is Daniel Bryan or Big Show, somebody is about to turn.

4. Finally, I would have liked to see him hover around the middle of the card for another month or two, but this certainly shakes up the Blue Brand. Fans are delighted, and I am interested to see how he does as the top man. He is a great talent. Now it is time to prove it on a higher level!

Now let's get to the reason most of you are reading this! Here are my thoughts on Mark Henry...
1. I Agree with the Move
First, I must say how great it is to be loved by so many people around the world. I appreciate all the fans who instantly thought of me when Henry's match was over. Thank you, folks!

As I wrote about months ago, the only thing stopping Mark Henry is himself. He has had a long list of injuries, and they have once again caused him to slow his momentum. Just like Edge, it seems injuries will always be a factor.

According to this report, Mark Henry dropped the title because of a groin injury. My response to this?

I agree 100 percent with the company taking the belt off Henry right now. What have I said repeatedly? What have I constantly talked about?

Safety comes first.

It always has, and it always will. Honestly, I would not have had the big man out there to even compete. He was injured, and who knows what could have happened out there? His injury is much more important than being in a five-minute match.

Take the title off of him and see what happens.

His health should be the top priority here. It doesn't matter if I am a fan of his. It does not matter if you hate the guy. I think we all just hope he is physically able to continue his WWE career. Get well man!


REMINDER: I am now on Twitter @JustinWatry! I give every new follower a special shout out, so do not be shy...thanks.
Keep Reading