Top 10 Hardest Hits of the Season so Far (With Video)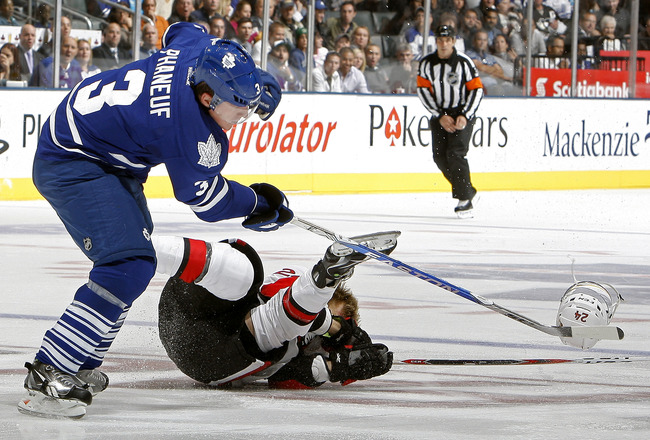 Abelimages/Getty Images
We are currently one-third of the way through the season, and I thought it would be appropriate to do a retrospective compilation of some of the most devastating hits that have occurred in the league so far.
There have been enough big hits to do a top 100, and narrowing it down to 10 wasn't easy, but I believe that the ones I chose have the highest force of impact among all of them.
That being said, enjoy watching (what are in my opinion) the 10 hardest hits of the 2011-12 NHL season thus far.
Note: Blatantly dirty hits are not included in this list.
10. Mark Fistric on Anton Lander
Fistric does not connect fully with Lander, but he does get enough of a piece to send him flying through the air and land roughly 10 feet away.
9. Johnny Boychuk on Evander Kane
The best hip check of the year, bar none.
8. Alexei Emelin on Joe Pavelski
Huge open-ice hit by the rookie defenseman. A brick wall has more give than him.
7. Jason Demers on Erik Cole
Cole collapsed like Penn State's pride after this huge hit by Demers.
6. Mikko Koivu on Niklas Kronwall
Devastating elbow by Koivu, who then sets up the game winner.
It seemed to catch Kronwall around the chin area, but it did not appear to be intentional as Koivu was facing the opposite direction. Koivu also does not have a propensity for taking cheap shots.
5. Chris Neil on Clayton Stoner
The 6'3", 225-pound defenseman has his head down and gets absolutely lit up by Neil behind the net.
I can't believe he got up from that.
4. Patrik Berglund on Dmitry Kulikov
Beauty of a reverse hit by the St. Louis forward.
Kulikov fell hard.
3. Dion Phaneuf on Mike Sauer
Similar to the Neil-Stoner hit, Phaneuf caught Sauer with his head down and took full advantage.
This hit caused a lot more damage, though, as Sauer acquired a concussion on the fall.
2. Bryan Allen on Jason Pominville (and Jeff Skinner)
Allen puts so much force into this check that he knocks over Pominville and his teammate, Jeff Skinner.
This is the only occurrence that I've seen this year in which two players were taken down with one hit.
1. Dion Phaneuf on Stephane Da Costa
Dion Phaneuf is still the reigning king of open-ice hits, and this is a prime example why.
He is the Scott Stevens of the post-lockout era and Da Costa skated unknowingly into his territory.
Big mistake.
Keep Reading