NHL: 10 Best Players in Their Sophomore Season
Bruce Bennett/Getty Images
The term "sophomore slump" is thrown around quite a bit in all sports. Whether it's not keeping up with a stellar rookie season or just continuing to falter at every turn, the second year NHL players are showing for the most part that the aforementioned term is a myth.
Some sophomores are exceeding expectations and leading their teams; others are playing key character roles that make their team complete.
The 2010 crop of rookies saw plenty of guys come through and make an impact, whether it was the young guns in Edmonton, the man Boston got for Phil Kessel or some solid goaltender, it was one of the better seasons for first years in a while.
This year, while Ryan Nugent-Hopkins is running away with the Calder Trophy, there are second-year players getting it done as well.
Here are the 10 best sophomore players in the NHL.
10. James Reimer (Toronto Maple Leafs)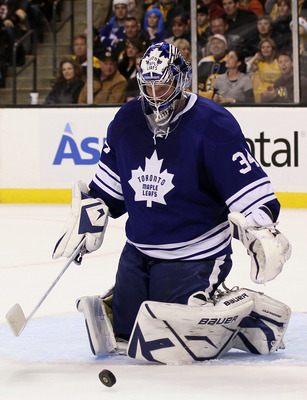 Elsa/Getty Images
Stats: 4-1-2; 2.81 GAA; .902 SV%
If not for being out for part of the season due to concussion symptoms, James Reimer could have been a huge part in the resurgence of the Toronto Maple Leafs.
Now that he is back, he is returning to the form Leafs Nation has gotten to know and love. Sure, he hasn't won a game since he was back but when it comes to a sophomore slump, Reimer isn't showing any signs of slowing down from his rookie form and is the undisputed No. 1 goaltender in the organization.
He makes the Top 10 for not showing rust in his game, like we usually see from Leafs goalies coming back from injury and with his demeanor in the crease, as well as the pressures that come along with being in a hockey mad city.
9. Derek Stepan (New York Rangers)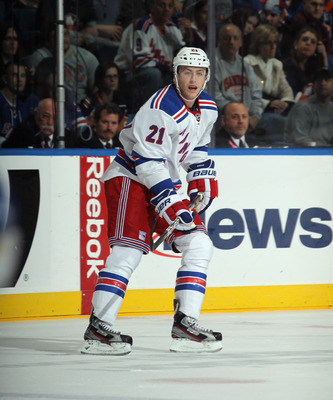 Bruce Bennett/Getty Images
Stats: 25 GP; 5 G, 12 A, 17 PTS (+4)
Stepan is par for the course in his first year with the Rangers in terms of his goal production, but is becoming entrenched in Rangers culture as of late. He is currently on a four-game point streak, one that included the game winner in Tampa Bay on Dec. 3.
For a guy having to play second fiddle to the likes of Brad Richards, Marian Gaborik and Ryan Callahan, Stepan is doing a great job of contributing. He is fifth in team scoring and for the most part, has stayed out of the box, playing disciplined hockey.
The product of the University of Wisconsin developed quite nicely at the NCAA level and is not showing any signs of a sophomore slump, especially in recent games.
8. Corey Crawford (Chicago Blackhawks)
Jonathan Daniel/Getty Images
Stats: 12-7-2; 3.00 GAA; .896 SV%
Crawford spent five seasons playing in the AHL, honing his skills and playing the odd Blackhawks game. He played eight games between 2005 and 2010.
In 2010-11, he solidified his claim to the Blackhawks' No. 1 job, sporting a 33-18-6 record and a 2.30 GAA. This season, he may have trailed off a bit in the GAA department, but he is getting the job done and getting wins for his team, and that's what counts.
He's mired in a small slump, giving up at least three goals in four of his last five outings, but with firepower that the Hawks produce, Crawford will be just fine.
7. Taylor Hall (Edmonton Oilers)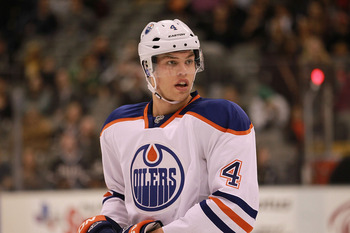 Ronald Martinez/Getty Images
Stats: 22 GP; 7 G, 11 A, 18 PTS (+1)
The first overall pick from the 2010 draft has been playing some good hockey as of late. You can always contribute it to super rookie Ryan Nugent-Hopkins, but when it comes down to it, Hall is reaping the rewards for the rookie's excellent play.
Two of Hall's seven goals were game winners and four of them were power play goals. Edmonton's improved special teams play is thanks to a number of factors, and Hall is one of them.
That being said, he, as well as any other sophomores (one more later on in this slide show) are not suffering from any kind of slump and are starting to be recognized as big threats in a competitive Western Conference when media outlets like The Hockey News had them pegged to finish at the bottom of the conference at the beginning of the preseason.
6. Alexander Burmistrov (Winnipeg Jets)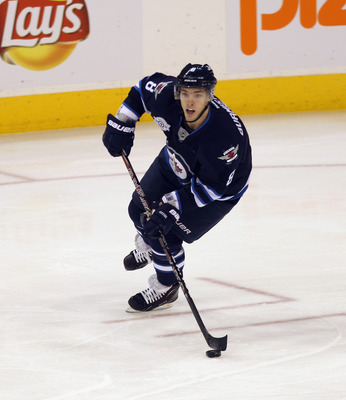 Bruce Bennett/Getty Images
Stats: 27 GP; 6 G, 8 A, 14 PTS (+4)
Burmistrov is one of those players who just get better over time. He didn't exactly have a highlight reel rookie season, then again, he was playing in the hockey hotbed of Atlanta, but it seems he has really found himself in Winnipeg and is doing smart things.
He has already matched his total goal output from a season ago, and his plus/minus rating has seen drastic improvement from the minus 12 he finished with in 2010-11.
The reason he is ahead of Taylor Hall is because we expected Hall to be the elite player who comes along with being a No. 1 overall pick. Burmistrov is exceeding expectations and revealing himself to be a great depth player for the Jets.
Combine him with another Barrie Colts, Mark Scheifele, and former 30-goal scorer Brian Little and you have depth at center for years to come.
For now, Burmistrov deserves a spot on this list for picking up his play. Maybe it's the cool Manitoba air.
5. Kevin Shattenkirk (St. Louis Blues)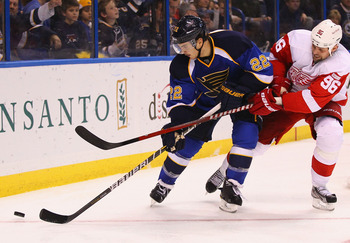 Dilip Vishwanat/Getty Images
Stats: 27 GP; 3 G, 12 A, 15 PTS (+7)
As a rookie, Shattenkirk was traded from Colorado to St. Louis in the Erik Johnson deal.
Since the move to St. Louis, Shattenkirk has been a constant on the blue line, improving his defensive presence and it shows in the plus/minus column. For those who think the plus/minus stat is a nothing stat, I urge you to reconsider because some players can be great scorers and great passers, but it takes a spectacular player to have that two-way ability.
Shattenkirk isn't your typical goal-scoring defenseman but he is solid and is getting plenty of ice time to work with, hovering around the 20-minute mark on average.
Shattenkirk went through a lot of change in his first year and when it comes to any kind of slump in his second year, apparently Shattenkirk didn't get the memo.
4. Jeff Skinner (Carolina Hurricanes)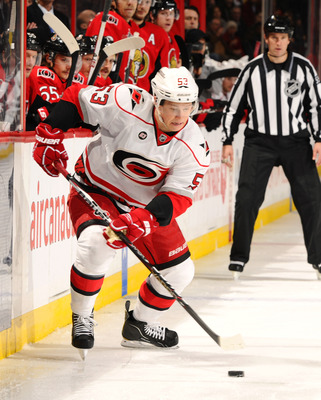 Phillip MacCallum/Getty Images
Stats: 30 GP; 12 G, 12 A, 24 PTS (-6)
The plus/minus rating aside, Skinner has picked up where he left off his Calder Trophy season. He currently leads his team in points and has three goals in his last five games.
Skinner doesn't crack the Top 3 due to his inconsistency in the defensive zone (again, plus/minus rating speaks volumes) and will have to step up if he wants his team out of the basement of the Eastern Conference.
The offensive production is what got him into this list so don't let that message be misconstrued. Skinner isn't having a sophomore slump, he's just putting up great numbers for a team not performing well.
3. Brad Marchand (Boston Bruins)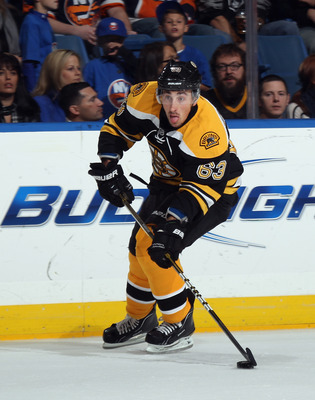 Bruce Bennett/Getty Images
Stats: 27 GP; 9 G, 10 A, 19 PTS (+15)
Marchand hasn't lost an edge after being one of the heroes for the Bruins' Stanley Cup win last June.
He has already produced almost half of what he did last season and he is one of the best two-way players in hockey at this point.
As a second-year player and to show the type of maturity he has on the ice speaks volumes about his character, he has quickly become a fan favourite in Boston.
There's no sophomore slump here. In fact, he's on pace for career highs in goals, assists and points.
To think, he is the second highest rated sophomore on the team in this slideshow. That just goes to show the depth of the Bruins' roster.
2. Jordan Eberle (Edmonton Oilers)
Stats: 28 GP; 10 G, 19 A, 29 PTS (+4)
Since starting in the NHL last season, Jordan Eberle has performed quite valiantly for a team not expected to do much. He sports finesse, skill, passing ability and has points in nine of his last 10 games.
Everyone still talks about his first career NHL goal, and for those who can't remember, check out the beauty in the video here.
Anyway, he is doing quite fine in his second year as he gels with a variety of different characters on the Oilers team, whether they be as young as Nugent-Hopkins or as seasoned as Ryan Smyth.
Eberle currently sits 11th in NHL scoring.
1. Tyler Seguin (Boston Bruins)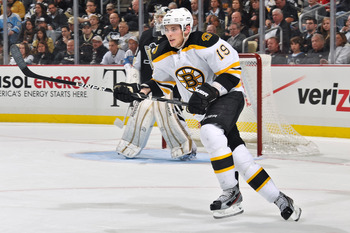 Jamie Sabau/Getty Images
Stats: 26 GP; 13 G, 12 A, 25 PTS (+19)
He leads the defending Stanley Cup Champions in points, he sits first in the NHL in plus/minus and he already has career highs in goals and points.
Tyler Seguin is taking the NHL by storm in his second year. He is showing that he learned a lot from his first year and is emerging as the offensive threat the Bruins drafted him for.
Leaf fans may not think much of it, as they grabbed Phil Kessel for the Seguin pick, a trade that seems a little more even than it was when it was first made. Some of you may disagree with that sentiment but the fact is, Seguin is the best second year player in the NHL this season.
What more can you say about the Brampton, ON native?
What do you think?
Mark Pare is a Featured Columnist. You can follow him on Twitter and don't forget to check out his sportswriter page.
Keep Reading