NHL Trade Rumors: Alex Semin, Bobby Ryan and Stars on the Move
November 29, 2011
Marianne Helm/Getty Images
The NHL trade market is one of the most exciting in all of sports, but the trade rumor hot stove will get even hotter this year.
With plenty of teams expected to do great things stumbling out of the starting blocks, there could be seismic shifts in the NHL as we know it right now.
All of the action is starting to heat up with coaches being fired left and right, so expect the following players on the tongue of every rumor hound for the next few months.
Alex Semin—The big news out of the Washington Capitals' camp over the last few days has been the firing of head coach Bruce Boudreau and the hiring of Dale Hunter.
While Hunter is a Capitals legend, his aggressive style may rub off wrong with a guy like Alex Semin. Hunter is exactly what Ovechkin needs, but Semin may be too soft to stay on the team for the Caps new coach.
There has been talk of a possible move to Long Island in return for some of the young talent they have hidden in New York, according to HockeyBuzz.com.
Bobby Ryan—While the Anaheim Ducks have been adamant about not shopping Bobby Ryan, the struggling team has been listening to offers, according to HockeyBuzz.com
Reports have Ryan Getzlaf as non-movable, but the struggles of the team mean something has to give. The most likely person on the market then—Bobby Ryan.
Plenty of teams have showed interest, but only the Columbus Blue Jackets put together a package that included Jeff Carter that may be of interest so far.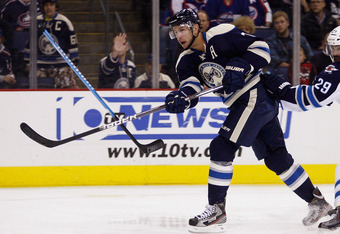 John Grieshop/Getty Images
Jeff Carter—With rumors swirling around the Columbus Blue Jackets (via HockeyBuzz.com) after their terrible start, it's natural that the team will be fielding calls about trades.
The Blue Jackets have only won six games this season. That bad of a start will have the roster on alert that anyone can be moved.
With Jeff Carter coming over in a trade from Philadelphia, Columbus has no real problem sending the star packing again if the right suitor comes calling.
Check back for more on the National Hockey League as it comes, and check out Bleacher Report's NHL page to get your fill of all things hockey.